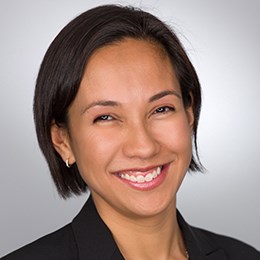 Danielle Conkling
ESG Lead, Corporate Social Responsibility
Office
Professional Summary
Danielle Conkling is a senior manager for the corporate social responsibility team at SVB. Based in Menlo Park, California, Danielle oversees the many ways in which SVB strives to be a catalyst for doing good in the world. To this end, she's in charge of SVB's compliance with the Community Reinvestment Act (CRA), which encourages banks to help meet the credit needs of low- and moderate-income individuals and neighborhoods. She champions the bank's enterprise-wise ESG (environmental, social and governance) efforts, which address the sustainability and ethical impact of the company's investments and operations. She also works closely with employee philanthropy and volunteer service programs and is a point person for community affairs.

This unique role allows Danielle to combine her passion for giving back to the community with her extensive experience advising entrepreneurs and leaders in the innovation economy. She sees an ongoing potential for SVB, her colleagues and the bank's clients to have positive impact in the world — and that's exciting.

When Danielle first joined SVB in 2017, she focused on the financial needs of high-potential growth clients, including founders, executives and investors. Before joining SVB, she worked at JPMorgan Chase, where she managed an affluent private wealth client base. She also gained experience in private banking through positions at Citigroup and U.S. Trust. She holds a master's in business administration from the Jones Graduate School of Business at Rice University, Houston, as well as a bachelor's degree in business administration from Georgetown University.

Danielle gives back both on the job and off. She is a regional board advisory member of BUILD, which provides entrepreneurial experience to young people in under resourced communities as well as of Girls Leadership, a nonprofit organization whose workshops and training programs equip young girls to develop the power of their voice.

Playtime also finds its way into Danielle's personal life: She enjoys skiing, hiking and whitewater rafting as well as traveling to off-the-beaten-path destinations, including Japan, Iceland and Morocco.