Silicon Valley Bank Now Offering Multi Card by MasterCard®
Company news | April 30, 2012
Integrated Corporate Card Program Allows Corporations to Enhance Control of Spending
SANTA CLARA, Calif. –– April 30, 2012 –– Silicon Valley Bank, financial partner to technology and life science companies of all sizes worldwide, is helping its innovative clients improve control of their corporate spending with the introduction of a new corporate card program that combines purchasing and corporate travel-and-entertainment credit card functions. Through a single card platform, companies are able to improve data analysis and payment capabilities substantially.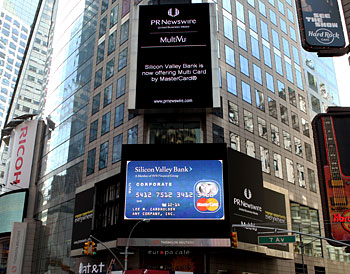 "We are building one of the most sophisticated corporate card platforms in banking to ensure our innovative clients have the best tools available to help them manage and grow their businesses successfully," said Pradeep T. Moudgal, Head of Product Development and Risk Management for Global Cards and Merchant Services, Silicon Valley Bank.
Citing industry data that clients could save 76% of their administrative costs per transaction by using purchasing cards rather than using a traditional purchase order process*, Silicon Valley Bank is introducing Silicon Valley Bank's MasterCard® Corporate Multi Card, SVB transAct Gateway and Smart Data to save its clients money and resources:
• Combines purchasing with travel and expenses functions for an easy, unified view of spending patterns
• Enables analysis and reporting that enhances spending controls and improves negotiating power with vendors
• Helps migrate from costly check disbursements to electronic payments
• Generates one-time virtual card numbers with set limits based on preset payment instructions, for a more streamlined, efficient and secure payments process
Visit Silicon Valley Bank online for more information about its business credit and debit cards.
* RPMG Research Corporation's 2010 Purchasing Card Benchmarking Survey.
About Silicon Valley Bank
Silicon Valley Bank is the premier bank for technology, life science, cleantech, venture capital, private equity and premium wine businesses. SVB provides industry knowledge and connections, financing, treasury management, corporate investment and international banking services to its clients worldwide through 27 U.S. offices and seven international operations. (Nasdaq: SIVB) www.svb.com.

Silicon Valley Bank is the California bank subsidiary and the commercial banking operation of SVB Financial Group. Banking services are provided by Silicon Valley Bank, a member of the FDIC and the Federal Reserve System. SVB Private Bank is a division of Silicon Valley Bank. SVB Financial Group is also a member of the Federal Reserve System.