Silicon Valley Bank First To Deliver Chip-Enabled Credit Cards to Businesses in the U.S.
Company news | May 31, 2011
SANTA CLARA, Calif. –– June 1, 2011 — Silicon Valley Bank (SVB), the premier bank for companies in the technology, life science, venture capital and premium wine industries, announced today it is the first bank to make chip-enabled, or Smart, credit cards available to businesses in the U.S. Beginning today, SVB clients can apply for the new chip and signature World Elite™ MasterCard® for Business with EMV chip technology.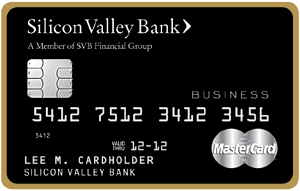 Smart credit cards use embedded microchips to store information more securely and with more capabilities than magnetic stripe cards, which have been the standard in the US. SVB's clients will benefit from additional security and applications as well as easier card usage when traveling in Europe and Asia where Smart cards are standard. SVB's cards will include embedded chip technology as well as magnetic stripes to ensure acceptance at the 31.7 million merchant locations worldwide where MasterCard is accepted.

"Providing our clients innovative products and services that they need to expand their business globally is a critical priority for us," said Bruce Wallace, Chief Operations Officer, SVB Financial Group. "Chip-enabled cards provide a new level of security and convenience for our clients with international operations that need a holistic card program as a strategic component of their payables strategies."

SVB's new chip-enabled cards are part of a complete credit card program that gives SVB clients the ability to manage payables, track expenses, eliminate paper checks, and reduce fraud exposure.

According to SVB's Pradeep T. Moudgal, Head of Global Cards and Merchant Services, business credit cards offer companies the ability to streamline their cash flow, lower costs through improved efficiencies and earn valuable rewards and discounts, while protecting themselves with security controls. When credit cards are integrated into a company's accounting system, the data can be used to analyze spending patterns and negotiate terms with suppliers. Moudgal offers more tips for maximizing credit card usage in a paper titled, "The Untapped Benefits of Business Credit Cards."

Silicon Valley Bank offers a comprehensive suite of financing solutions, treasury management, corporate investment and international banking services to its clients worldwide.

About Silicon Valley Bank Silicon Valley Bank provides commercial banking services to emerging growth and mature companies in the technology, life science, venture capital, private equity and premium wine industries. Through its focus on specialized markets and extensive knowledge of the people and business issues driving them, Silicon Valley Bank provides a level of service and partnership that measurably impacts its clients' success. Founded in 1983 and headquartered in Santa Clara, Calif., the company serves clients around the world through 26 U.S. offices and seven international operations. Silicon Valley Bank is a member of global financial services firm SVB Financial Group (Nasdaq: SIVB). More information on the company can be found at www.svb.com.

Banking services are provided by Silicon Valley Bank, a member of the FDIC and the Federal Reserve System. SVB Financial Group is also a member of the Federal Reserve System.