Silicon Valley Bank Co-Locates with Scrib in Boulder
Company news | August 8, 2012
Boulder, Colo. –– August 8, 2012 — Silicon Valley Bank, financial partner to technology and life science companies of all sizes, entered a partnership with Scrib, a new co-working location in Boulder offering shared, collaborative workspace to entrepreneurs and startups. Beginning immediately, Silicon Valley Bankers will work at Scrib a few times a week, making themselves available to collaborate, advise and brainstorm with companies in the Boulder area and the Scrib community.

"Having Silicon Valley Bank as a partner is invaluable for Scrib member companies and the entrepreneurial community in Boulder," said Toby Krout, co-founder of Scrib. "Where else can you go to work and have access to incredible ideas, innovative people and even your banker right there in your office?"

"We are committed to adding value to the startup community said Charlie Kelly of Silicon Valley Bank. "Working with Scrib, we will have the opportunity to be there when inspiration strikes, and when entrepreneurs are developing their financial model or needing an introduction to the right investor. We're really looking forward to co-locating with the Scrib community."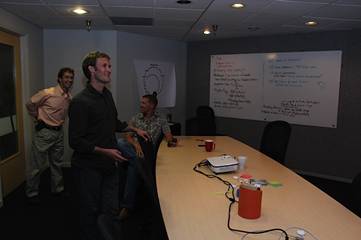 Photo: Charlie Kelly and Mike Devery of Silicon Valley Bank kick off a new co-location partnership with Tripp Baltz of Scrib in Boulder, CO.

Silicon Valley Bank has been working with entrepreneurs and startups since it was founded nearly 30 years ago, and has been in Colorado since 1996. Today, a team of eight is dedicated to working with clients throughout Colorado from Silicon Valley Bank's Central Division headquarters in Broomfield, Colorado. The Broomfield office is also home to 50 other employees supporting clients across the country.

Silicon Valley Bank's experienced bankers offer a comprehensive suite of banking and financing solutions, treasury management, corporate investment and international banking services to its clients large and small, worldwide.

The Silicon Valley team will be available for drop in office hours at Scrib on Wednesday mornings from 9am-11am, or by appointment, for discussion on financial matters affecting early stage ventures. Entrepreneurs and startups can also contact Charlie Kelly or Eric Long of Silicon Valley Bank.

About Scrib
Scrib is a coworking space designed to accelerate success for entrepreneurs, freelancers and independents. Located at Broadway and Pearl in Boulder, Scrib is 5,000 square feet providing access to networking, knowledge-sharing, mentors, professional and social events. The Scrib community fosters "productive collisions" between individuals to help them take their visions and ideas to the next level. Scrib continues to seek partnerships with sponsors who can help create even more value for the community's members.

About Silicon Valley Bank
Silicon Valley Bank is the premier bank for technology, life science, cleantech, venture capital, private equity and premium wine businesses. SVB provides industry knowledge and connections, financing, treasury management, corporate investment and international banking services to its clients worldwide through 27 U.S. offices and seven international operations. (Nasdaq: SIVB) www.svb.com.

Silicon Valley Bank is the California bank subsidiary and the commercial banking operation of SVB Financial Group. Banking services are provided by Silicon Valley Bank, a member of the FDIC and the Federal Reserve System. SVB Financial Group is also a member of the Federal Reserve System.