Silicon Valley Bank Becomes Lead Sponsor of Women's Cycling Team
Company news | January 8, 2015
Team TIBCO-SVB: New Year. New Name. New sponsors for 2015.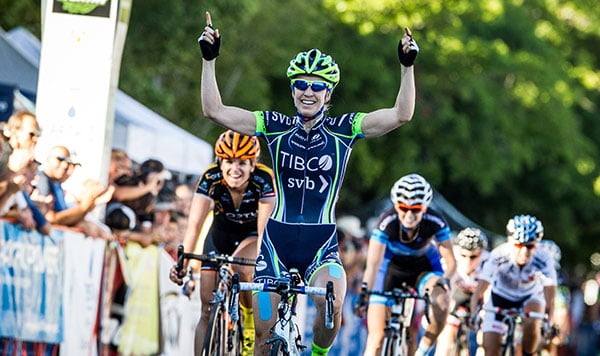 Photo: Team TIBCO-SVB rider. Photo courtesy of Team TIBCO-SVB
Pescadero, CA – Women's Cycling Team TIBCO will enter its 11th seasonwith a new name as long-time sponsor Silicon Valley Bank (SVB) steps up toassume a co-title sponsor role for the 2015 season.
"Our new name is Team TIBCO-SVB.  We have been partners with SVB for many yearsnow, and I'm excited that they have moved up to a co-title role this season,"said Linda Jackson, Team TIBCO's founder. "SVB's increased support is a great example of how active Silicon ValleyBank is in the community and how supportive they are of women and an active,healthy lifestyle.  With the Rio Gamesless than two years away, this is an important season for our riders in theirquest to earn a spot on the 2016 Olympic team. Having additional sponsorship will make their efforts that mucheasier." 
 "We're excited to expand our relationship with the team," said Greg Becker, President and CEO of Silicon Valley Bank.  "We've worked closely with Team TIBCO-SVB for 8 years and continue to be impressed with how they connect with our values of being driven and dedicated.  As cycling continues to increase in popularity with our innovation clients, it's a natural fit."  
 The Team will also be announcing additional sponsors for the 2015 season in the coming weeks.