Big Data and Artificial Intelligence Hold Greatest Promise for Healthcare Technologies, According to Silicon Valley Bank Survey
Company news | September 21, 2016
Digital Healthcare Executives and Investors Addressed Opportunities and Challenges Facing the Industry
New York City – September 21, 2016 – According to a survey of 122 founders, executives and investors in health-tech companies released today by Silicon Valley Bank, big data and artificial intelligence will have the greatest impact on the industry in the year ahead. Healthcare delivery and healthcare IT also promise the most growth in 2017.
"Big data has been integral to our work at Celmatix. It has empowered physicians to be able to counsel women about their chances of having a baby, based on their relevant personal metrics, and not just their age," said Dr. Piraye Yurttas Beim, Chief Executive Officer at Celmatix. "It's an exciting time to be in a field where the pace of innovation continues to increase as both physicians and patients realize the potential of big data and personalized medicine."
The Silicon Valley Bank survey was conducted at the company's HealthTech NYC event on September 8, 2016. The day-long event brought together more than 200 founders and executives from healthtech companies including Aledade, babylon Health, Celmatix, PokitDok, Quartet Health and ZocDoc, as well as healthcare and technology investors from firms including Andreessen Horowitz, New Enterprise Associates and Venrock. Featured speakers included Karen M. Ignagni, President and CEO, EmblemHealth; Tom Rodgers, SVP and Managing Director, McKesson Ventures; and Steve Allan, Head of SVB Analytics, who presented the latest SVB research report on digital health called, Consumer Digital Health: How Market Shift is Leading to New Opportunities.
Findings from the survey highlight the biggest opportunities and threats for healthcare-related technology companies in the coming year:
Biggest Challenge –Although the industry is at the forefront of innovation, consumer, patient and client adoption remains the biggest industry challenge (37 percent) followed by regulation (34 percent).
Greatest Impact on Investments –Thirty-four percent of survey respondents say the success of existing technologies gaining traction will have the greatest impact on investment in the sector next year. Despite uncertainty, the upcoming US Presidential election was seen as least influential factor impacting investment in the industry (7 percent).
Most Promising Technology – Survey respondents say big data (46 percent) and artificial intelligence (35 percent) are the technical innovations that will have the greatest impact on healthtech in 2017.
Biggest Growth Sector – Healthcare delivery/IT is cited as most likely to experience growth in the coming year (45 percent), ahead of more consumer-focused products including mobile health apps (8 percent) and wearables (7 percent).
Best Funding Source –The majority of respondents (61 percent) believe venture capital will provide the greatest funding opportunities for healthtech companies in the coming year.
The complete survey results are available below.
Editor's Note: The HealthTech Survey was conducted on September 8, 2016 at Silicon Valley Bank's HealthTech NYC event. The 122 survey respondents, who were among the attendees at the event, comprised digital healthcare and technology founders, executives and investors.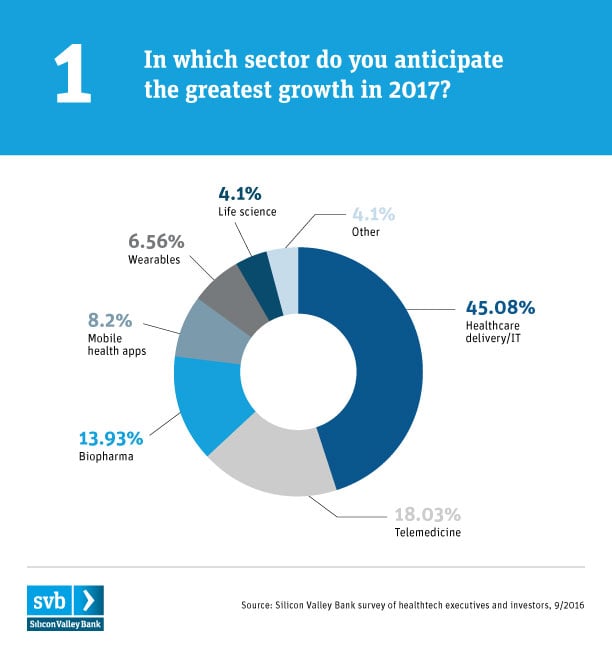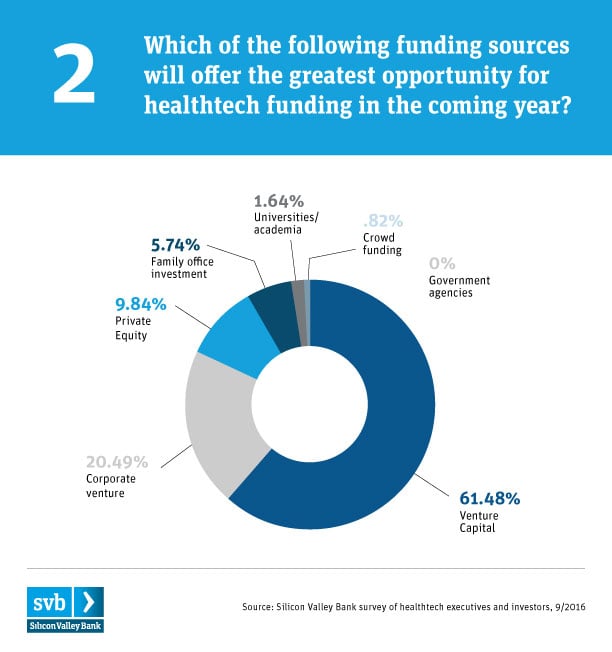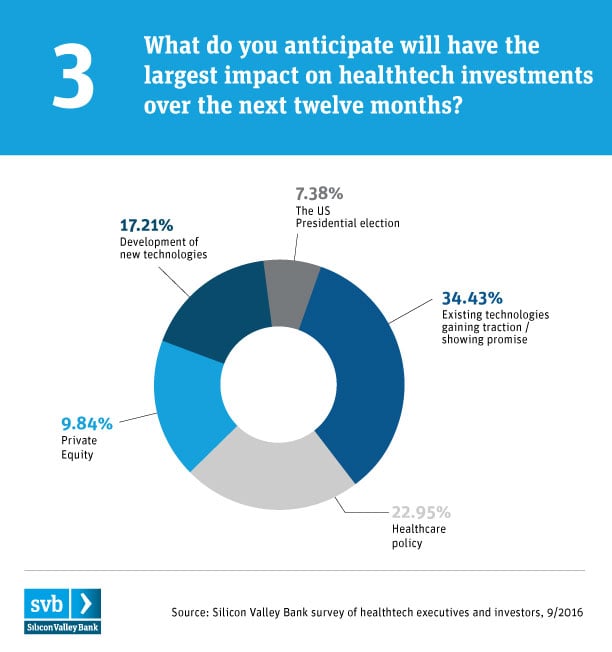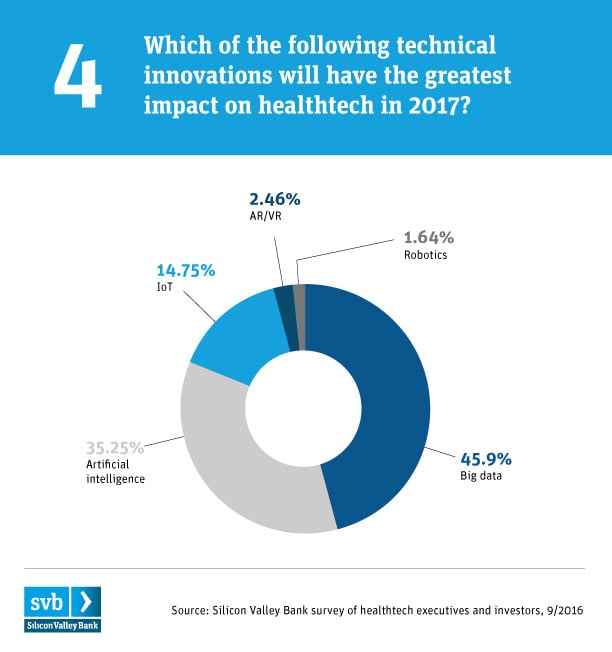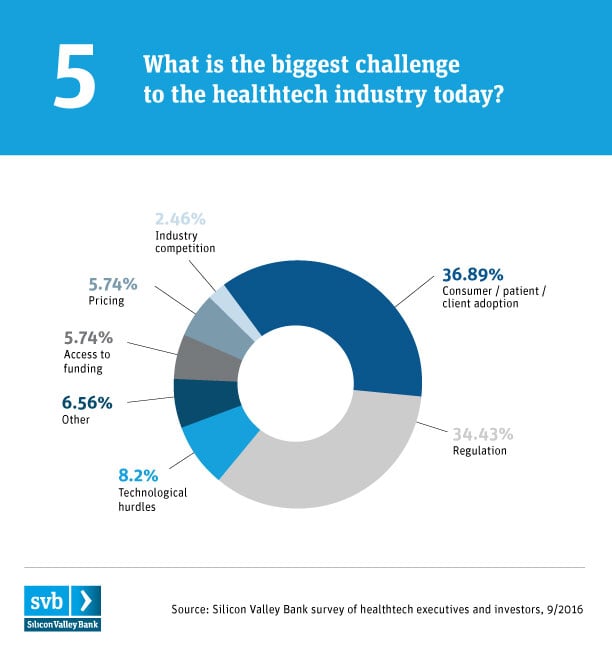 About Silicon Valley Bank
For more than 30 years, Silicon Valley Bank (SVB) has helped innovative companies and their investors move bold ideas forward, fast. SVB provides targeted financial services and expertise through its offices in innovation centers around the world. With commercial, international and private banking services, SVB helps address the unique needs of innovators. Learn more at svb.com.
©2016 SVB Financial Group. All rights reserved. Silicon Valley Bank is the California bank subsidiary of SVB Financial Group. Silicon Valley Bank is a member of FDIC and Federal Reserve System. SVB>, SVB Financial Group, and Silicon Valley Bank, are trademarks of SVB Financial Group, used under license.