Access to Funding Data Gives Venture Capitalists and Startups Insight into Private Investment Benchmarks
Company news | December 6, 2011
Silicon Valley Bank affiliate, SVB Analytics, Offers Comparative Benchmarking Data About VC-Backed Technology and Life Science Companies

SANTA CLARA, December 6, 2011 –– SVB Analytics, an affiliate of Silicon Valley Bank, is making more than 700 financing events compiled from private company valuations available through its Benchmarking service to help private companies and investors make data-driven strategic and operational decisions. The new funding data provided by SVB Analytics allows companies to assess their relative financial strengths, to identify areas for corrective action, and to assess the investor sentiment in their sectors.

"This comprehensive data set on private, venture-backed companies is not available anywhere else," said Tim Porter of Madrona Venture Group. "We have a good sense for the market and for our portfolio of course, but actual, credible data across a much broader range of companies is extremely helpful. It's great to have easy access to comparative data exactly suited to our portfolio companies."

Based on aggregated, anonymous client data gathered from Silicon Valley Bank's borrowers, and valuation opinions by SVB Analytics, Benchmarking allows technology, cleantech, and life science companies to compare their own performance against their peers across metrics found in income statements, balance sheets, cash flow analysis and now funding terms.

"In our efforts to support the innovation ecosystem, we seek to give our clients the insight and data they need to make informed decisions," said Iris Hit-Shagir, president of SVB Analytics. "This data allows VCs putting together a term sheet to ensure they are in-market on a deal at a glance. In the same vein, company founders considering a capital raise can review the terms their peers have negotiated. Our clients on both sides of the table can base their decisions on hard data, rather than guesstimates, and that's better for everyone."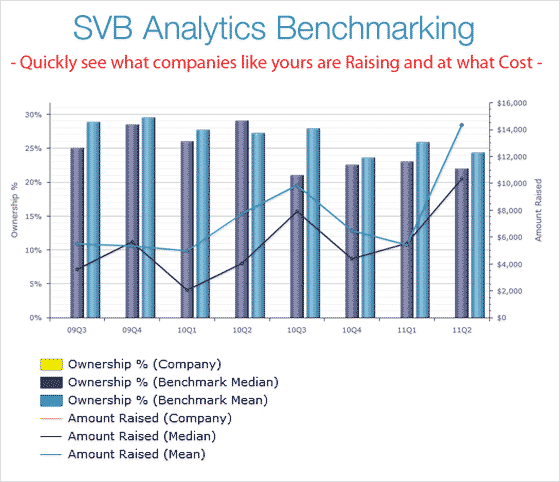 Image: This chart, an example of the reports clients can run directly from SVB Analytics Benchmarking, shows that Software and Services companies raised more venture capital per financing event and gave up less ownership to the investors in Q2 2011 than in the prior quarter or than in Q2 of the prior year. If the company being benchmarked had raised money during this period, its metrics would have been represented in yellow.
With the addition of financing data in the latest release of Benchmarking, investors, company founders, and legal advisors have access to the private funding terms that occurred over the last eight quarters.

SVB Analytics services enable companies to comply with tax and audit requirements, report to their boards and enable investors to make and manage their fund investments with greater insight. Specifically, SVB Analytics offers corporate equity management solutions to track and expense ownership interests accurately and valuation services related to IRC 409A, FAS 123R, FAS 141/142 and FAS 157.

About Silicon Valley Bank Silicon Valley Bank is the premier bank for technology, life science, cleantech, venture capital, private equity and premium wine businesses. SVB provides industry knowledge and connections, financing, treasury management, corporate investment and international banking services to its clients worldwide through 26 U.S. offices and seven international operations. (Nasdaq: SIVB) www.svb.com.

Silicon Valley Bank is the California bank subsidiary and the commercial banking operation of SVB Financial Group. Banking services are provided by Silicon Valley Bank, a member of the FDIC and the Federal Reserve System. SVB Financial Group is also a member of the Federal Reserve System. SVB Analytics is a non-bank affiliate of Silicon Valley Bank. Products and services offered by SVB Analytics are not insured by the FDIC or any other Federal Government Agency and are not guaranteed by Silicon Valley Bank or its affiliates. SVB analytics does not provide tax or legal advice. Please consult your tax or legal advisors for such guidance.