Key Takeaways
The Federal Reserve's asset buying program has had the intended benefit of stabilizing markets and keeping rates low, but it's not without some perhaps unintended consequences. It's critical to understand the situation and respond accordingly, especially when the taper begins.
In addition to managing the front end of the curve, the Fed remains concerned about recent elevated inflation readings — expect it to use all the tools at its disposal to slow increasing price pressures and keep longer-term price expectations under control.
We believe that duration extension, under the right circumstances, makes sense in this environment, as a strategy to potentially capture some incremental yield.
This month's main article explores what the Fed's latest actions may mean in this current rate environment.

Also included are the following themes:
Unintended Consequences?
Jon Schwartz, Senior Portfolio Manager
While it's hard to fathom that we are already halfway through 2021, one thing that remains obvious is that the Fed's pandemic response continues to have major impacts on market dynamics. Some of these have been intended outcomes while others, not so much. Fortunately, we're monitoring the forces in play to protect our clients, and we're actively anticipating how markets will react when the Fed eventually extricates itself and begins the inevitable taper.
A Look Back
When the shelter-in-place lockdowns were put in place, it was quite clear that there was going to be a significant economic toll on families, businesses and the broader economy. The Fed acted swiftly and forcefully with an alphabet soup of emergency lending facilities and asset purchase programs to get cash into borrowers' pockets and provide the short-term lifeline needed to endure the stay-at-home orders. The Fed committed to supporting the market by any means necessary. It bought corporate bonds, provided small business loans and otherwise embarked upon an unprecedented asset buying program that consisted of $80 billion in US Treasurys and $40 billion in mortgage-backed securities (MBS) per month. The massive buying spree had the intended benefit of allowing the financial markets to function properly, while keeping borrowing rates at historically low levels. While order was restored, there were some unintended consequences from these asset purchases. Let's take a step back and try to unpack the market impacts of the Fed's eventual removal of its very heavy hand in the financial markets.

The Fed has made itself the largest buyer of US Treasurys and MBS each month. This expansion continues to increase the size of the Fed's balance sheet, but more importantly, the Fed pays for these securities with reserves that get pumped into the banking system. As the Fed is buying bonds, large banks have to decide what to do with this excess cash. If there were unlimited borrowers, this cash might be welcomed, but banks have capital charges tied to cash retained on their balance sheets. As a result, banks are generally motivated to find off-balance sheet locations for the excess reserves. This is where money market funds come in, since money market funds are generally the preferred off-balance sheet tool for banks. Treasury money market funds largely invest in US Treasurys, other government securities and repurchase agreements. As the Fed continues to make its purchases, banks continue to send reserves to these money market funds, and assets under management (AUM) continue to grow. Therefore, there is ever-growing pressure on front-end instruments such as T-bills and short-dated Treasurys as money market funds work to invest the inflow of funds. In other words, all this cash has to go somewhere.

In a normal interest rate environment, this demand for short-term/high-quality investments would be met with increased debt issuance, but we're not in a normal interest rate environment. The Treasury is approaching its statutory debt ceiling (estimated to be in early August), which means it must reduce the cash balance it is currently carrying in the Treasury General Account (TGA) as required by law. Instead of issuing new T-bills to retire maturing debt, the Treasury taps its cash balance, which leaves the market with reduced supply. This explains why rates got so low on the front of the curve. It's simply about heightened demand coupled with decreasing supply. In turn, the London Interbank Offered Rate (LIBOR) is at an all-time low, repo rates are near zero, and the Fed's overnight reverse repurchase (reverse-repo or "RRP") program usage is at an unprecedented high.
The RRP Pressure Release Valve
The RRP program deserves special mention. This is an investment vehicle provided by the Fed that serves as a pressure release valve for yields on the front of the market. As money market fund assets grow, there is an increasing need to stay invested in a safe product with some yield. The Fed acknowledged the need and created the RRP through which money market funds can lend money to the Fed on an overnight basis in return for a given rate. Before the last Fed meeting in June, the RRP rate was set at zero. Yet RRPs were highly utilized by the money market fund community, to the tune of $500 billion on some days — making clear to market participants that absent some relief pressure on the front of the yield curve could and would likely persist. The Fed apparently realized this and determined it would be appropriate to make a "technical adjustment" and raise the rate paid in the RRP program to 0.05%. A little is better than zero! This drove usage of the facility to $800 million almost instantly and relieved pressures driving yields to zero — all on the front of the curve.

What does all of this mean? By and large, this is good news for SVB asset management clients, as money market funds will remain open to new business and front-end yields creep marginally higher. However, it's important to be realistic. SVB doesn't expect to see any significant yield increase in money market instruments until the Fed raises its policy rate.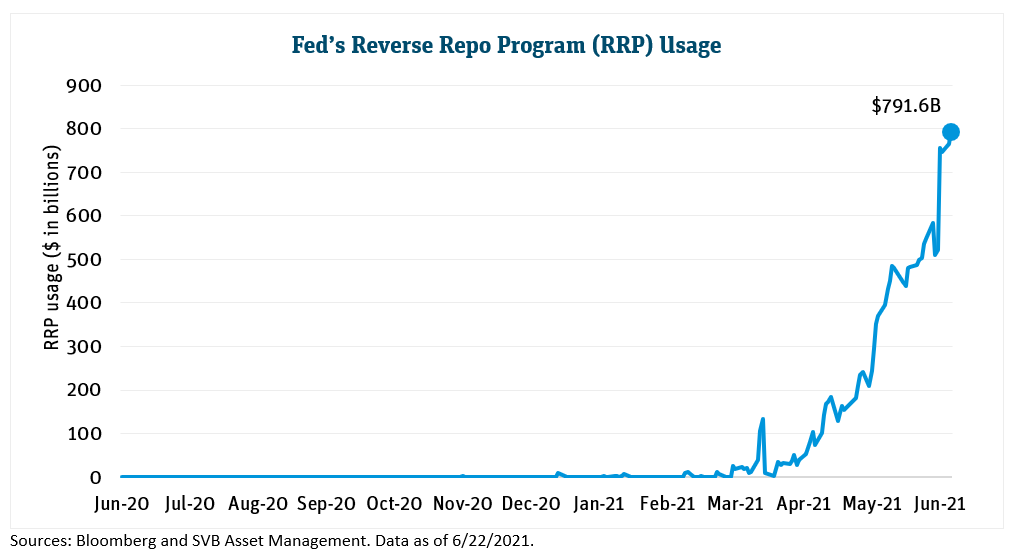 An Appropriate Response
In addition to fine-tuning and managing the front end of the curve, the Fed remains attuned to recent elevated inflation readings. Its messaging is very clear: The Fed will use all the tools at its disposal to slow inflation and keep longer-term price expectations under control, but is watching and waiting to see how transitory this bout of inflation really is. The recent changes in short rates have been encouraging, with two-year US Treasurys making 52-week highs near 27 basis points (bps) and three-year US Treasurys touching 50 bps. As the Fed accelerated the timing for the federal funds rate liftoff at the July Federal Open Market Committee (FOMC) meeting, rates on the front of the curve have tentatively started to price in higher yields. Still, the supply-demand dynamics on the very front of the yield curve remain challenging; this should keep very short rates in a contained range.

Eventually, we'll move beyond the debt ceiling in the fall, which could further alleviate some stress on the front of the curve (12 months and in). But as long as the Fed is buying bonds, rates on the front of the curve will likely remain low. In response, we believe that duration extension, when risk- and liquidity-appropriate, makes sense in this environment as a means to capture some incremental yield. Therefore, we continue looking to extend portfolios out the yield curve and reduce exposure to low-yielding money market funds whenever possible.

Economic Vista: The devil is in the data
Jose Sevilla, Senior Portfolio Manager
As widely expected, the FOMC left its federal funds target rate range unchanged and didn't alter the pace of its monthly bond purchases of $120 billion per month. But there were still a few surprises. The meeting buzz was all about the revised "dot plot," which is how FOMC members communicate their projections for future interest rates. To the surprise of many, now seven of 18 committee members see a rate increase in 2022, while 13 of 18 senior Fed officials expect at least one rate increase by the end of 2023. Chairman Powell did downplay the significance of the dot plot in his post-meeting press conference, saying that the dots are "individual projections, not a Committee forecast, and not a plan. Officials are not debating when to raise rates because discussing liftoff now would be highly premature — it wouldn't make any sense."1 This meeting has already been dubbed as the one that started the discussion about tapering bond purchases. As always, the announcement and implementation of any actual tapering will be data-dependent. In other words, the devil remains in the data, which was a little mixed in June.

May retail sales declined 1.3% month-over-month after being upwardly revised in April. The drop was due to a 3.7% decline in auto sales, attributed to supply constraints (semiconductor shortage) rather than a lack of demand. Excluding autos and gas, sales fell 0.8% month-over-month, driven by declines in online and general merchandise store sales. Although overall retail sales were down slightly, a rebound in restaurant spending has been encouraging. TSA checkpoints also reported a surge in passenger traffic, suggesting a more normal pattern of economic behavior and strengthening of services spending. From the Fed's perspective, the overall retail data was likely neither surprising nor concerning, as spending had been boosted by the impact of stimulus checks. Consumers appear to be shifting spending from goods to services as the economy continues to reopen.

The June jobs report showed the pace of US job creation accelerated to the highest level in 10 months. The non-farm payrolls report showed the US economy added 850,000 jobs last month, which was well above market expectations of 720,000 jobs. The unemployment rate rose to 5.9% from 5.8%. Education and leisure and hospitality accounted for most of the gains in June. The US economy is still 6.8 million jobs short of the February 2020 pre-pandemic levels. At the current rate of growth, reclaiming the remaining lost jobs could still take about 2 more years. That's one argument for the Fed waiting to raise rates until 2023 rather than 2022, barring an inflation surprise.

In terms of inflation, the May Consumer Price Index (CPI) report exceeded expectations, rising 0.6% and up 5.0% year-over-year. For a second consecutive month, the rise in prices was driven by the same handful of categories most directly impacted by supply bottlenecks and reopening-sensitive sectors: new/used/rental cars, vehicle insurance, lodging, airfare and food away from home. Excluding the volatile food and energy categories, core CPI exceeded expectations by rising 0.7%, which translates to a 3.8% rise year-over-year. Both headline and core PCE came in lower than expected for May, while the year-over-year prints were in line with expectations. May PCE was 3.9% higher year-over-year, while the Fed's preferred inflation measure, core PCE, rose 3.4% year-over-year, with the highest rate since 1992.

The Fed acknowledges that inflationary pressures have picked up significantly in recent months, but it remains nonplussed as year-over-year inflation metrics appear distorted given its low base at the start of the pandemic. This seems to support the Fed's thesis that the recent price jumps over the past couple of months are largely transitory, even as the latest headline print of 5.0% year-over-year was the highest since August 2008.
1 Federal Reserve as of 6/17/2021.
Credit Vista: The show goes on
Fiona Nguyen, Senior Credit Risk and Research Officer
After last year's historic issuance, the corporate credit markets kept busy in the first half of 2021. While lagging behind the pace of 2020, gross volumes of investment-grade and high-yield issuance are both on track to outpace the historical patterns seen in the few years before the pandemic. However, compared to last year, there is an important difference in the driver of that activity. In 2020, companies borrowed mainly to boost liquidity and survive the lockdown. This year, many issuers have tapped the markets to fund less bondholder-friendly activities such as capital distribution and M&A. The shift is widely observed not only in the investment-grade market, but also in the high-yield and leveraged loan markets.

Of course, we are not really surprised that the current borrowing environment continues to prove conducive to debt raising. Over the past year, low borrowing costs and the Fed's extraordinary intervention continued to support liquidity in the markets. Investors, on the other hand, thanks to their relentless appetite for yields, have enabled companies in the upper echelon of the rating spectrum to issue debt on attractive terms, notwithstanding the weakening leverage metrics. The torrid demand, coupled with investors' favorable view of credit risk, have sent bond spreads (the corporate bond risk premium over Treasurys) lower. The investment-grade corporate index closed out the first half of the year a few basis points (bps) from all-time tight spreads.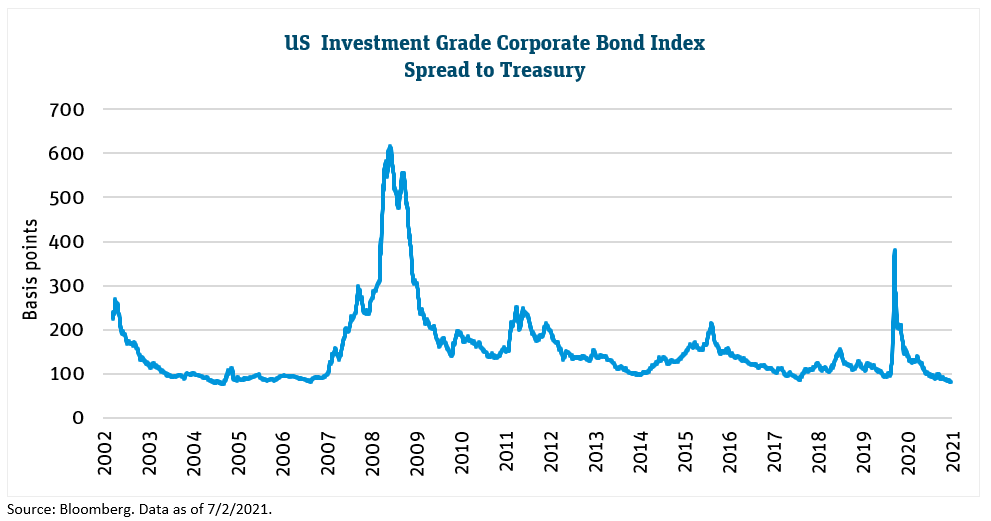 While high leverage had some investors concerned before the beginning of the pandemic, credit performance remains steady to date. Companies' ability to service their debt, measured by metrics like interest coverage ratios and free cash flow to debt, have kept pace. Further, today's low-rate environment and accommodative monetary policy should help keep a lid on defaults as there is no immediate liquidity concern for debtors with relatively good credit quality. According to Moody's, rating changes for US corporate and financial institutions have mostly been favorable in the last 12 months. Even though defaults are far and few between, the rating agencies have not been asleep at the wheel. They promptly took downward actions on issuers' aggressive use of debt or cash flow to finance large shareholder returns or acquisitions, which not only weakens credit metrics but can also prevent companies from achieving deleveraging targets. For example, Oracle, IBM and General Dynamics are among the high-profile companies that received downgrades for recent debt issuing sprees.

As the economic recovery accelerated during the first half of the year and earnings improved, credit ratings moved in sync, showing year-to-date upgrades outpacing downgrades across all three rating agencies. Looking at the data, the ratio of favorable versus unfavorable rating changes averages about 1.2 times and 1.06 times for Moody's and S&P, respectively. Not surprisingly, the sectors that received the most benefit from upward rating actions were technology, financials and consumer non cyclicals. And not coincidentally, these are also the sectors that endured the economic downturn with the least number of downgrades.

Heading into the second half of 2021, there are a few matters to keep a close watch on. Leading the way are credit spreads, which are hovering near all-time lows. These tight spreads are predicated on underlying credit quality and assumes the current macro conditions and investor demand remain robust. A few surprise earnings misses or aggressive uses of corporate capital just might shake credit confidence in certain situations. With the recent debt-funded capital distribution binge spanning across industrial sectors, we are also paying close attention to companies that engage in similar destructive behaviors with their balance sheets. Conversely, companies that publicly disclose responsible debt management and conservative capital allocation policy will garner more confidence. In the financial sector, we will be monitoring for any changes in capital strength in addition to asset quality, which includes delinquencies, problem loans and net charge-offs. For the time being, however, banks' capital and asset quality metrics have remained strong, as validated by the results of the recent Fed stress test.

Trading Vista: Plotting a new course?
Jason Graveley, Senior Manager, Fixed Income Trading
Is the Fed plotting a new course? Possibly, but more likely it's a course adjustment rather than a radical new path. At least that would be the interpretation by looking at the Fed's dot plot. If you compare the nuanced shift from the June FOMC to the March FOMC meeting, it's clear that committee members expect the Fed to move sooner. Coupled with an increase in GDP and rising inflation projections, you can see why the markets sold off initially after the FOMC's post-press release in June.

Of course, this course adjustment has ramifications for traders. For much of the past year, front-end Treasurys have traded in a range. The two-year Treasury note averaged 14 bps over this time frame. This is largely because Fed monetary policy and government fiscal policy drive the front end of the market. And as long as the Fed was holding rates at the zero bound and Treasury was reducing overall issuance, there was no real catalyst for rates to increase.

Now it appears that the Fed may be signaling a willingness to be slightly less accommodative. In addition to rate hike expectations being pulled forward, the Fed also increased the rate paid on their overnight RRP from 0 to 5 bps. Along with moves to increase counterparty access and trading limits, the Fed has essentially pushed short rates back above zero and steepened the curve for longer tenors. Tri-party overnight repo rates have stabilized in the 1–3 bps-range, short Treasuries have moved from negative yields to positive across the curve and longer-dated maturities are factoring in a more aggressive hike cycle. For example, the two-year Treasury has moved more than 10 bps month-over-month, while the three-year Treasury has gained more than 15 bps. This has helped to buoy overall portfolio yields, as Treasurys are the benchmark from which to price corporate bonds. Any overall increase in Treasury rates tends to lift corporate yields if spreads remain stable, which has been the case in the weeks following the June FOMC meeting.

As markets continue to parse the Fed chairman's comments, forward rate projections should only clarify further. As a result, SVB remains focused on duration positioning and maximizing liquidity to be able to take advantage and opportunity of any additional volatility.
Markets

Treasury Rates:
Total Returns:
3-Month
0.04%
ML 3-Month Treasury
0.00%
6-Month
0.05%
ML 6-Month Treasury
-0.01%
1-Year
0.07%
ML 12-Month Treasury
-0.01%
2-Year
0.25%
S&P 500
2.33%
3-Year
0.46%
Nasdaq
5.55%
5-Year
0.89%
7-Year
1.24%
10-Year
1.47%

Source: Bloomberg, Silicon Valley Bank as of 6/30/21