Key Takeaways
By winning both Senate seats in Georgia, Democrats achieved a "blue wave," which may have ramifications for the economy and interest rates.
The slim margin, however, suggests that any sweeping policy changes, including new regulations and potentially higher taxes, are likely to have a minimal impact, at least in the near term.
We expect front-end yields to remain range-bound near current levels and to continue to be anchored as the Federal Reserve is not expected to raise rates for at least the next couple of years.
This month's main article covers what the implications may be for the economy and interest rates with a shift in political power to the Democratic Party and what this means for investors.
Surf's Up! Implications of the Blue Wave
Eric Souza, Senior Portfolio Manager
Surf's up, but what does that mean for investors? Until recently, it appeared that most market pundits believed any upcoming "blue wave" — a shift in political power to the Democratic Party and its subsequent policies and agenda — would more likely be a "ripple" as opposed to a large "breaker." In other words, markets seemed to be handicapping a continued split Congress with the House under a Democratic majority and the Senate under a Republican majority. But all that changed after Democrats won both Georgia Senate seats in the January runoff, which brought the balance of power in the Senate to a 50/50 split for the first time since 2001. Of course, the deciding vote in any Senate tie goes to newly elected Vice President Kamala Harris, also a Democrat.
So what does this mean for investors?
Although this new blue wave with a Democrat president and a majority in both houses of Congress will be in place for at least the next two years, we should remember that it is a slim margin. Even in the House of Representatives, Democrats hold only a slight edge in seats, 222 to 211, which means it won't be easy for the Biden administration to pass everything on its agenda.
With a Biden presidency and Democrats controlling Congress, there are a variety of stated goals, but the most impactful ones and those the markets are watching most closely include:
Larger fiscal policy packages with a focus on direct payments to individuals and relief to small business and state and local governments

Infrastructure and climate change packages

The potential for corporate and individual tax increases

Tightening regulation on technology companies, among others
The markets have been paying attention. Soon after the Georgia runoff, we saw an immediate increase in Treasury yields with the 10-year rising above 1.0% for the first time since March, thanks to a prevailing expectation that additional stimulus and government spending might lead to higher growth, higher inflation and more Treasury issuance. Although yields began to increase after Congress passed a $900 billion spending package back in December, in mid-January President Biden detailed his $1.9 trillion fiscal policy agenda. One thing that caught the market by surprise was Biden's reference on tax increases: "We can do it without punishing anyone by closing tax loopholes for companies that ship American jobs overseas or that allow American companies to pay zero in federal income taxes." Although tax increases and new regulations were expected under the Biden administration, markets didn't anticipate any to be implemented until we made more progress controlling the pandemic. Indeed, with a very slim majority, it still seems unlikely that Congress will be able to pass tax increases early in 2021, and it may have to defer any such debate.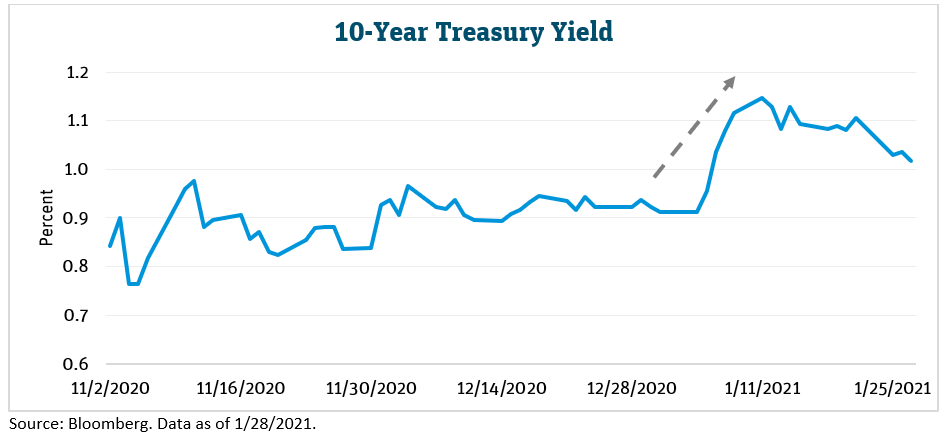 What does this mean for front-end fixed-income yields?
Treasury bill issuance was forecasted to fall before the Georgia runoff, but now with a higher likelihood of more fiscal stimulus, Treasury bill issuance is projected to decline less than expected. As a result, we expect front-end yields to remain range-bound around current levels and to continue to be anchored as the Federal Reserve is not expected to raise rates for at least the next couple of years. The corporate bond market is also expected to see less issuance this year, so when you combine that with an improving economy, credit spreads could continue to tighten. Although higher tax rates could affect companies' free cash flow, we do not expect any significant downgrade trend from rating agencies. Furthermore, we don't anticipate major changes to the auto and credit card asset-backed securities (ABS) sector — with spreads likely to tighten — and any rise in issuance is expected to come primarily from the auto ABS sector.
Thus, given the slim majority in Congress, we do not expect the blue wave to become a major breaker. In fact, in terms of overall impact it certainly does look like a ripple for now. Monetary and fiscal policy support is expected to continue, and the Fed is likely to keep the federal funds rate at the zero bound, while continuing with their monthly purchases of Treasuries and mortgage-backed securities (MBS). Ultimately, the trajectory of the ongoing economic recovery this year will continue to be dictated by the path of the pandemic, the distribution of the COVID-19 vaccine and any return to economic normalcy. While we have seen some improvements to the economy, we remain cautious in our outlook. Although we do not expect a wipeout, we always keep a watch out for rogue waves.
Economic Vista: Cautiously optimistic, for the moment
Jon Schwartz, Senior Portfolio Manager
The Biden administration is officially in the White House, and the world is watching. The two critical areas everyone is watching are fiscal spending and the trajectory of the pandemic. A healthy dose of stimulus, coupled with an effective vaccine rollout, could have the economy headed back to normal. But we're not out of the woods just yet.
For starters, President Biden has announced a lofty $1.9 trillion fiscal package that would kick-start the economy. This package would provide immediate relief to households, businesses and state and local governments, as well as a longer-term focus on infrastructure spending and the "green economy." Of course, this figure was a jumping-off point. Given that the Democrats have the slimmest of margins in Congress suggests that the final package will likely land well short of this target. Although the recent jobless and consumer spending data make clear the need to further stimulate economic growth, it's anyone's guess whether this will help achieve some of the lofty GDP growth predictions of 5% to 6% for 2021.
Another key variable toward aiding the economic recovery is the distribution of the Pfizer and Moderna COVID-19 vaccines. If the US can achieve the goal of one million vaccinations per day set by the administration, it would be reasonable to expect the consumer to begin spending more freely, particularly in some of the more depressed areas of the economy, such as travel and hospitality.
Before getting too far into any long-term forecast, let's understand the current landscape. Initial jobless claims in 2021 show a continued deterioration of the employment picture, as the resurgence of COVID-19 cases has led to more layoffs. Initial claims were averaging 753,000 per week for the months of October and November 2020, but the most recent reading of 926,000 initial jobless claims was the highest seen since mid-August 2020. Continuing claims have been trending lower for the past few months, but the pace of the improvement has clearly slowed. Payroll data have disappointed recently as well, with the first negative payroll print since the depths of the crisis in March 2020 (a loss of 140,000 jobs vs. expectations of a gain of 50,000 jobs). Obviously, the news on the employment front has not been great.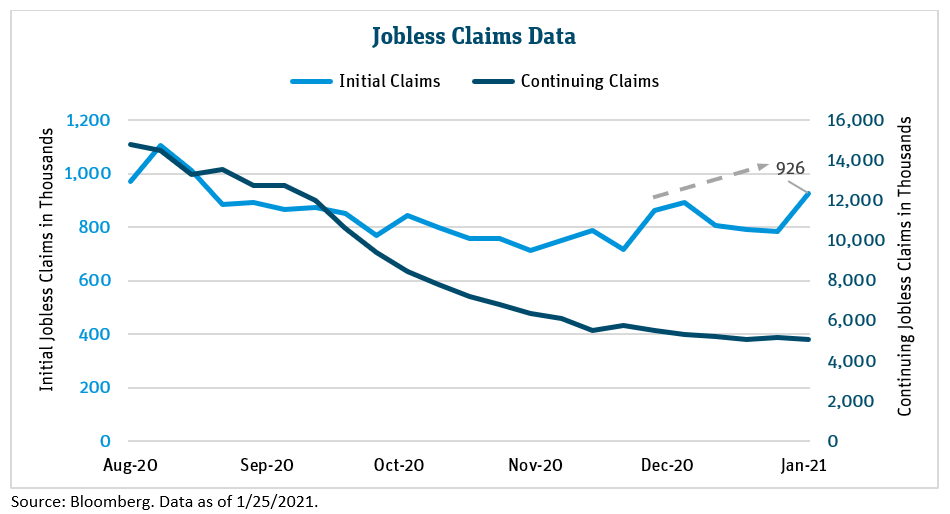 Ultimately, achieving robust growth in 2021 and beyond will depend on our ability to achieve herd immunity and return consumer behavior to pre-pandemic patterns. It's unclear how consumers will react as the vaccine distribution progresses, but pent-up demand caused by lockdowns could be significant. On the other hand, it is quite possible that consumers will remain more cautious, and spending behavior could be curtailed relative to expectations. Another risk to any lofty growth projections will be the size of the next fiscal spending package. If the consensus expectations for a fiscal package of $900 billion to $1 trillion does not pass Congress, widespread business closures may not reverse rapidly in the second half of this year.

For the moment, it is clear that financial markets are anticipating a best- (or at least better-) case scenario, as equities continue to make new highs while the Treasury yield curve is the steepest it's been since mid-2017. The markets have been looking beyond the elevated case counts and mortalities of today. Risk assets have been on quite a run, but there continues to be a potential downside to the rosy forecast.

For starters, the virus may mutate to a more infectious strain, thereby requiring a higher percentage of the population to be vaccinated to achieve herd immunity. This would push the timeline out in terms of normalizing the economy. It's also quite possible that a new vaccine variant might be needed to combat the new virus strain. Even with the Food and Drug Administration's (FDA's) accelerated approval program, the development of a new vaccine would take time. Thus, if vaccine-resistant mutations of the virus emerge, there would be an impact on economic growth, though not as severe as what was experienced initially.

So, while sentiment and projections are upbeat, there are unknown factors and ongoing risks to growth prospects. The most critical risks appear to be twin worries: those centered around the size of the fiscal stimulus and, more importantly, the ultimate trajectory of the pandemic. Any delay in achieving herd immunity would clearly affect the pace of growth. For now, it's refreshing to see the market take the optimistic viewpoint, but if there are unforeseen hiccups, it will take time to get back to the pre-pandemic normal.
Credit Vista: Is change healthy?
Tim Lee, CFA, Senior Credit Research Officer
With newfound control of both chambers of Congress, the new Democratic administration in the White House has a reasonable chance to implement some level of the healthcare platform it campaigned on. For investment-grade issuers in the healthcare sector, policy changes advocated by President Biden in three areas may come with a healthy dose of side effects. Will this be a healthy change for investors?
First, expansion of the Affordable Care Act (ACA) to cover an estimated 97% of Americans could help increase enrollment and revenue for health insurers, which is a credit positive. However, if Medicare is offered as a public option, some health insurers could see a decline in enrollment and revenue in their existing ACA products if consumers switch to the public offering. Health insurers could also face enrollment declines in their Medicaid products under Biden's proposal to offer a premium-free public option as an alternative to Medicaid. On the other hand, some health insurers could benefit, if the Medicare Advantage products they offer are included as part of the public option. An increased number of insured patients could also lead to higher demand for companies with offerings in medical devices, biopharma, pharmaceuticals, pharmacies, healthcare services and hospitals.
Second, an expansion of Medicare's clout might cause revenue headwinds for pharmaceutical and biopharma companies. If changes are made to allow Medicare to negotiate pricing directly, manufacturers could be pressured to reduce prices, given Medicare's large market presence. Medicare would, in all likelihood, pay prices set by the Department of Health and Human Services (HHS) for new treatments that are commercialized without any competition. In turn, this could further reduce revenue and returns for biopharma and other drug developers. In addition, drug company cash flow, under the Biden plan, could face pressure from a tax penalty for increasing their prices above the general inflation rate, the elimination of tax deductibility for drug advertisements, and allowing consumers to buy prescription drugs overseas where prices may be lower. To some extent, an increase in sales volume might counterbalance some of these potential headwinds.
Third, mega healthcare M&A deals would likely face legal challenges, given the Biden administration's view that market concentration in the healthcare system is driving up prices for consumers. A policy to "aggressively use" antitrust powers will likely discourage large-scale, debt-fueled buyouts of direct competitors — a credit positive. We will likely see more credit-neutral tuck-in acquisitions and joint-venture formations continue to occur, though takeout valuations could be impacted if pricing limitations are enacted. At the same time, we don't expect to see antitrust power being used to break up any large healthcare conglomerates.
While it remains to be seen what policies will ultimately be implemented, we believe many investment grade healthcare issuers will retain their strong credit health. This may be achieved, in part, by offsetting the negative side effects of these changes through growth from new product development, geographic expansion, and increased demand from an aging population. Whether or not the overall change in direction in healthcare ultimately proves healthy for this sector in the long term remains to be seen. We intend to keep our pulse on the situation.
Sources: joebiden.com and SVB Asset Management
Trading Vista: It's over. Now what?
Jason Graveley, Senior Manager, Fixed Income Trading
Election season seemingly went on forever, but traders finally got some clarity early in the new year. We learned that Democrats gained control of Congress with the slimmest of margins — and in response, markets have mostly shrugged and remained stable. The cost of that stability, however, remains to be seen, as investors weigh the benefits of more fiscal stimulus against the prospect of a more stringent regulatory environment and the potential for higher taxes. Equities have brushed off any concerns for the moment, with levels continuing to push up against all-time highs.

Meanwhile, credit spreads have largely remained range-bound, although this reflects the tightest levels on almost everything. Market technicals continue to be the driving factor, as the system is flush with cash at a time when supply has shifted away from the front end of the curve. Because overall secondary money market supply remains tepid and there is too much cash chasing too few assets, rates and spreads are expected to stay compressed for the foreseeable future.

As a result, we have seen primary markets start the year more active than anticipated, with corporations taking advantage of investor demand and a lower-for-longer interest rate environment. When looking at full-year projections, 2021 investment grade corporate bond issuance was expected to drop more than 25%, given the record issuance of the past year. However, January 2021 was off to a hot start and looks to exceed consensus expectations. Individual deals have overperformed original pricing guidance, as we have seen tranche oversubscription (the amount of buyers relative to tranche size) typically between two-to-four times the available supply. This illustrates the robust demand from investors, but the difference between initial price guidance and the final price on deals has varied substantially. For deals that have an expected maturity of less than two years, spreads have compressed 5 basis points (bps) on average, as the deal progresses from pre-market to pricing. This has left primary deals trading with little to no concession to secondary offerings, as investors are using this as more of an avenue to find inventory as opposed to sourcing cheap bonds.

Navigating a market with fewer options and lower yields leaves an oversized emphasis on selectivity — especially as levels in some sectors, such as Treasuries, make sizable purchases difficult. As a result, we continue to seek out highly rated alternatives that might still provide some spread opportunity. As we discussed previously, Sovereign, Supranational and Agency (SSA) issuers have been an outlet here as an alternative security type. These issuers, which carry a AAA rating, allow for portfolio managers to maintain the weighted average credit quality of a portfolio, while increasing the return potential. While we expect this market environment to persist for a spell, our disciplined approach allows flexibility to take advantage of any temporary dislocations. We continue to keep dry powder for such opportunities, while overweighting spread product to add incremental yield with money market fund returns averaging just 1-3 bps.
Markets

Treasury Rates:
Total Returns:
3-Month
0.05%
ML 3-Month Treasury
0.01%
6-Month
0.07%
ML 6-Month Treasury
0.01%
1-Year
0.08%
ML 12-Month Treasury
0.02%
2-Year
0.11%
S&P 500
-1.02%
3-Year
0.17%
Nasdaq
1.44%
5-Year
0.42%
7-Year
0.76%
10-Year
1.07%

Source: Bloomberg, Silicon Valley Bank as of 1/29/21