Key Takeaways
As the year comes to a close, we reflect on key developments of the last year and evaluate economic and market conditions that could affect the year ahead.
2021 was a year of recovery from the COVID-19 pandemic, with a rebound in economic growth, supply chain bottlenecks and significantly higher inflation.
As the Federal Reserve attempts to head off inflationary pressures by raising interest rates, the course of monetary policy remains closely tied to the evolution of the pandemic.
This month's main article, Looking Back but Forging Ahead, reflects on key developments of the last year and evaluates economic and market conditions that could affect the year ahead.

Also included are the following themes:
Looking Back but Forging Ahead
Jose Sevilla, Senior Portfolio Manager
As 2021 draws to a close, it's often healthy to step back to look at some of the year's highlights (such as generous fiscal stimulus and the robust economic rebound) and lowlights (like the meme stocks disrupting equity markets, as well as the ongoing supply chain bottlenecks and labor shortages). All this gives us a fresh perspective and helps us better evaluate markets and interest rate trends. It also provides invaluable insights as we forecast the year ahead.

The year began on an optimistic note with pandemic fears fading and vaccine distribution accelerating. Quarantines were waning globally, and the re-opening of the economy reinvigorated market confidence and suggested that COVID-19 was close to being behind us. We watched as Joe Biden was sworn in as the 46th President of the US, and in his first order of business, he pushed through a $1.9 trillion fiscal stimulus package (followed by $2 trillion in infrastructure spending). The arrow was pointing upward, and risk assets rallied strongly. The economic picture remained rosy, as we saw over 6.0% average year-over-year growth in the first two quarters of the year, buoyed by strong consumer spending. We also saw a rebound in the labor markets, which added more than three million jobs in the first six months of the year.

Of course, with the substantial stimulus and continuing accommodative monetary policy, investors turned their attention to the Federal Reserve and the potential for rising inflation. Inflation concerns were apparent, but most Fed officials viewed the risk as transitory, which allowed the Fed to keep the fed funds rate near zero, anchoring the front end of the curve. Meanwhile, long bond yields spiked at the beginning of 2021 with the improved economic outlook: 10-year US Treasury yields rose from 0.91% to a high of 1.74%. Since then, US Treasury yields have diverged between the front end and the long end. Supply/demand imbalances contributed to the ultralow front-end rates. The downward trend in rates on repurchase agreements (repo) is partly attributable to large amounts of cash that needed to be deployed into government securities with little to no collateral supply. Banks were swimming in reserves, parking more of their cash overnight at the Fed's reverse repo facility. Meanwhile the long end of the curve steepened to reflect the improved growth and higher inflation outlook.

As we moved into the second half of the year, a perfect storm of market concerns dominated the headlines. The Delta variant brought on a new wave of COVID anxiety, slowing hiring and consumer spending and spoiling the economic momentum of the first two quarters. Federal support programs including supplemental unemployment insurance and eviction and foreclosure moratoria expired, which diminished consumer confidence. Inflation concerns continued, as prices increased not only on pandemic-stricken sectors like hotels, restaurants and travel, but also in gas, rents and used vehicles. Housing costs also increased for owners and renters alike as property values soared. Housing is the biggest line item in most Americans' budgets, and economists typically point out that once shelter costs rise, it is rare that they revert. Supply chain bottlenecks were another consistent headwind in 2021, as virus cases shut down factories across the globe, reduced production lines and exacerbated labor shortages. So, while growth was robust in 2021, headwinds remained.
The year ahead
While the economic trends of 2021 are likely to continue into the new year, the ultimate trajectory of the economy could be affected by unforeseen consequences of the pandemic. The emergence of the Omicron strain is a stark reminder that global recovery hinges on whether and to what degree governments will need to reinitiate travel bans and in-person work restrictions. The bottom line is that market volatility is likely to persist into next year.

Beyond the pandemic, there are ongoing challenges. The labor supply/demand gap is expected to continue in early 2022, even as most economists expect the unemployment rate to move closer to pre-pandemic levels as labor shortages ease, thanks to the expiration of the extra jobless benefits. The market also anticipates higher inflation through early next year due to supply chain pressures that are likely to keep prices elevated, but inflation should recede as the transitory effects diminish.

The Fed will also be in the news in 2022. Jerome Powell has already been renominated as Fed Chair, with Lael Brainard joining him as Vice Chair. At the time this article was written, there was still some ambiguity as to who would fill the three remaining open seats. Regardless of who sits on the Federal Open Market Committee (FOMC), policy changes are likely to be on the horizon. The ample liquidity that supported asset prices in 2021, fueled by quantitative easing (QE) and the drawdown of the US Treasury's general account, is slowly being unwound. The Fed has already begun tapering QE, which could mean rate hikes as early as mid-2022, assuming growth is still strong and inflation remains elevated.

How does all this affect our general investment strategy and portfolio management? With rates expected to trend higher next year, we will continue to take a disciplined approach to duration management, which will give us the flexibility to adjust portfolios should volatile conditions endure. We also continue to see the relative value in non-government bonds, as fundamental and technical factors remain supportive. For the moment, we continue to overweight non-government bonds across many of our portfolios. As always, we closely monitor the changing environment and are prepared to adjust course, depending on what 2022 has in store for us.
Credit Vista: The future's so bright...
Fiona Nguyen, Credit Research Advisor
As 2021 is fading in the rearview mirror, we look back at some of the major credit trends of the past year and their implications for 2022 and beyond. By and large, it looks very good for investment-grade credit, as long as inflation and supply chain disruptions don't spoil the party.
Banking Sector: Safe and sound
For the US banks, three rounds of record earnings and the midyear annual bank stress tests continued to highlight the strengths of the sector. Much of last year's worries about liquidity and capital deficiencies have largely dissipated, making way for earnings optimism, as rates are set to rise in 2022. Notwithstanding an idiosyncratic event related to Archegos' outsized trading loss that mildly affected some of the largest banks, the industry — particularly the big US money center banks — has many reasons to celebrate. These include healthy profits, strong capital levels, sound liquidity and funding profiles, and stable asset quality. Such solid fundamentals also offer bond investors the comfort and confidence that large banks should be able to handle, in the event of any sudden market dislocation and negative credit events.
Industrials: Uneven recovery
Many investment-grade companies have rebounded from the depths of the pandemic, thanks to their established franchise strength, diversified business models, and continued ample access to liquidity through the capital markets. In the first half of the year, the strong economic recovery provided a supportive environment for corporates to not only recoup revenue from last year's slump, but also to grow. Free cash flow for the S&P 500 non-financial companies continues to rise at a healthy pace, exceeding pre-pandemic levels and boosting accumulated cash on balance sheets (see figure). The ratio of Debt to EBITDA (earnings before interest, taxes, depreciation, and amortization), a measure of financial leverage, also returned to pre-pandemic levels.

On one hand, improved financial performance translates to better credit ratings. As we discussed in a prior post, this year's positive rating actions have outnumbered the negative actions at both Moody's and S&P. On the other hand, the abundance of liquidity entices companies to look for ways to either increase shareholder returns or fund M&A — often with new issuance. Management teams also appear to have become more aggressive about pursuing potential M&A opportunities, and the increased M&A activity in industrial sectors is certainly something to keep a close watch on. There have been a few instances where companies received rating downgrades for adding too aggressively to their debt burden. High debt, particularly at lower-rated issuers, can be unsustainable. This also exposes firms to repayment risk if (and when) growth slows and liquidity access becomes challenged. But among our approved issuers, downgrades due to such aggressive financial policies remain rare.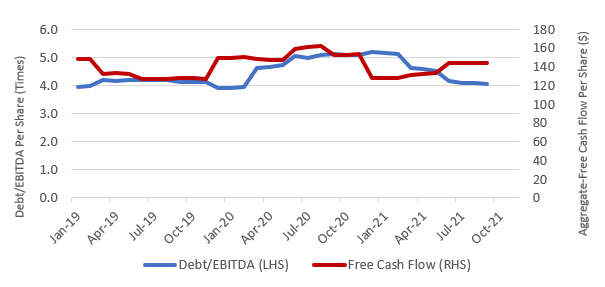 Wild Cards: Inflation and supply chains
Although the credit outlook remains bright, we'd be remiss not to mention the two pressing topics of this year: inflation and supply chain constraints. While companies continued to report strong corporate earnings into the third quarter, some gains were limited by higher input costs and supply chain disruptions — two forces that are not mutually exclusive. For consumer-oriented companies, such as Pepsi, Coca-Cola, Kimberly-Clark and P&G, inflation was explicitly cited as hurting third-quarter earnings. Cost inflation in commodities and supply chain challenges started to weigh on financial results and drive meaningful margin compression. In such an inflationary environment, pricing power is key. Large, diversified companies often have the flexibility afforded by their scale to weather the supply shortages and pass on price increases to consumers. On the other end of the spectrum, consumers with healthy household balance sheets and strong demand are price-takers — for now. They have been more receptive to higher prices than in the past, allowing companies to protect market share and margin to some extent.

For the moment, we remain optimistic, as long as supply chain disruptions and rising input costs do not intensify significantly. We are also watching the Fed to see if (and how) they might speed up the tapering of asset purchases. In corporate credit, we continue to favor issuers with consistent cash flow generation, strong balance sheets, responsible debt management, and conservative financial policies. In some cases, this can even include quality credits at the BBB level.
Trading Vista: Brace for higher rates
Jason Graveley, Senior Manager, Fixed-Income Trading
As the year draws to a close and the days have grown shorter, we have seen traders take a long look at the persistent (and surprising) high inflation readings. This has prompted a corresponding sharp rise in front-end yields. The two-year Treasury benchmark — considered the most sensitive to changes in monetary policy — has risen steadily from the year low of 0.12% in February, when rising rate expectations were more of an afterthought and inflation data was muted. Fast-forward to today and the two-year Treasury has traded as high as 0.64% in November, and markets are pricing in multiple rate hikes in 2022. Recent commentary from Fed policymakers and continuing supply bottlenecks are ratcheting up inflation expectations, potentially warranting a more hawkish Fed response than previously expected. At present, the fed funds futures market is projecting a 25 basis point (bps) hike by June and a total of 65 bps in rate hikes in 2022.

While investors will no doubt embrace the potential for higher bond yields, corporations are looking to get out in front of this move to secure their financing needs while rates remain relatively low. The new-issue, investment-grade, market-supply run rate is approaching $1.4 trillion for 2021. Although this is below last year's historic pace, it is still 25% ahead of 2019 totals. Projections for next year are roughly in line with 2021, although a more hawkish tilt from the Fed could push much of this issuance to earlier in the calendar year. Investor duration positioning and allocation preferences are also likely to shift in a rising rate environment, so corporations are expected to pivot and put a greater percentage of their issuance in the front end of the curve to satisfy this demand.

This pent-up demand and the narrative of "too much cash chasing too few assets" has been a common theme throughout 2021 and was a significant contributor to lower money market rates through the summer. The Fed's Reverse Repo facility has garnered many headlines on this front, and all the excess liquidity has steadily inflated balances from under $1 billion at the beginning of 2021 to over $1.5 trillion today. When coupled with an estimated $4.5 trillion parked in global money market funds, there is more than $6 trillion of overnight cash available in the market.

While the demand side of the equation is robust, we've also witnessed shifts and reductions in the supply side. As noted earlier, many companies are looking to term-out debt and lock in a lower cost of capital, but this has ultimately led to a reduction in outstanding non-financial commercial paper (CP). In fact, non-financial CP balances are estimated to represent only 20% of the CP market today, while we have seen industrial names like Toyota and Coca-Cola cut their programs anywhere from 50% to 80%.

As we end the year and look ahead, investors find themselves at a familiar inflection point. We are now staring at the second rising rate environment of the past five years. Forward portfolio positioning remains top of mind — maybe more than ever — and we are committed to prudently managing duration, retaining ample liquidity, and mitigating volatility. We believe these are the three keys to staying ahead of an evolving market.
 
Markets

Treasury Rates:
Total Returns:
3-Month
0.05%
ML 3-Month Treasury
0.00%
6-Month
0.09%
ML 6-Month Treasury
0.00%
1-Year
0.22%
ML 12-Month Treasury
-0.03%
2-Year
0.57%
S&P 500
-7.65%
3-Year
0.84%
Nasdaq
3.97%
5-Year
1.16%
7-Year
1.37%
10-Year
1.44%

Source: Bloomberg, Silicon Valley Bank as of 11/30/21