Key Takeaways
SVB has introduced an Environmental, Social and Governance (ESG) portfolio strategy for clients, which not only looks at credit fundamentals, but also evaluates issuers on an array of ESG criteria.
All ESG portfolios are built from the same SVB Asset Management (SAM)-approved corporate issuer list to ensure the highest credit quality.
The launch of the ESG portfolio strategy reflects our clients' increasing desire to align overall investment strategy with corporate values, without sacrificing safety and performance.
This month's main article introduces our new Environmental, Social and Governance (ESG) portfolio strategy for asset management clients.
ESG in Our DNA
Paula Solanes, Senior Portfolio Manager
The SVB ecosystem is unique. Its inhabitants — including our bankers, our corporate clients and entrepreneurs and founders — are striving to improve the world in some way. By extension, the entire ecosystem is also aiming for the betterment of society. In this sense, ESG has always been in our DNA.

What's new this year, however, is that SVB Asset Management has launched an ESG portfolio strategy for our clients. ESG stands for Environmental, Social and Governance — the set of criteria typically used by socially conscious investors, with each element acting as a determining factor to measure an overall ESG rating. Environment considers how a company's operations affect climate and the environment. Social takes many forms and evaluates how a company acts from a social perspective, including whether it embraces diversity and prioritizes human rights, and whether it partners with companies that do the same. Finally, Governance digs into the structure of a company, examining items such as transparent accounting practices and the diversity of its board of directors.

These and other related elements have become pillars in assessing a company's overall profile beyond simple financial metrics. Furthermore, there is growing evidence that companies that prioritize ESG factors may also be better long-term investments.

Adopting an ESG portfolio strategy approach provides clients with the opportunity to invest in corporate issuers whose values align with their own and support causes that are meaningful to society. We believe that many of these companies are also very good stewards of their cash. It's not an either/or proposition. Companies can be good investments and good corporate citizens. An ESG portfolio strategy through SAM invests in only the top-rated corporate issuers from an ESG perspective. Essentially, we take our approved issuer list, which is carefully vetted and continuously scrutinized from a credit-fundamentals standpoint, and apply an ESG analysis utilizing industry-leading ESG rating providers.

This gives clients the opportunity to prioritize ESG while maintaining a sound investment portfolio that aligns with their existing investment policy and meets their key investment objectives — typically the preservation of capital, liquidity and return.
The ESG strategy
The ESG strategy is intended for comprehensive portfolios that allow for investments in corporate obligations, such as commercial paper and corporate bonds, and has an investment horizon of at least 12 months. The advantage of applying an ESG approach to a separately managed account (SMA) is that there is greater control allowing for the ability to not only align with specific investment policies, but also to incorporate our investment themes (such as our take on the macro environment, interest rate outlook, sector allocation and duration positioning). In contrast to a prime fund with an ESG focus, which has the floating NAV component, an SMA structure allows us to apply a customized and longer-term view, taking into consideration specific cash flow needs, interest rate cycles and market conditions to better optimize portfolios.
How it works
Clients that allow for corporate obligations and have at least 12 months of runway can opt for an ESG approach, whereby the credit allocation of the portfolio is filtered through an ESG screen. Clients can choose to apply an ESG focus to their entire portfolio or carve out a portion of the overall portfolio to be managed with an ESG tilt. From there, similar to our standard approach, we tailor the portfolio to each client's specific investment policy and cash flow needs, layering on our investment themes. Historical analysis has shown that you don't need to sacrifice expectations to adopt an ESG approach. Portfolio strategies with an ESG focus are expected to provide competitive performance, relative to similar portfolios without an ESG approach.

Every one of our ESG portfolios begins with the same SAM-approved corporate issuer list. This ensures the highest credit quality and market depth. From there we filter for issuers with top ESG scores, leveraging scores from reputable third-party scoring agencies. Then, we monitor ESG scores on an ongoing basis. In the case where an issuer's ESG score falls below our threshold, we will provide our recommendation on whether to continue to hold the position or reallocate.

As part of the quarterly portfolio review, we also provide a weighted average ESG score for the credit allocation in the portfolio as well as the individual SAM ESG score for each issuer. This helps clients monitor the ESG focus and demonstrate the ESG priority to their own constituents.

As we continue to navigate this recent interest rate cycle, we expect to be closely tied to the fed funds target range of 0.00% to 0.25% and remain (mostly) range bound for the majority of 2021. Given the low levels in government money market funds and front-end treasuries, we have an overweight spread product where we can find attractive relative value in corporate issuers with strong fundamentals. By applying an ESG approach to a portfolio that allows for credit allocation, you can optimize your income while aligning your investment strategy with your corporate values. To incorporate an ESG strategy that works best for you, please reach out to your dedicated portfolio manager.
Economic Vista: On the right path
Jose Sevilla, Senior Portfolio Manager
Credit Vista: Credit check for ESG
Tim Lee, CFA, Senior Credit Risk & Research Officer
ESG-focused considerations are becoming increasingly important to investors — and it's no surprise why. Today, people want to do business with thoughtful and responsible companies that make positive contributions to society. But do issuers with higher ESG scores have better or worse credit metrics? That's the question we set out to answer.

To find out, we took the population of corporate bond issuers from the Bloomberg Barclays US Aggregate Index (Aggregate Index) and their corresponding average ESG scores from Sustainalytics, S&P Global and Bloomberg, three of the leading ways that organizations are rated on various ESG criteria.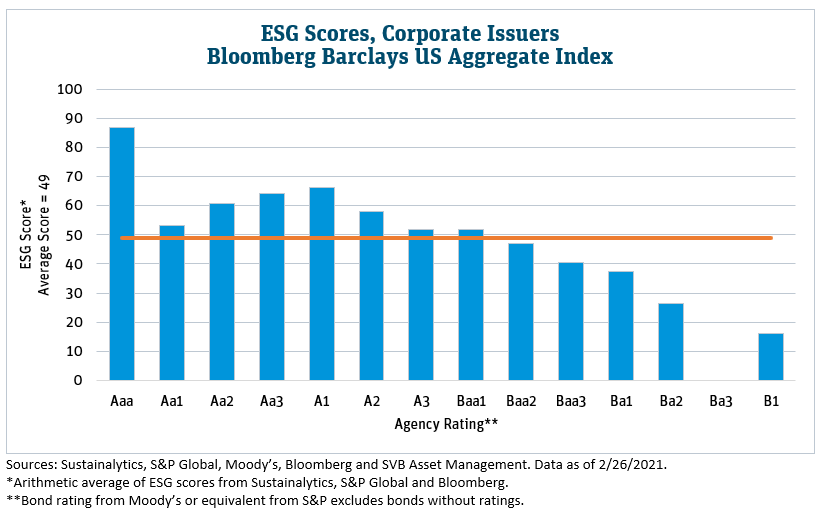 At first glance, there appears to be some correlation between ESG scores and credit ratings, with higher scores corresponding to a higher agency credit rating. The average ESG score of a corporate issuer that is a member of the Aggregate Index is 49. The average ESG score of issuers with a rating of Baa1 or better was above 49, while those with a rating below Baa1 had an average ESG score below 49. In part, this reflects some related ESG factors that go into an agency rating, such as sustainability goals that may affect costs and margins under the Environmental category. Management's history of financial policies can also affect a company's Governance score, while demographic and societal trends can influence sales for an issuer's product or service and, in turn, affect its rating on different Social metrics.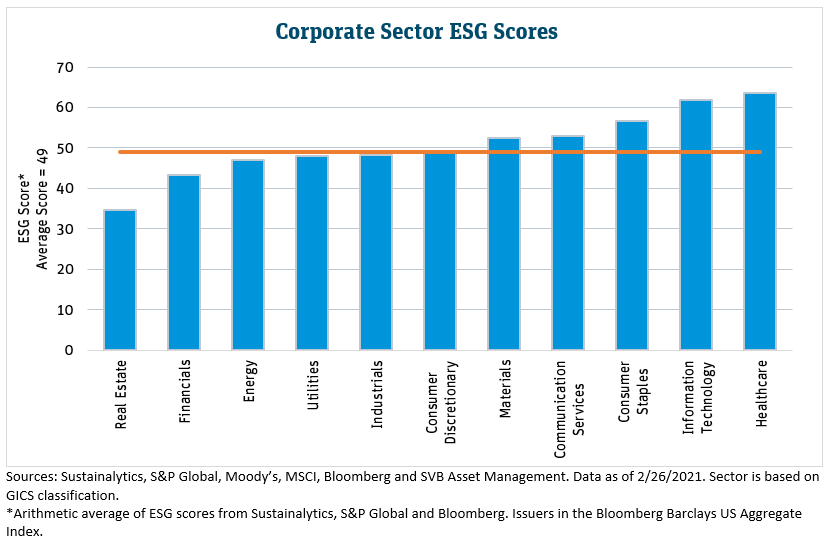 From a sector perspective, it is no surprise that Energy and Utilities were among those that had a below-average ESG score. These companies tended to score poorly on Environmental ratings, given their ties to carbon emissions and societal pressure to confront climate change. On the other end of the spectrum, the Information Technology sector receives above-average ESG scores due to the role their products play in reducing energy consumption and enabling the creation of more sustainable products. Healthcare — the sector with the highest average ESG score — has been helped by commitments to reduce waste, increase use of recycled materials and expand access to those with affordability barriers.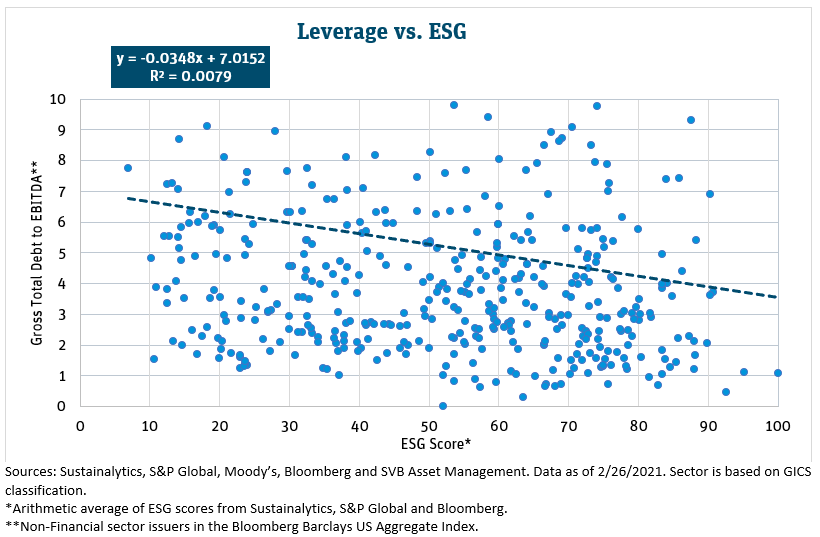 Outside of agency ratings, the relationship between ESG scores and credit metrics appear more mixed. For example, for nonfinancial corporate issuers in the Aggregate Index, a dot plot of gross leverage to ESG score shows a wide dispersion. This illustrates a general independence between ESG scores and credit metrics across these companies.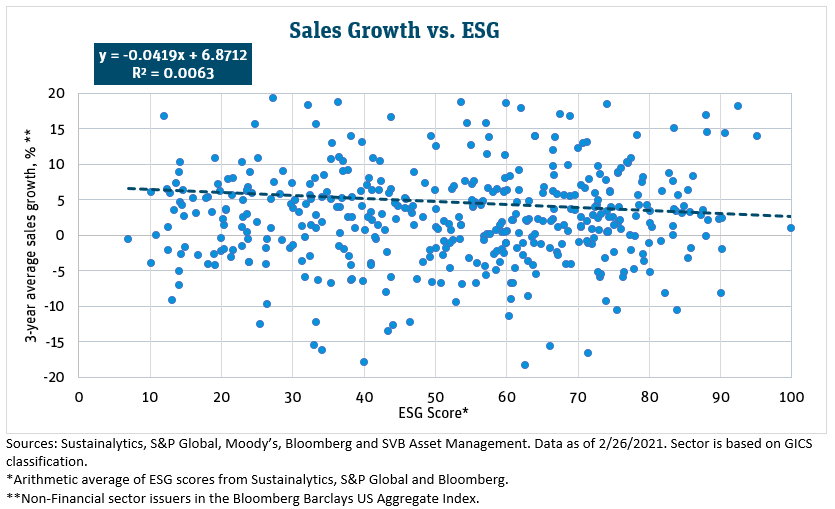 A dot plot of three-year average sales growth against ESG scores also shows no discernible relationship. This conclusion is supported by a regression analysis producing no meaningful statistics.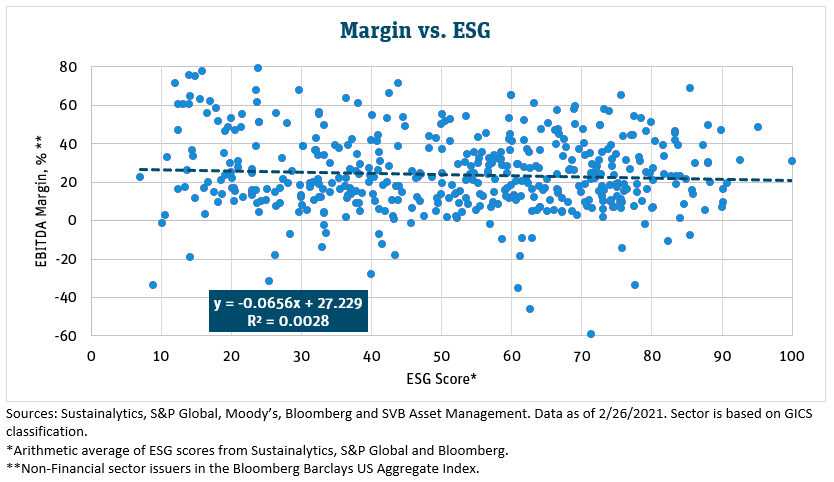 There was also no statistical significance between Earnings Before Interest, Taxes, Depreciation and Amortization (EBITDA) margin and ESG activities, even though a simple regression of the data points to lower margins for higher ESG scores. While it may be tempting to believe that increased costs to meet social or environmental targets would translate into lower profit margins, an R2 of less than 0.01 provides no such conclusion.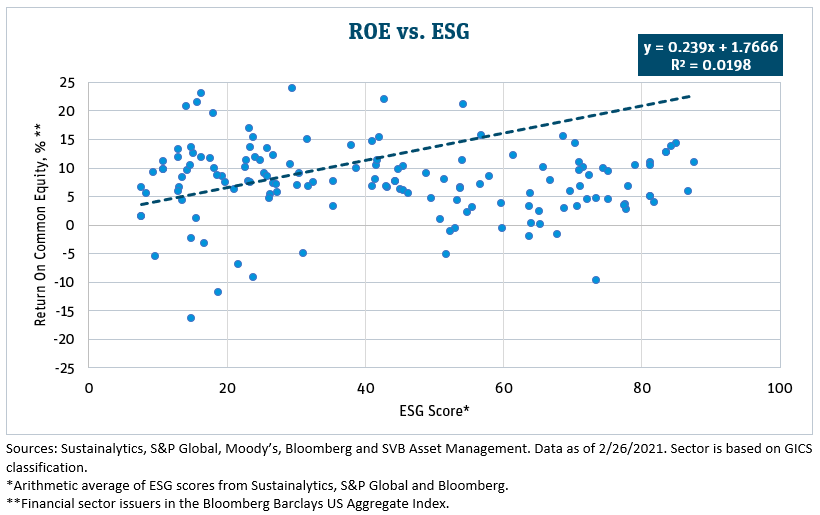 For financial sector issuers in the Aggregate Index, return on common equity was not determined by ESG scores. This general independence of financial outcomes and ESG scores means corporations can implement positive ESG policies without incurring any meaningful negative financial impact. It doesn't need to be an either-or proposition, and it doesn't always cost companies more to do the right thing.

For the moment, the verdict is mixed but encouraging. As always, fixed-income investors should be mindful about jumping to credit conclusions with respect to ESG scores alone, as a higher ESG score does not necessarily correspond with better credit metrics. Conversely, however, a low ESG score is not indicative of a weaker credit profile. Due diligence is still required via fundamental issuer research, but it's good to see that many socially responsible companies also carry sound credit profiles.
Trading Vista: Money market in the crosshairs
Hiroshi Ikemoto, Fixed Income Trader
Money market rates have been a primary focus this month, as continued demand from investors and money fund complexes have pushed yields toward zero. The Treasury's decision to reduce the overall bill supply has accelerated the move, which is expected to persist unless stimulus funding changes issuance expectations. This tight market has caused some concerns on whether money market mutual funds can maintain a positive yield, since the funds comprise such a large part of the bill market. However, an increasing number of money market complexes are conceding fees, and it now appears increasingly likely that Congress will pass an additional stimulus package, which should funnel more supply into the market. In addition, the use of Fed facilities should help prevent funds from going negative.

Looking outside the money markets, all the talk has focused on the 10-year Treasury note, which broke above the 1.50% handle for the first time since the pandemic shutdown the country. The sharp move can be attributed in part to positive economic data and the fact that more of the country is easing lockdown restrictions, which in turn has triggered inflationary worries in the markets. Front-end yields were not immune to these fears, as the important benchmark Two-Year Treasury, which had been printing in the 10 to 11 basis point (bps) range for most of the month, popped to 16 to 17 bps on the last two trading days of February. Also, the three-year benchmark jumped from 0.23% to 0.33% during these same two days. With credit spreads remaining flat and the yield curve steepening, we felt this was a great opportunity to invest in bonds priced to these benchmarks and extend the duration on the portfolios at the same time. The credit market continues to flourish in 2021, as each new deal is oversubscribed, reflecting robust demand in investment grade and high-yield bonds.

As we head into the end of the first quarter of 2021, we're beginning to see some volatility in the bond market. With volatility comes opportunity. We continually analyze these possible opportunities through our independent credit analysis, commitment to sector and duration diversification, and in-depth knowledge of the markets. And we aim to do all this while minimizing risk and providing income and ample liquidity.



Markets

Treasury Rates:
Total Returns:
3-Month
0.03%
ML 3-Month Treasury
0.01%
6-Month
0.05%
ML 6-Month Treasury
0.02%
1-Year
0.07%
ML 12-Month Treasury
0.02%
2-Year
0.13%
S&P 500
2.76%
3-Year
0.28%
Nasdaq
1.01%
5-Year
0.73%
7-Year
1.12%
10-Year
1.41%

Source: Bloomberg, Silicon Valley Bank as of 2/26/21