Key Takeaways
The Federal Reserve and investors are bracing for unusual year over year (YOY) data comparisons. This could make it tricky when it comes to evaluating inflation and determining if it is transitory or more severe.
April's consumer price index (CPI) report far exceeded expectations and surprised many. But investors may also want to better understand methodological differences between the CPI and the personal consumption expenditures (PCE) price index, which is where the Fed prefers to guide its inflation targets.
If the trend of higher inflation continues into the second half of the year, we may start to hear the Fed change its message and think about reducing some of its monetary accommodation. This could have an impact on fixed income portfolios.
This month's main article, Digging into the Inflation Weeds, takes a closer look at the data behind evaluating inflation.

Also included are the following themes:
Digging into the Inflation Weeds
Jeff Probst, CFA, Portfolio Manager
As the anniversary of the COVID-19 lockdown approached, both investors and the Fed braced for unusual YOY data comparisons. Although this might make it easy to shrug off major data misses, investors still want to dig deep into the details to find any nugget that could indicate a trend. This is especially true for inflation (one half of the Fed's dual mandate), which will influence the timing of any future rate increases. For the moment, the market is conveniently shrugging off higher transitory inflation, but that could change if elevated readings stick around. Is another taper tantrum ahead? Will the Fed accelerate its expectations for future rate increases? Let's dig into the inflation weeds to see if we can sort some of this out.
Eyeing the index
The April CPI report far exceeded expectations as the core CPI leapt to the highest YOY figure in nearly 25 years, which was 3.0% vs. the expected 2.3%. While the headline CPI came in much higher at 4.2%, investors and policymakers prefer to focus on core inflation measures that eliminate the more volatile food and energy components. So, while the market was bracing for a report with substantial noise in it, this was still a surprise. April was the first CPI report where the YOY figures incorporated price effects from the beginning of the pandemic and lockdown. Additionally, the month-over-month (MOM) inflation figures were also elevated, adding credibility to the view that raised inflation is real. Investors and the Fed are tasked with trying to determine if a new inflation regime is here or if it's just transitory inflation noise.

The April CPI report provided evidence to support both camps. The April report supports the view that inflation is increasing, while also allowing for investors to dismiss much of it due to one-off issues or transitory effects. The table that follows displays some of the more notable factors from the last report or those that have a clear connection to the events of the past year.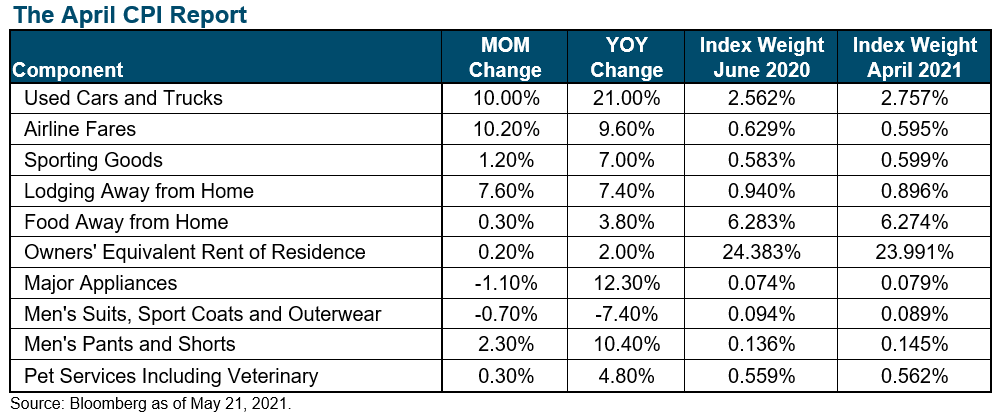 Both used cars and trucks and airline fares experienced significant YOY and MOM increases, but both may have occurred in each period for different reasons. The ongoing supply shortage of semiconductor chips has led most major automobile manufacturers to reduce production, thus consumers who are flush with stimulus cash are quickly turning to the used car market, which drives prices up. The same holds true for airline fares: As the vaccine rollout accelerates, the demand for flights has increased while airlines have been slow to add more passenger capacity. The reopening of the economy is further illustrated in the lodging and food away from home categories, both experiencing significant gains. We would expect to see some of these price impacts to moderately or even slightly correct, as airlines and automobile manufacturers add capacity and consumers fulfill their initial itch to travel. While the YOY and MOM figures are impressive, their overall impact to CPI has been minimal due to their relatively small weighting in the index.

On the housing front, real estate prices on single family homes increased in most markets this past year, while owners' equivalent rent of residence, which is a proxy for housing costs in the CPI, has not registered a similar gain. One could expect higher real estate prices to slowly translate into higher rent and support higher inflating in the coming periods. But we might also expect some normalization in many of the other categories as the economy continues to reopen.
PCE matters, too
While CPI is more commonly known, the Fed prefers to monitor PCE price index to guide its inflation targets. Both indices measure price inflation based on a basket of goods, but there are some key differences that can cause the figures to diverge. For example:
The weight of individual categories in each index can vary — sometimes by a large amount. For example, the category in PCE that measures shelter has a weighting of as much as 10% less than in CPI, while medical care services are around 10% greater in PCE. Medical care is traditionally paid for by employers or government entities. Thus, the bulk of medical costs are not captured in CPI but are captured in PCE, since medical care is still being sold, just not directly to the end consumer.

CPI is based on what urban households are buying, and PCE is based on what businesses are selling to all households.

PCE also attempts to mimic consumer behavior when substituting for different goods after prices change in the market.
The rigid weights of the CPI baskets have likely provided inflation data that is not representative of the average consumer. It is a common criticism that we all see daily. The Fed says there's no inflation, but as consumers we experience higher prices everywhere. Over the past year, we have witnessed massive shifts in consumer demand, but the table above shows very little change in weights. During lockdown, for example, food away from home still accounted for 6.28% of the CPI basket, nearly the same as last month. The same goes for pet services; however, the animal shelters were cleared during quarantine as people sought companionship. Yet, there was very little change to the index basket weight.
Over the past 10 years, a notable difference between the core CPI and PCE can be seen, with the CPI readings above PCE in nearly every period. A thorough understanding of the calculation and methodological differences between the two indices can help market participants decipher potential noise from the signal.
Several inflation measures, such as the Producers Price Index (PPI) and subcomponents of several other economic data points, are indicating upward price pressures in the economy. Over the past six months, investors have increasingly viewed incoming data as inflationary, at least in the short term. Break-even inflation rates have steadily increased with the two-year breakeven surpassing longer tenors. Over the past 10 years, it has been rare for the two-year breakeven to be above the 10- and five-year break-even rates, let alone for a sustained period. Thus, investors have started to price in higher inflation in the short run, but they still seem to be expecting inflation to moderate in the medium to long run.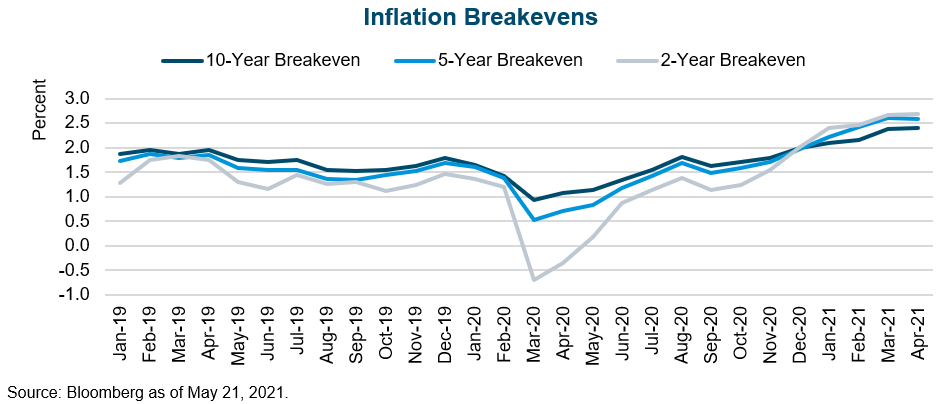 While we can attribute some of the inflation to supply chain issues, calculation methods or government stimulus programs, there are some signs of longer-lasting inflation emerging in the economy. Over the past several months, many employers have found it difficult to find labor and have resorted to raising their minimum wages and providing bonuses. The fight for labor and the costs associated with it will likely be sticky, as it is difficult to coax wages lower even as the economy returns to equilibrium. While higher wages will likely crimp short-term profits of firms, those higher costs will eventually be transferred to consumers in the form of higher prices. Again, this could be a sign of inflation that is more than transitory.

For the moment, the market seems to believe that elevated inflation will stick around beyond the next few months, while the Fed continues to hold its message that the higher inflation readings are transitory. If the trend of higher inflation continues well into the second half of the year, we may start to hear the Fed change its message and think about reducing some of the monetary accommodation put into place during the depths of the pandemic. We'll be watching how this plays out in order to position portfolios appropriately.
Economic Vista: Data forecasters strike out
Eric Souza, Senior Portfolio Manager
Data forecasters are clearly in a slump. In recent weeks we have seen economists and Wall Street analysts swing hard but miss big when it comes to expectations and actual results. In fact, the three main data points the market watches most closely — employment, inflation and consumer spending — produced some very large surprises during the first few weeks of May.



Strike One: Jobs
On the employment front, market consensus was for nonfarm payrolls to show a gain of 1 million jobs, with many market participants calling for even higher expectations. However, the actual number came in at 266,000 new jobs, which is the largest miss on record. In addition, the prior month's reading of 916,000 new jobs was revised to 770,000. Although 266,000 would have been a solid reading pre-COVID-19, the market was not happy with such a large miss. The only positive from the report was to see the labor force participation rate rise to 61.7%, which is the highest it's been since August. This helped push up the unemployment rate to 6.1%. (Remember, the unemployment rate can rise for good reasons and decline for bad reasons.)

This release confirms that companies are reporting trouble finding workers, some of which is being blamed on generous unemployment insurance benefits. Other factors limiting the supply of labor include the challenges associated with finding affordable childcare and continued fears of contracting COVID-19, despite the improving case count and expanded vaccine distribution. Perhaps the brightest part of the labor report was in the leisure and hospitality sector, which accounted for more than all the jobs gained in the month. This previously hard hit sector added more than 330,000 new jobs, which is a positive sign for the overall labor market. Recent announcements from Amazon, Chipotle and McDonald's that they are increasing entry level wages also may help address the labor shortage. Though, many potential candidates are likely waiting for the additional government benefits to expire in September before rejoining the labor force.

So, how does the most recent jobs report change the calculus for the Fed? Perhaps we should look to Minneapolis Fed President Neal Kashkari for our answer: "…we have a long way to go and let's not prematurely declare victory."
Strike Two: Inflation
On the inflation front, the CPI came in much higher than expectations for both headline and core readings. Increases were seen in nearly every major category, with especially sharp increases in prices for motor vehicles, transportations services and hotel stays. The increases were mostly expected due to base effect changes and the fact that comparisons to prior years will be skewed by the pandemic. However, what surprised the market was the fact that we have also seen wages showing signs of picking up along with supply chain challenges, all of which pushed the print above expectations.

The 0.9% monthly gain for core CPI was the largest it has been since 1981, and the YOY reading of 3.0% was the highest it has been since 1996.

The 4.2% YOY CPI is the highest since 2008.
Strike Three: Consumer spending
The third major data release to come in lower than expectations was retail sales, which was forecast to rise 1.0% but came in flat. Eight of 13 retail categories declined, with sales from clothing stores falling by more than 5%. The control group — which is a direct feed into gross domestic product (GDP) — declined by 1.5%, which was much lower than the expectations for a more modest 0.2% decline. However, one positive sign from the consumer was a 3.0% gain for eating and drinking establishments, which follows last month's increase of 13.5%. Clearly, this illustrates that the reopening continues unabated. Although declines were expected following last month's very strong readings (thanks to fading weather effects and fresh stimulus checks), the unchanged retail sales reading was a disappointing surprise. As the economy reopens, retail sales are expected to come in at more consistent and sustainable levels.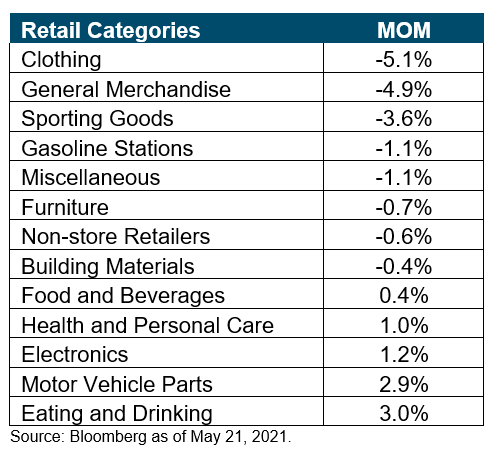 So, what do we make of these misses and disappointing releases? Although lower employment, lower retail sales and higher prices are typically not a good blend, it is still just data from a single month — one point in time. Our recommendation is to not overreact. Indeed, even the Federal Open Market Committee (FOMC) members do not seem concerned and have conveyed no desire to reassess their policy views at this time.
Looking ahead, we expect that more robust hiring will resume, but the market may begin to focus more on inflation. Is inflation truly transitory, or are we entering a new regime? Wages, commodity prices and gasoline prices are rising and pushing up inflation expectations. Regarding the transitory theme, increasing wages is not something you can roll back, so these increases will not be temporary. In addition, many underlying economic reports show pricing pressure, including:
ISM Services showed prices paid were the highest since 2008

Empire Manufacturing showed input and selling prices rose to record highs, going back to 2001

The Philadelphia Fed Business Outlook Survey showed prices paid and received components at their highest levels since the 1980s

Markit Purchasing Managers' Index (PMI) reported input prices and output charges quickened by the most on record
But, in the end, since the Fed has moved to outcome based forward guidance, there's nothing to do but be patient and wait for the next batch of data. In the meantime, I will be trying to do better on the softball field than the data forecasters did this past month.
Sources: U.S. Bureau of Labor Statistics, Bloomberg as of May 21, 2021
Credit Vista: Reading the (inflation) tea leaves
Fiona Nguyen, Senior Credit Research Officer
After hitting 1.8% in March 2021, the core PCE price index, the Fed's favorite inflation gauge, rose 3.1% in April compared with a year ago. Powered by pent-up demand, fiscal stimulus and supportive monetary policy, the economic recovery has accelerated at an impressive pace, bringing along a surge in consumer spending and investment. While that is a welcoming change after many months under lockdown, a fast-growing economy often brings with it an unwanted side effect: inflation. But as Fed officials have communicated repeatedly, they want to see the economy running hot until it reaches a point of sustained inflation above 2.0%. Elsewhere, the impacts of inflation have been top of mind for many business leaders whose companies face hefty increases in raw material prices and other inputs, such as transportation, packaging and labor costs.

In fact, inflation has been a big focus during first quarter earnings across a variety of sectors. In the consumer sector, for example, the earnings season has been strong for most companies. However, conglomerates such as Procter & Gamble, Unilever and Kimberly-Clark all reported a substantial spike in commodity inflation, which has created meaningful headwinds to their earnings. According to the companies' management, this higher cost pressure is likely to persist over the near term. All three companies have been forced to raise prices in certain markets, effectively passing on those higher input costs to end consumers. Kimberly-Clark, for example, announced price increases in the mid-single digits in paper-based products, such as diapers and tissue, because of rising pulp prices.

Logistical challenges — due to supply chain bottlenecks precipitated by months of long disruptions in global shipping — has compounded the commodity inflation issue. Many US ports have experienced backlogs and congestion as inbound cargo ships continue to pile up, waiting to unload. These bottlenecks deprive companies the ability to source essential components for their end products. The ripple effects echo across supply chains, leading to inventory shortages in an array of goods categories, including consumer goods, groceries, autos and recreational items. Other supply-led issues — like the global chip shortage — are exacerbating the headwinds facing the industrial sectors.

Most economists believe these problems are only short-term noises and that today's supply-side pressures will sort out as disruptions are resolved over time. But what if rising inflation becomes more entrenched and leads to a long-term shift in prices? How would that affect the credit outlook for issuers?

For the moment, we are mildly optimistic that credit quality will remain relatively solid. Since inflation is a byproduct of economic growth, we should not focus solely on how inflation affects companies' bottom line in a vacuum. Rather, we need to watch for how well they maneuver between the reopening upsides and the new challenges brought on by the inflationary environment. Ultimately, the answer to the credit quality question will be revealed by measures such as rating migrations, deleveraging record, and margin preservation or expansion.

In general, companies that are exposed to higher commodity pricing, such as consumer goods manufacturers and retailers, are more susceptible to margin pressure. To the extent that certain manufacturing costs cannot be hedged, those who command healthy pricing power in their markets can take immediate pricing actions to offset the margin pressure without losing market shares. But raising prices is not the only tool. For instance, management at Colgate-Palmolive noted it will use costs savings and other efficiency programs to partially absorb the pressure. Credit profiles will trend positively for those companies that can position to maximize the dynamics of strong demand, pricing power and operational leverage.

For now, one or two months' worth of data is not worrisome enough for the Fed to mount a response, considering its new policy framework allows for a higher tolerance of inflation. However, some companies cannot afford to wait for the Fed to manage the inflationary pressures, which have already been felt at many production levels. Still, investor risks to the downside remain fairly limited and are supported by improving macro conditions, accommodative fiscal and monetary policies, and tightening spreads. Perhaps accepting that heightened inflation risk is part of the new normal is one way investors can brace for any potential impact, just as issuers find ways to cope with inflation.

Trading Vista: Back in the spotlight
Hiroshi Ikemoto, Senior Fixed Income Trader
The quantity of cash coming into the money markets since the pandemic began has grown so large that demand for a key facility at the Fed to park cash — which is designed to set a floor on short-term interest rates — has hit near historic levels. The Fed's overnight reverse repo program (RRP) has seen a surge in usage in recent weeks, despite offering no yield and traditionally utilized only during quarter end by financial and money market mutual funds. Investors continue searching for any short-term investment vehicles that are not printing negative returns, such as overnight repurchase agreements and short T-bills, and have piled into the program. On Thursday, May 27, alone, counterparties allocated a record high total of $485.3 billion with the facility. This is a far larger balance than during the height of the pandemic at the end of March 2020, and it represents the highest usage ever. It is also in stark contrast to just over one month ago where almost no one tapped the facility.

Several factors have contributed to the increased usage of the overnight RRP. Remember, the Fed decided earlier this year to increase daily counterparty limits to $80 billion from $30 billion. The Fed's quantitative easing policy, which has taken collateral out the repo market while infusing more cash into the system, has caused a further imbalance in supply and demand dynamics. On top of that, an overall contraction in money market issuance and purchase opportunities, coupled with more stimulus payments to municipalities, are further flooding cash into the US funding market. 

What does this all mean to cash investors? Money market mutual funds, a major participant in both the repo and Treasury bill market and a major source of liquidity for corporate and bank cash, are likely to be stuck yielding zero to near zero for some time. In order for short-term rates to rise, the Fed will need to take action to coax investors to exit money markets. This will only happen if and when investors become more confident looking further out the curve. With the current market consensus of a Fed rate hike sometime in 2023 and with the Treasury curve pricing in that movement, we are seeing market participants slowly extending the duration to capture yield on the steepness of the curve. But, it's likely to be a slow move, and we will be monitoring the market to see how investors respond.
Markets

Treasury Rates:
Total Returns:
3-Month
0.00%
ML 3-Month Treasury
0.00%
6-Month
0.02%
ML 6-Month Treasury
0.00%
1-Year
0.03%
ML 12-Month Treasury
0.02%
2-Year
0.14%
S&P 500
0.70%
3-Year
0.30%
Nasdaq
-1.44%
5-Year
0.80%
7-Year
1.26%
10-Year
1.59%

Source: Bloomberg, Silicon Valley Bank as of 5/28/21