Key Takeaways
Since the beginning of the year, we have seen a divergence in the Treasury yield curve with longer rates rising sharply, while front-end rates have lowered.
Lower short rates primarily reflect a perfect storm — rising demand for short Treasuries, coupled with declining supply as the Department of Treasury moderates new issuance.
This yield curve divergence has implications for investors. Thus, it might be appropriate to tilt portfolios toward longer duration securities with a focus on spread product inside of one year.
This month's main article, A Tale of Two Trends, discusses the recent yield curve divergence and what that means for portfolio positioning.
A Tale of Two Trends
Eric Souza, Senior Portfolio Manager
Investors, pundits and the press are all seemingly focused on rising interest rates and the potential for higher inflation. So here's a compelling question to consider: Are Treasury yields moving higher or lower? The answer(s) might surprise you.

Since the beginning of the year, we have seen a divergence in the Treasury yield curve with long-end rates rising sharply, while front-end rates have moved lower. This occurred soon after Democrats took the majority in Congress following the Georgia Senate runoffs in January. Normally, with the Federal Reserve on hold you would expect front-end yields to be range-bound, but the rally in the front end is being affected by a perfect storm of decreasing T-bill supply at a time of increasing demand.

Before we jump into the current yield curve divergence, let's step back to reiterate that the US Treasury yield curve is essentially divided into two parts: the long end (typically 10 to 30 years), which is affected by growth and inflation expectations, and the front end, which is typically shaped more by monetary policy and supply.

The rise in long-end yields at the beginning of the year was influenced by expectations for a large fiscal stimulus package along with positive vaccine news. Currently, growth expectations from both economists and the Fed have been improving due to increased availability of COVID-19 vaccinations, along with a drop in cases in the US that has fueled economic reopenings across the country. Throw in the recently approved $1.9 trillion stimulus package, and you can see why so many are focused on higher rates in the long end of the curve.

It's a different story at the front end, where yields have been anchored due to the Fed's monetary policy that is keeping the fed funds rate in the zero-bound range of 0.00% to 0.25%. However, since the beginning of the year we have seen a decline in Treasury yields, not so much for flight-to-quality reasons but rather for technical supply and demand dynamics. For example:
The demand side has been fueled by large reserves, which is what you typically see when the Fed is buying bonds (currently at the tune of $120 billion a month). In addition, the Department of Treasury will be cutting its very large Treasury General Account (TGA) balance by August 1, reverting to the level when the previous debt ceiling was approved in March 2019. Back then, the TGA was approximately $200 billion, while today it is currently at $1.6 trillion. This is a result of the Treasury ramping up borrowing in 2020 for the expected stimulus packages. (The day-to-day government operations from tax receipts to US Treasury issuance is run through the TGA.) Lowering the TGA balance also increases reserves, which are normally invested in front-end money market instruments. In addition, the recent announcement to let the Supplementary Leverage Ratio (SLR) expire for bank holdings of Treasuries and their deposits could lead to even greater demand for money market instruments (e.g., T-bills, money market funds). In other words, demand is robust, and it looks to stay that way.

On the supply side, it's the exact opposite story. The Department of Treasury wants to shrink the amount of T-bill issuance, which is also being influenced by the looming debt ceiling limit. At the November refunding announcement, they announced a desire to allow the share of T-bills to decline to pre-pandemic levels of around 15% to 20% of outstanding debt. This is quite a bit lower than the 24% announced in November. While allowing the decline in T-bills, the Department of Treasury revealed their intent to extend the maturity structure of its debt. We saw the first of these changes occur in February when the US Treasury announced it would no longer issue 15- and 22-week cash management bills. Again, it appears that supply is shrinking.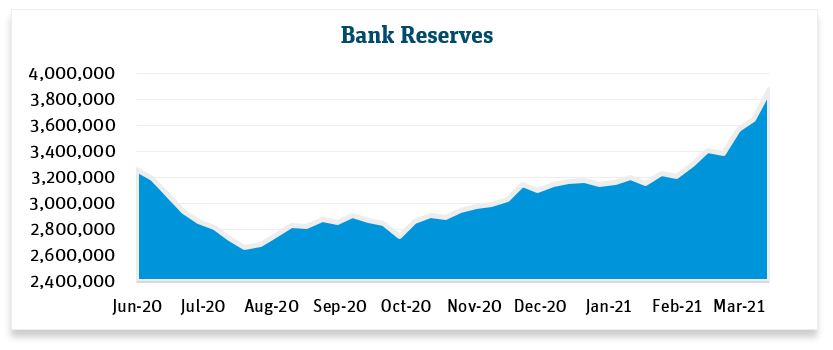 Since reserves are typically invested in money market instruments, such as T-bills, you have an environment with increasing demand and a decline in issuance. As you can see in the charts that follow, this divergence has caused front-end yields to decline, while long-end yields have risen. The demand for front-end investments has also translated to declines in other maturities and sectors. For example, this year we have seen the lowest yield ever on a 2-year Treasury note auction, the lowest yield ever on a 12-month T-bill auction and the lowest-ever yield for the 3-month London Interbank Offered Rate (LIBOR). In addition, we have seen the Secured Overnight Financing Rate (SOFR), a broad measure of overnight borrowing collateralized by Treasury, drop to an average rate 0.01% to 0.02% for most of the month of March, a decrease from 0.11% at the beginning of the year. So, yes, many people are focused on rising rates, but it's important to see the entire curve and not lose sight of what is occurring on the front end.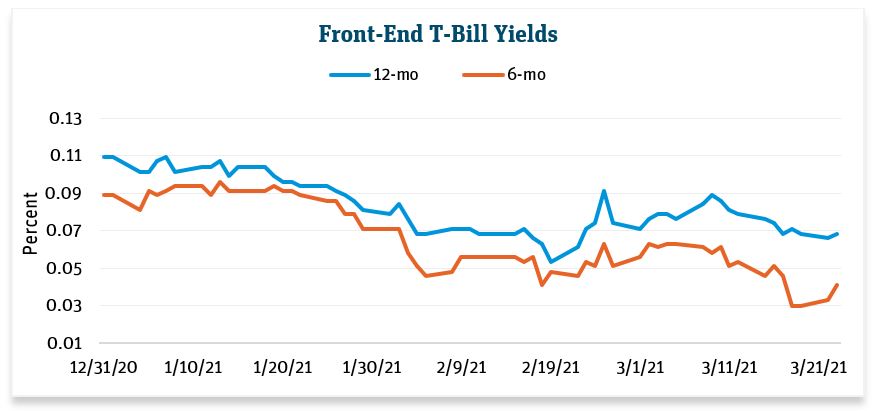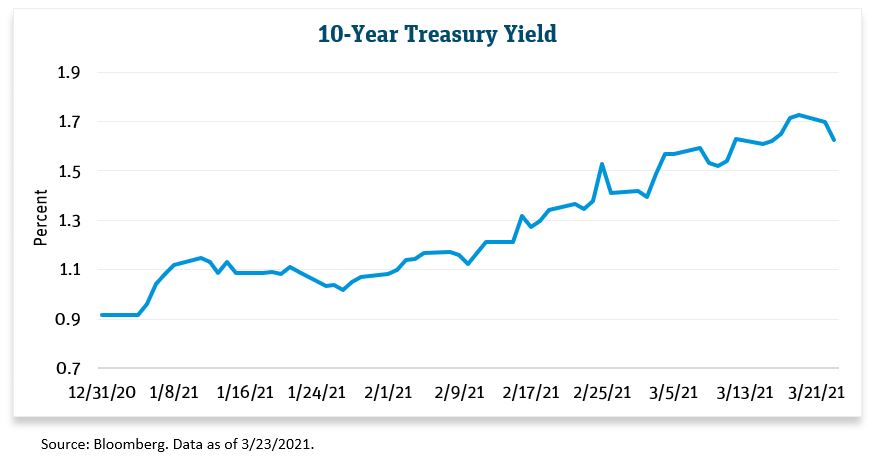 Portfolio impact
With front-end Treasury yields (out to 12 months) yielding negative to 5 basis points (bps), we are decreasing allocations to these maturities until supply and demand factors normalize, which we anticipate to occur in the second half of the year. In the meantime, we are increasing allocations to high-quality corporate bonds, commercial paper, SSAs and asset-backed securities, as well as balancing portfolio allocations to government money market funds to maintain strategy duration targets. We are taking a disciplined approach to duration management as we navigate the ongoing uncertainty posed by COVID-19 and the resulting policy implications in this low-interest rate environment.
Economic Vista: Loosening up the purse strings
Jon Schwartz, Senior Portfolio Manager
Credit Vista: Car prices fuel ABS investors
Tim Lee, CFA, Senior Credit Risk & Research Officer
America's love affair with the automobile is well established, and it seems like everybody is getting a new set of wheels these days. Credit investors in auto-related asset-backed securities (ABS) and auto captive finance issuers are also enjoying the boon in US car sales. This slice of the fixed income market continues to look good, thanks to pandemic conditions that have turned cars into a hot commodity as consumers looked to avoid planes, trains and buses.

Demand for autos was resilient last year even as overall sales volume fell, due to closures of factories and auto dealerships. Registrations of new cars by retail buyers declined 9.6% year-over-year to 12.2 million in 2020, according to Experian, while used car registrations dropped a more modest 7.5% to 39.3 million. But those declining numbers don't tell the full story.

Despite the drop in the number of cars sold, prices have been robust, with the average monthly new car price rising in the low single digits throughout 2020, according to Kelly Blue Book data. Car prices continued to accelerate into the first two months of 2021, with Kelly Blue Book finding the average new vehicle price increased more than 5% year-over-year to an average of $41,000.

On a relative basis, higher new car prices have also made used cars more attractive. In addition to their lower price point, demand for used cars was propelled by buyers looking for an alternative to shared rides or public transport when the pandemic hit. Stimulus checks also fueled demand from consumers, and many drivers took the opportunity to upgrade to a larger or more luxurious vehicle. These demand drivers were evidenced by the Manheim Used Vehicle Value Index—a measure of used car pricing—hitting an all-time high in March.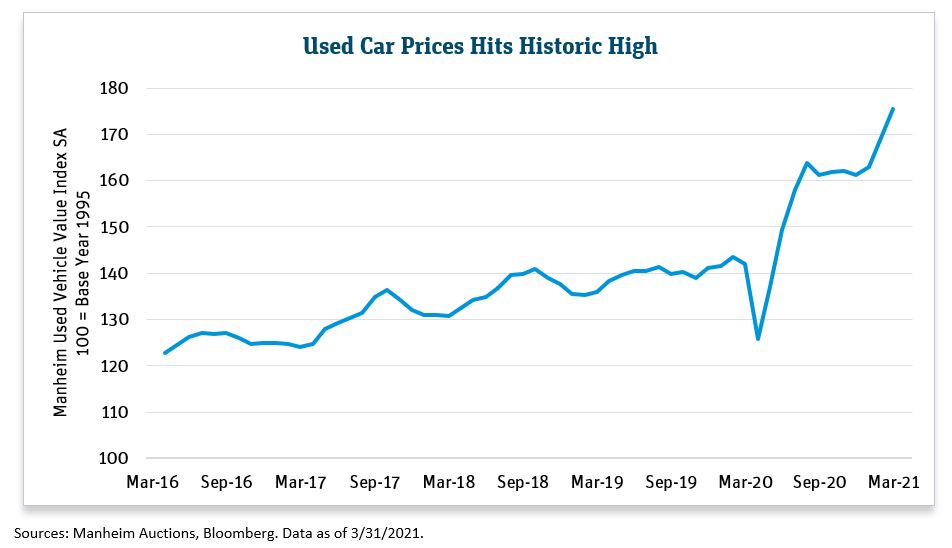 So, how did all this manifest in the fixed income markets? Higher car prices contributed to strong performance in auto ABS, particularly securitizations collateralized by leases, which depend on a stable used car market. Cumulative realized residual values on leased vehicles from 32 auto lease ABS transactions across seven issuers originated in the past three years are all in positive positions, according to data from recent remittance reports compiled by Moody's. Those gains, some of which exceed 5%, helped ensure there were no defaults in any Moody's rated auto lease transaction during the pandemic.

Strength in used car pricing also reduces the risk of loss to investors in auto loan ABS by supporting a higher recovery rate on charge-offs. (There were also no defaults in any auto loan transaction over the past year according to Moody's data.) Higher used car prices and better recovery rates on charge-offs have also contributed to the continued profitability of captive auto finance units, which hold and service consumer auto loans and leases. Credit fundamentals, backed by steady capital levels from ongoing income, have remained firm throughout the pandemic to the benefit of investors in bonds issued by these auto finance units.

Looking ahead, we see vehicle prices maintaining much of their gains, aided by supply constraints and elevated demand. Prices for new cars should be supported by production cuts at some manufacturers due to an industry shortage of computer chips, which are needed to operate engines, brakes, navigation systems, and other vehicle functions. The chip shortage could hinder the manufacturing of up to 1.3 million light vehicles in the first quarter, according to IHS Markit data. The constrained supply of new cars will decrease the need for promotions and other price discounts to move inventory, which in turn should keep prices high.

In the used car market, inventories are modest, with just 48 days of supply at the end of February vs. 54 days of supply in the year prior, according to Cox Automotive. Used car prices are sustaining lofty levels, with a national average listing price of $21,627 at the end of February. This was just $500 shy of the record reached in January, but still 10% above last year's levels. With no weakness expected in new car prices in the near future, we see demand for used cars remaining healthy, particularly from low- and middle-income consumers who have been recently armed with additional stimulus money. With strong car prices set to continue, credit conditions should be particularly favorable for auto lease ABS going forward.



Trading Vista: One curve, two stories
Jason Graveley, Senior Manager, Fixed-income Trading
After being largely stagnant since the start of the pandemic, Treasury yields have started to show more significant movement. As the outlook for future growth and inflation improves, investors have moved out of longer-term Treasury holdings to reposition portfolios. As a result, the curve has bear steepened, which means short-term yields have been anchored and longer-term yields have been rising sharply. The 10-year Treasury note — one of the world's most important benchmarks and the barometer for market sentiment and economic growth — has surged this year. After plummeting to just 50 bps in the depths of the pandemic in 2020, the 10-year rate has climbed to over 1.7% as of late March. This sharp increase has been buoyed further by the recent announcement of the $1.9 trillion fiscal stimulus package and repeated calls for increased infrastructure spending. The Fed's own inflation and GDP projections have been revised considerably higher, with the expectation of increased fiscal spending leading directly to higher economic growth.

The front end has been a different story, though. As noted above, longer-term Treasuries are inherently tied to growth and inflation forecasts. The front end, however, is largely dependent on the forward trajectory for fed funds rates (i.e. expectations for the Fed's policy moves) as well as Treasury supply. The Fed has remained dovish in its stance on rates, stating that it will stand pat until there is clear evidence of inflation under its flexible average inflation targeting (FAIT) framework. As such, there is no real expectation of a rate hike until at least 2023. This is where the market and Fed begin to deviate in projections. The market has pulled forward the first rate hike projection into Q1 2023, while the March Federal Open Market Committee (FOMC) dot plot (a visual representation of when FOMC members belive rates will rise) shows that only seven of the 18 participants project higher rates by the end of 2023. This persistent zero-interest-rate policy is likely to continue to weigh on front-end rates.

The other key variable is Treasury supply. Even in a low-for-longer rate environment, overall yields will move higher if the market cannot digest supply increases. The market saw this come to fruition in the original Coronavirus Aid, Relief, and Economic Security (CARES) Act in 2020, where overall Treasury bill issuance increased by more than $2.3 trillion from April through June 2020. If you compare that trend to the current state of the Treasury bill market, you can see the divergence. T-bill issuance is expected to decline on a net basis, with March paydowns totaling more the $150 billion. This means the Treasury is issuing fewer bills than are maturing in any given month, leading more marginal cash to chase fewer money-market assets. This dynamic is further weighing on rates at a time when cash in the system is reaching its peak.

All this has ramifications for investors and portfolios, and lower overall rates is something all market participants are being forced to navigate. To complement Treasury purchases, we belive SSAs present a unique investment opportunity for portfolios. These issuers carry a AAA rating and allow for portfolio managers to maintain the weighted average credit quality of a portfolio while increasing the return profile.

Executing a disciplined approach in this market environment allows the flexibility to take advantage of any temporary dislocations, particularly as we have seen Treasury volatility increase. We continue to keep dry powder for such opportunities, while overweighting spread product to add incremental yield. We also remain vigilant in managing portfolio duration, while we wait and see how both the market and Fed rate projections evolve.



Markets

Treasury Rates:
Total Returns:
3-Month
0.02%
ML 3-Month Treasury
0.01%
6-Month
0.03%
ML 6-Month Treasury
0.02%
1-Year
0.06%
ML 12-Month Treasury
0.02%
2-Year
0.16%
S&P 500
4.38%
3-Year
0.35%
Nasdaq
0.48%
5-Year
0.94%
7-Year
1.42%
10-Year
1.74%

Source: Bloomberg, Silicon Valley Bank as of 3/31/21