U.S. Startup Outlook 2016
Choose Your Desired Report Page


New Reality Prompts U.S. Startups to Focus on Fundamentals
In 2016, the byword is prepare. The economic outlook is shifting, according to U.S. technology and life science startup executives surveyed in late 2015 for Silicon Valley Bank's annual outlook. Capital is tightening and inflated valuations are declining, prompting companies to adjust to a more balanced funding environment and focus on fundamentals. Executives said they expected M&A to maintain its importance as an exit strategy, venture capital to be a vital funding source and attracting top talent to be a critical challenge. And, while the bottom line may be taking a hit short term, optimism about the long-term future of innovation is not.
Read Letter from SVB's CEO
BUSINESS CONDITIONS
Startups temper their positive outlook

Sixty-four percent say business conditions will be better than 2015. That said, it represents an 18 percentage point drop over the last two years. Unbridled optimism has been replaced with rational restraint.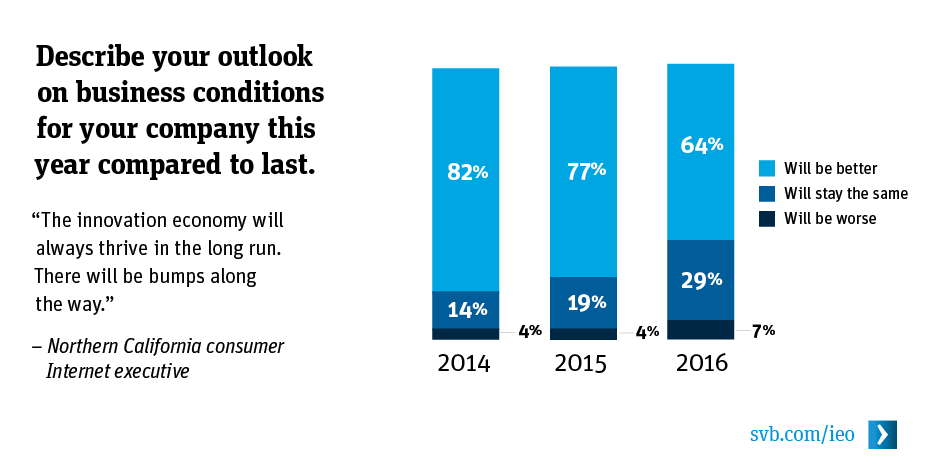 FUNDING
Raising money continues to be challenging
Most executives said the fundraising environment was extremely or somewhat challenging, and 21 percent named access to financing as their single biggest challenge in running their businesses. Raising money is always challenging, and tightening capital requirements often lead to healthier, more sustainable companies.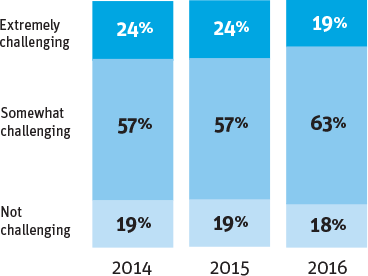 Startups say venture capital is critical to growth
At the end of 2015, survey respondents said they planned to seek venture capital more than other funding sources. Forty-two percent of executives expected venture capital to be their next source of funding, with angel investment a distant second. We expect that venture fundraising will become more challenging in 2016, but that VC investment activity will remain healthy.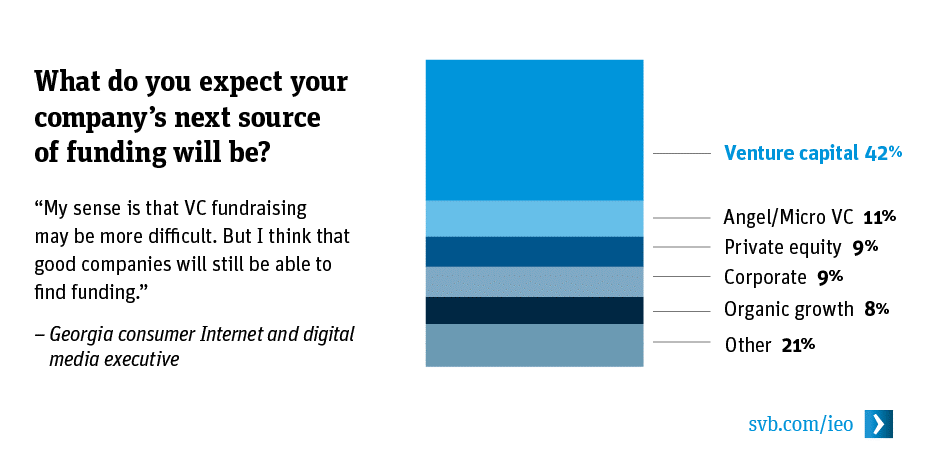 Half of startups say their goal is an M&A exit
Acquisition continues to eclipse IPOs as the realistic long-term exit strategy of U.S. entrepreneurs. More than half of innovators set their sights on an acquisition, and nearly 20 percent aspired to stay private.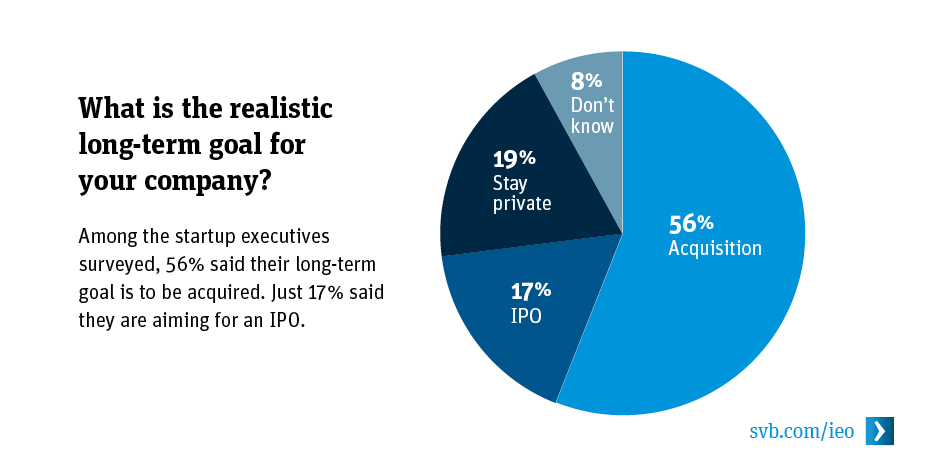 M&A expected to be robust for 2016
Most startups said they expected acquisitions would increase or stay the same in 2016. Many tech IPOs faltered in 2015, making M&A a more viable exit option. Also, reduced valuations make acquisitions more attractive for top acquirers that have plenty of cash on hand to make significant purchases.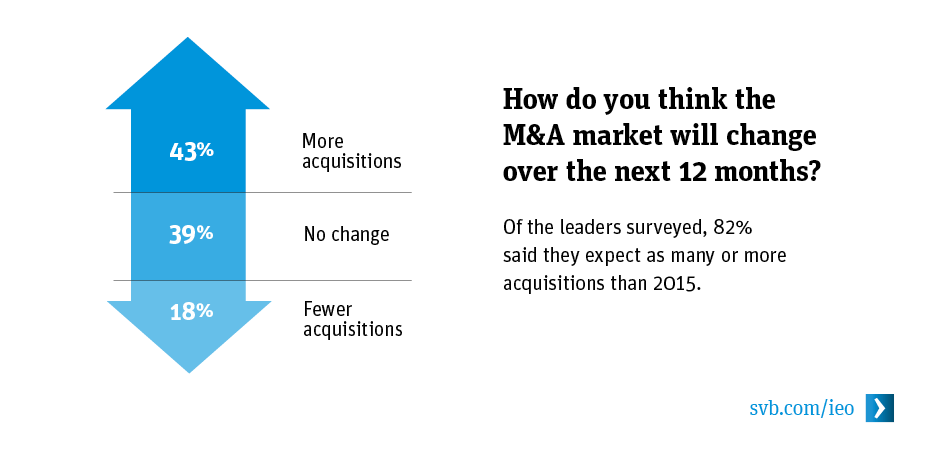 HIRING & TALENT
It's hard to find the right talent
A full 95 percent of executives said it was challenging to find people with the skills necessary to help grow their businesses—an increase of 8 percentage points since 2013. After years of increasing difficulty finding the right talent, it's possible that the talent crunch has reached its peak and the very tight labor market may loosen. Even so, finding employees with the right skills will remain difficult in an overall environment of low unemployment rates.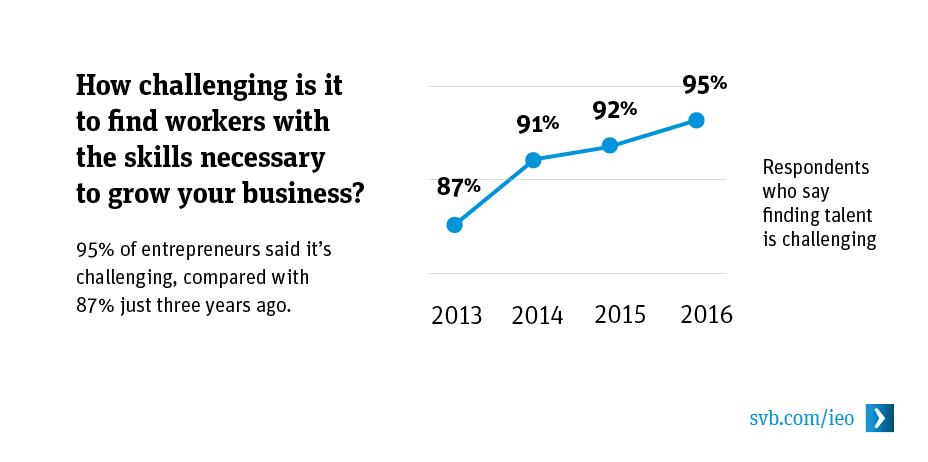 Lack of skilled workers hurts the bottom line
Of the leaders surveyed, 17 percent said recruiting was their biggest challenge. Half of the respondents said they were looking for engineering and technical skills. Sales, product development and marketing skills are also critical needs this year. The lack of skilled workers creates measurable business impacts, such as inhibiting product development, making it harder to scale operations and inhibiting revenue growth.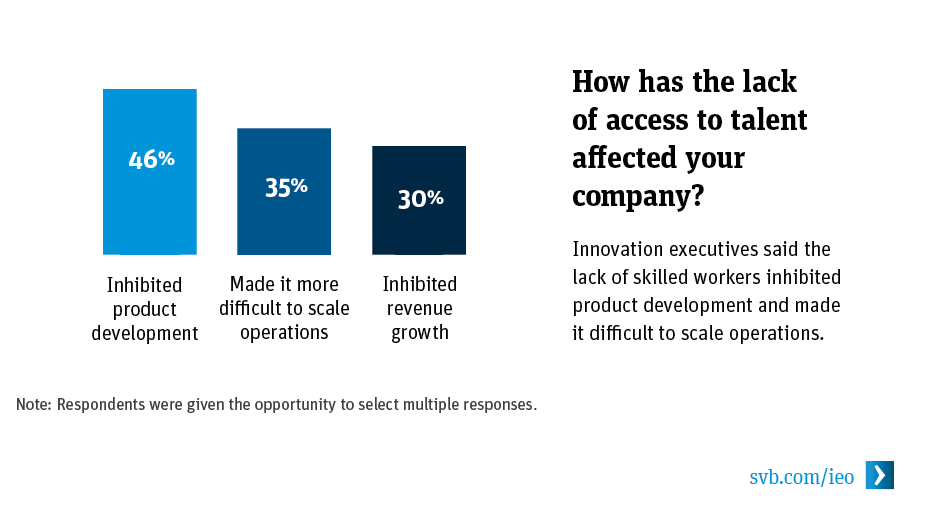 WOMEN IN TECH
Startups have few women in leadership positions
It's well documented that women are underrepresented in startup leadership positions: 66 percent of startups have no women on their boards, and nearly half (46 percent) have no women in executive positions. About a quarter of respondents (26 percent) said they have programs in place to increase the number of women in leadership roles. Creating more diversity in the top ranks of all companies is an imperative, and the dialogue on how to make it happen needs to continue.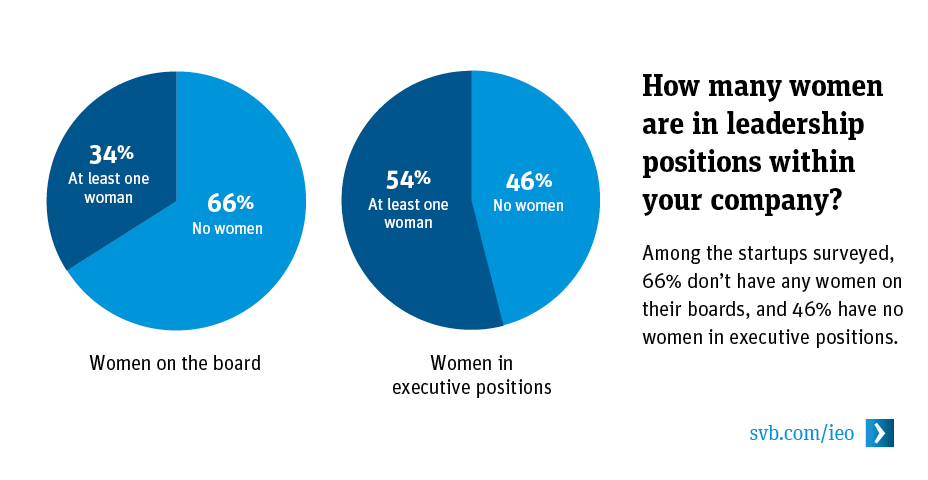 PUBLIC POLICY
Access to talent is the No. 1 policy issue for startups
Half of the survey respondents said access to talent was the most important public policy issue on their minds. Cybersecurity was also a key concern. Entrepreneurs typically don't embrace government action but do believe the federal level should play a role by funding research to combat cyberattacks, creating uniform rules for data breaches and sharing best practices for preventing and responding to them.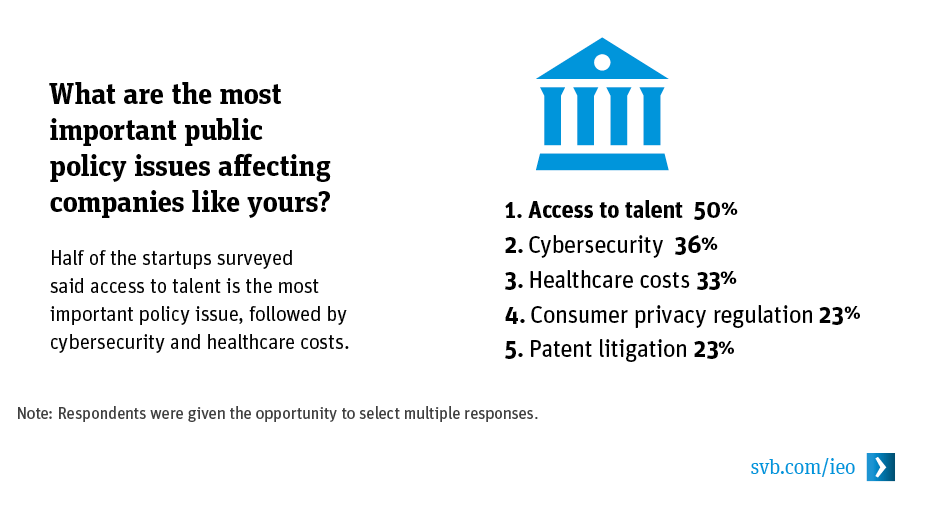 Some startups say regulations are driving operations offshore
One in four respondents said regulations were prompting them to locate facilities or move non-sales operations outside the U.S. Startups on a shoestring budget are sometimes motivated to set up shop where it costs less to do business and it's easier to find skilled workers.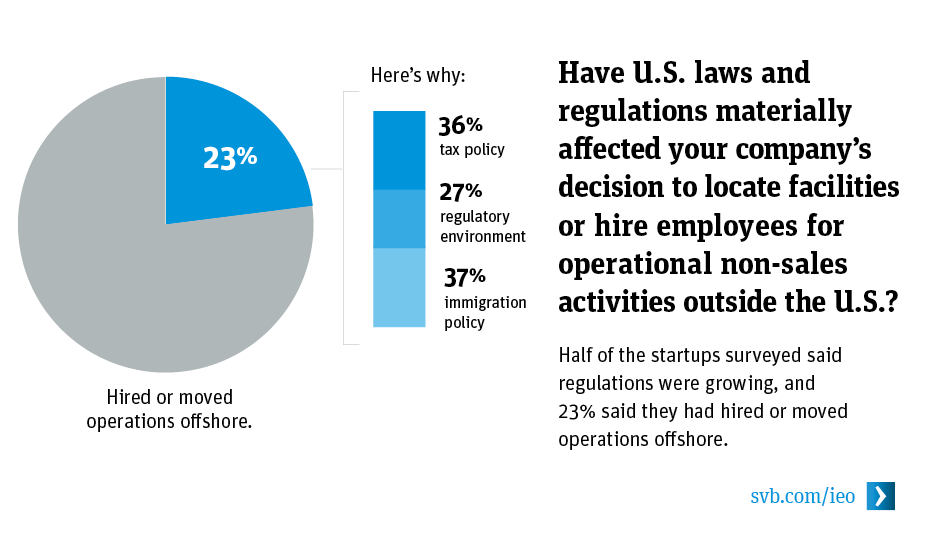 This material, including without limitation to the statistical information herein, is provided for informational purposes only and is compiled from the survey that we worked on with Peerless Insights, a third-party source. The information should not be viewed as tax, investment, legal or other advice nor is it to be relied on in making an investment or other decision. You should obtain relevant and specific professional advice before making any investment decision. Nothing relating to the material should be construed as a solicitation, offer or recommendation to acquire or dispose of any investment or to engage in any other transaction.