The Muse
New York City, New York
Software & Internet
We offer financial and banking solutions as well as sector expertise to enterprise software, consumer internet and fintech companies.
Subsector Experience
---
e-Commerce

e-Sports

Blockchain and Cryptocurrency

Cybersecurity

Software-as-a-Service (SaaS)

Software Powered Analytics
We work with companies at all stages of growth
Thousands of software and internet firms choose to work with SVB.






*All companies listed above are independent third parties and not affiliated with SVB Financial Group.
29
software and internet experts at SVB help our customers succeed
Our bankers leverage their backgrounds as founders and advisors in the industry and have decades of combined real-world experience.

Managing Director
Ted has considerable experience working with technology businesses as a lender, venture capital investor, business operator, investment banker, and consultant.
Managing Director
Alina focuses on providing lending and commercial banking solutions to corporate technology clients with over $100 million revenues in the Enterprise sector.

Managing Director
Marisa leads the team on relationship banking and market strategy while leveraging her years of experience working with prominent enterprise software companies.

Managing Director
Adam has over a decade of experience serving early-stage to corporate finance companies across an array of innovation tech sectors in a number of SVB regions.
Director
Russell serves SVB enterprise technology and cybersecurity clients across all stages- helping them scale efficiently with the right products and best practices.

Managing Director
Dennis specializes in partnering with both early and growth stage technology companies- providing them with highly structured banking and financial solutions.
Advice, products and services to help as you scale your business rapidly
SVB has helped some of the biggest software and internet companies as they have built their businesses, by providing the right mix of products, services, industry expertise and proprietary research.
Connect to the SVB Network
We have been early advisors to companies across a wide range of software sectors for over three decades in the US as well as in global innovation hubs.
Opportunities to connect with VCs and investors that are important to your business
Access to explore and review mission critical talent options through SVB's exclusive job board
Options for introductions to specialized service providers
Events
Get help with valuable connections, insights and key learnings for your business and industry at exclusive SVB curated client events.
Founder's Table
Finance Leaders Dinners
Elevate Data
 See our State of the Markets Report Q3 2021
---
The State of the Markets Report looks at the record-breaking performance of the innovation economy with growth in fundraising and investment being driven by large funds and nontraditional investors despite the continuing challenges of the COVID-19 pandemic.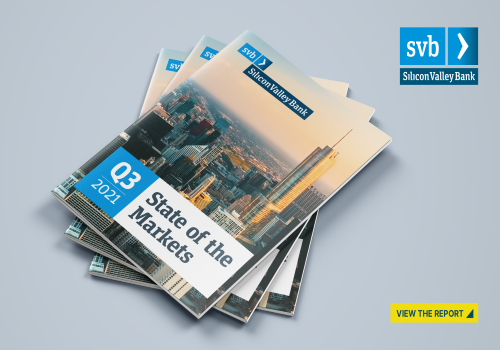 "
SVB has a network that is invaluable for entrepreneurs.
Frida Polli
CEO and Founder at Pymetrics
Client since 2012
Learn more
Financial solutions¹ to help support the evolving needs of your business
Structured financial solutions to help support your business with available time and resources as you strive to reach your next funding milestone – while minimizing equity dilution.
Learn more
Growth and Working Capital
Help meet your short-term operating costs or fund your growth strategy.
Syndications
Finance your strategic initiatives with SVB, a market leader in mid-sized syndicated debt financing for innovation companies.
SVB corporate cards¹ are designed to help you better manage your spending and payments transactions, while you scale and grow your business.
Learn more
Ready to get started?
See how SVB can help your business scale confidently for growth.
Insights from SVB Industry Experts
Read the latest news and insights on key developments that impact the software and internet industry landscape.
How to Take Your Startup Global: Q&A with Caitlin Haberberger
Silicon Valley Bank
One CFO's Key to Success: Understand People Before Numbers
Breaking Down Startup Pivot Strategy
Silicon Valley Bank