Key Takeaways
Channel shifting has created winners and losers for wineries. Larger wineries selling through grocery and chains have grown, while smaller premium wineries have lost sales opportunities.
Altered consumer behavior resulting from sheltering-in-place orders has created new opportunities for all wineries as demand for wine has increased.
Investments in digital sales, data analytics, customer segmentation, and targeted marketing will be critical going forward.
Like the rest of the world, the wine industry had to pivot quickly in response to the Covid-19 pandemic. In mid-March, in what seemed like the blink of an eye, tasting rooms shut down and restaurants and bars closed their doors to dine-in service. In a single day, the average winery lost 44% of sales from restaurants and tasting rooms according to Silicon Valley Bank ("SVB") data. Wine consumers stuck at home quickly shifted their wine purchasing to other channels.
Just eight weeks later the average winery's channel mix had shifted dramatically. By May 8th, phone sales and e-commerce represented more than a quarter of all sales, up from just 3% in mid-March. Wine club sales grew from 23% to 35% of the total. E-commerce, phone sales, virtual tastings, curbside pickups, and in-person area deliveries were some of the enhanced sales tactics that allowed wineries to recover one hundred percent of lost direct sales. That does not include the unrecovered lost sales from restaurants.


Source: Silicon Valley Bank

These changes are just the tip of the iceberg. On May 21, SVB presented "State of the Wine Industry – Special Edition;" a webinar to discuss how the wine industry has responded to Covid-19 and what lies ahead. Panelists included:
Danny Brager, senior vice president, beverage alcohol, Nielsen

Max Heinemann, client manager, wine and spirits, Nielsen CGA

Jeff Bitter, president, Allied Grape Growers

Paul Leary, founder and principal, Assemblage Consulting Group

Amy Hoopes, president, Wente Family Estates
Their consensus: The consumption changes brought on by stay-at-home orders represent an opportunity for the wine industry. The entire country is now having family dinners and many of them want to have wine with their meal.
Consumers and growers adapt
Nielsen's Danny Brager noted that alcohol consumption per capita tends to stay quite constant over time. Wine sales had been essentially flat going into the pandemic, and the industry anticipated a low- to no-growth year.
During the early phases of the shelter in place orders, consumers shopping in the grocery channel hoarded alcohol and wine in much the same way they had stuffed their pantries with staples and toilet paper earlier, once again underscoring wine as recession-resistant. Most industry observers expected to see the growth levels of wine sales moderate yet ten weeks later, grocery sales are still averaging thirty percent growth. Brager notes that 22% growth would be enough to make up for the lost sales in restaurants and pegs overall growth rates around five percent, while I estimate them closer to ten percent given the surprising resilience in direct to consumer and e-commerce.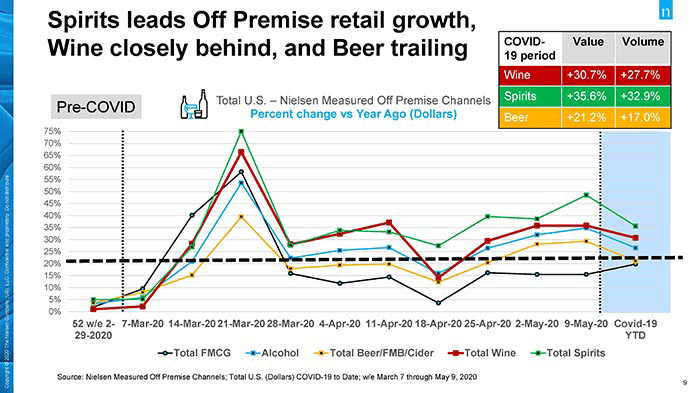 How can we see this kind of growth with record levels of unemployment? Brager offered that consumers today fall into two groups. The "constrained" consumer has been furloughed or laid off and is finding it tough to get a new job. This group he said is heavily populated by younger people with lower income and wealth—those the wine industry has been struggling to capture.
Meanwhile, "insulated" working-from-home consumers are still fully employed. And with reduced spending in travel, restaurants, and entertainment, the insulated consumers have been using some of their newly discovered disposable income on wine purchases as they rediscover the family dinner. "These two types of consumers are looking for different things and they are moving price points around to meet their needs" with respect to wine, he said.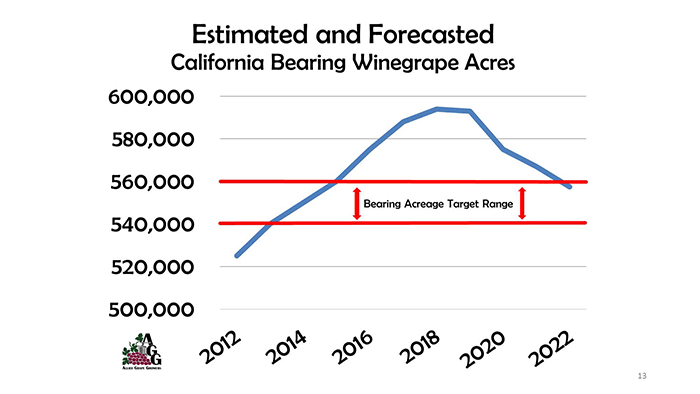 Source: Allied Grape Growers

One factor that may help constrained consumers: Oversupply of grapes. As reported in the January 2020 State of the US Wine Industry Report, wine grape production is in acute oversupply and vineyard removals will be necessary to bring the equation back into balance. While the grower will suffer during this period, there will be "nice wine at nice prices for some time," according to Bitter of Allied Grape Growers. "I hope the result is that they don't drink less wine, but that they find wines they'll enjoy at reasonable prices," he added.
Some growers—especially those in coastal areas—have responded to high supplies by removing more vineyards than they have in the past and in many cases, are replanting those acres to tree crops such as almonds and pistachios. But even with the removals, "we're certainly still in a long inventory situation, but we're making adjustments for the future," Bitter said.
Given the channel shift to high-production wines sold in the grocery channel, some regions historically supplying those brands have started to see increased buying of bulk juice to fulfill demand. The same is not true for the premium growing areas of the North Coast of California where alternative crops aren't an option. In those regions, without increased demand finding balance might take longer.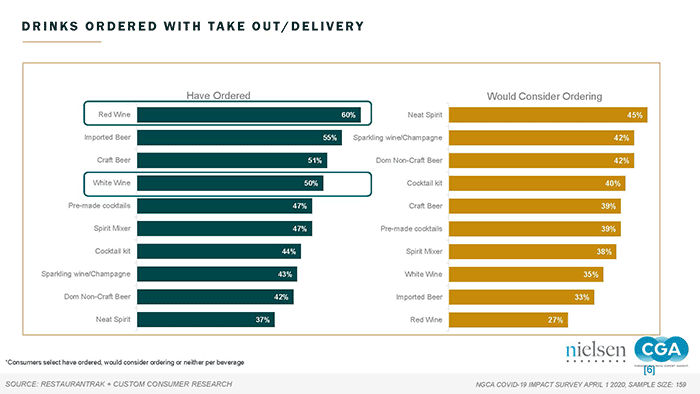 In the meantime, consumers have been leaning into wine for delivery through direct and takeout orders. Consumers actual behavior differs from their stated preferences. When asked what drinks they would consider ordering in take-out, red and white wine fall near the bottom according to Heinemann of Nielsen CGA—yet red and white wine appear near the top of the list of drinks they actually ordered. "Consumers want things they can rely on—they know they've had it before, and that when they order it, they'll receive what they're after," he said.
With roughly 36 states beginning to re-open their economies as of mid-May, it remains to be seen how winery and restaurant operators will adapt to new occupancy limits and health and safety guidelines—and to what extent consumers will be willing to return. Wineries should remember that along the safety touchless hand sanitizer and sneeze guards bring, consumers are also looking for a return to some level of normalcy including a sense of fun and the connection they get from the winery.
New opportunities for wineries
This unprecedented situation can be an opportunity for wineries that are willing to try new things, panelists agreed. "We were looking at zero growth (as a best case) this year. So if we're now looking at 2% to 3% growth, that's a great year," said Hoopes of Wente Family Estates. "Regardless of your size, you can take advantage of this situation if you look at consumer behaviors and are really thoughtful about how you're engaging with your customer."
Another area of opportunity surrounds mining existing winery data for potential sales. That said, less than half of wineries today have even a part-time employee dedicated to analyzing customer data, according to the SVB 2019 State of the Wine Industry Report.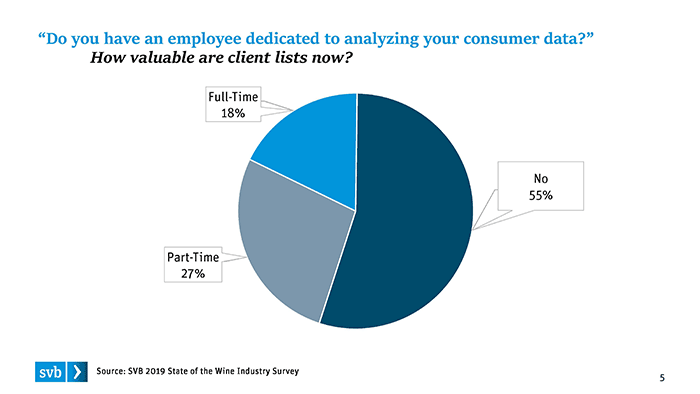 Leary of Assemblage Strategy Group identified data analysis as a critical next step, especially since wineries' pipeline of leads—tasting room visitors—has been virtually empty for months. "The key is segmentation, and having a database that works to your advantage," he said.
Wineries should target groups of customers differently, he said. For example, a new customer would receive a different email offer than a long-time customer. Hoopes mentioned a particularly effective promotion that used this type of segmentation: She received a card from a friend that included both a personal note and a 20% off referral code for a winery the friend loved. After trying two bottles of the winery's sauvignon blanc, Hoopes ordered a case. "I've just purchased 14 bottles of wine from a winery I'd never bought from because a trusted friend sent me the recommendation," she said.
While oversupply might tempt some producers to cut prices, panelists recommended against discounting. Instead, Hoopes suggested adding value through strategies like free shipping for orders of a certain size. Such add-ons help prevent brand erosion and strengthen the customer relationship.
The panelists said that wineries also should look for other opportunities to connect. Heinemann noted that 63% of consumers have missed a celebratory event during the pandemic such as graduations, proms, and weddings. Wineries could simply call or email customers on their birthdays, or they could go a step further and partner with bars and restaurants for celebratory discounts. "Wine inherently connects people," said Hoopes. "Customers are saying, I want to continue that relationship with you, but try and meet me where I'm at now."
Likewise, Leary recommended considering affiliate programs as a means to "provide value to your customer base beyond just a price promotion." To be successful, an affiliate program must be based on data: Who are your customers, what are their demographics, including the price points they're comfortable with, and what other brands have a similar customer base that might benefit from a partnership? "This type of thing doesn't happen overnight—but it's an example of how you can come out of this as a much stronger brand," Leary said.
Anticipating a recovery
As of mid-May, it was unclear how re-opening would go, and how both the economy and public health conditions would respond. But panelists were optimistic nonetheless. The upshot: The industry must be ready to pivot fast as public health conditions and guidelines shift. Flexibility is key—as is the knowledge that mistakes will be made along the way. Ultimately, however, this crisis presents an unprecedented opportunity for the wine industry to evolve and adapt.