Key Takeaways
Indian SaaS companies have significantly multiplied over the last decade, as has VC investment in the segment.
The industry benefits from the trifecta of talent, capital efficiency, and global demand growth.
Major global VC firms now have steady dealflow in Indian SaaS companies.
A story of talent, capital efficiency and globalization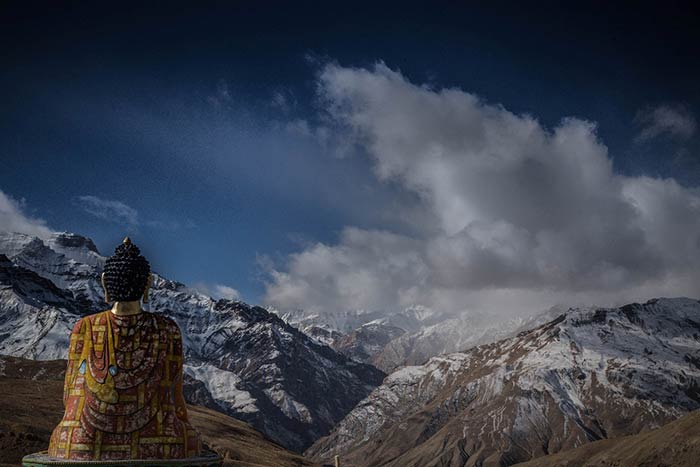 In late January 2020, just before the global economic unravelling now faced by startups everywhere, hundreds of founders and some of the world's elite venture capitalists descended on Chennai, India, for a historic meeting of the minds. The event, SaaSBooMi 2020, was sponsored by major global investors, including Accel (which recently closed a $550M India fund, it's sixth thus far), Sequoia Capital and Tiger Global Management, as well as Amazon Web Services and Microsoft. The topic of discussion: the state of Indian SaaS.
The event was timelier and more relevant than its attendees then knew. As global industry adapts to a post-Covid world defined by rapid digital adoption and heightened cost-consciousness, Indian SaaS companies are poised for titanic growth in the coming years.
Seven of India's 29 unicorns are in the SaaS business, the newest entrant being Postman, whose June 11 Series C brought its valuation to $2B. Postman is part of the second generation of Indian SaaS companies. "Companies like Postman are inspiring a generation of entrepreneurs building global software product companies out of India" says Jishnu Bhattacharjee, MD at Nexus Partners and Postman Board member. Multiple members of the first generation, such as Freshworks, have already matured and globalized.
Generally, enterprise software companies in India have shown a greater tendency than their consumer internet counterparts to go global. A recent SVB survey of VCs in India found that, on average, 38% of portfolio companies of investors focused on enterprise software were concentrated in the United States, while this figure for consumer internet-focused investors was only 24%. As Freshworks has become a significant global player in customer engagement software, generating $200M in revenue over the 12 months ended March 2020 (according to PitchBook), it also became a truly global organization, moving its headquarters to Silicon Valley and opening offices all over the world.
"We've seen a rapid transition in the entrepreneur mindset," says Dinesh Katiyar of Accel. "Founders were taking SaaS companies global out of necessity since the local market was immature. Today, most founders are going global out of ambition, not need."
VC Investment, Indian SaaS Companies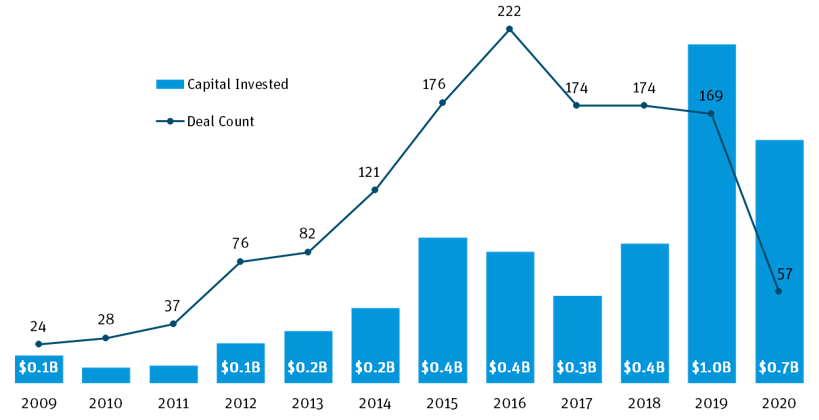 Source: PitchBook
Innumerable founders in India are hoping to follow the path forged by Indian SaaS giants like Freshworks and Zoho. Tracxn estimates that there are now more than 10,000 SaaS startups in India, up from 3,000 in 2014. According to PitchBook data, India is now consistently seeing more than 150 annual venture rounds for SaaS companies, a figure that was perpetually below 50 before 2012. This new normal is visible across stages from seed to Series D+, but of particular note has been the explosion of later-stage investment. Encouraged by successful exits and industry growth, top-tier investors are increasingly interested in helping Indian SaaS companies go global.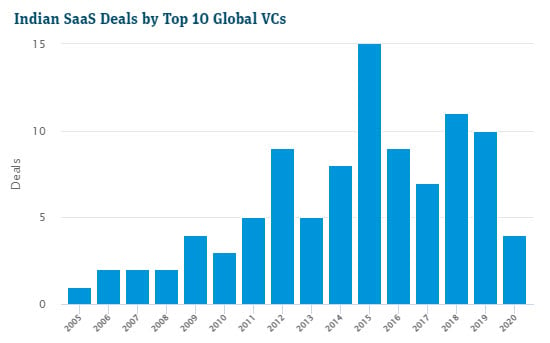 The increased involvement of global VCs is a key feature of the new normal. The InvestorRank top 10 global VC firms are investing in about 10 Indian SaaS companies annually, versus fewer than five annually before the Great Financial Crisis, with the median post valuation of these deals spiking over the past three years.
Three factors explain the rise of Indian SaaS
This all begs the questions: Why India? Why SaaS? Why now? As part of SVB's Global Gateway team helping Indian entrepreneurs change the world, I've seen three factors working in tandem to bring the industry to the fore: talent, capital efficiency and the industry's global value proposition.
Talent

Human capital is a necessary condition for a buoyant innovation economy — and it is abundant in India. Indian universities have proven capable of producing elite technology leaders, such as Vinod Khosla and Sundar Pichai, both alumni of the Indian Institute of Technology. Also, India's demographics skew young, which correlates positively with entrepreneurial tendencies and the capacity to quickly learn new skills.
Founders understand this. "The confluence of venture investment, a deep bench of engineering and design talent, and founders with a focused ambition to build global companies is the mix required for great software," says Postman's founder Abhinav Asthana, "Many Indian SaaS companies today possess that mix."
Per the latest estimates by the trade association NASSCOM, the Indian IT industry employs 4.36M people. Though this seems rather modest in proportion to the population, the comparable number in the United States is about 2.8M people, underscoring the absolute sheer size of India's talent pool. So, broadly, it is easy to see how India has room to pull much more of its weight in tech company formation.
Let's dig further into this talent pool. NASSCOM data also indicate that a rising proportion of Indian IT workers are "digitally skilled," meaning that they possess one or more of a set of professional skills that will be integral to emerging technologies such as IoT and 3D printing. Such workers are expected to number 884,000 in 2020. Within that base, about 250,000 are uniquely skilled for cloud computing. The essential talent for the development and operation of SaaS products can be drawn from this pool.
In the realm of product management, India is similarly well-positioned. According to a 2016 report by Google and Accel, as of 2015 there were 36,000 product managers in India. The largest share of these professionals draw their experience from India's large consumer tech industry (think Flipkart and Ola Cabs), which is causing the product and design focus from the consumer side to leak into Indian SaaS. The report expected that 36,000 to have doubled by 2020.
Capital efficiency

A VC check written to a global SaaS company in India, spent wisely, can go further than one written to its Silicon Valley counterpart. Especially as the global VC asset class pulls back over the next several quarters, capital efficiency will be a massive determinant of where dry powder is allocated.
A KPMG report found that incremental revenue per dollar spent on inside sales in India is 2.5 times that of the United States. This figure matters, not just because highly globalized companies must rely largely on inside sales to gain contracts in faraway places but also because the COVID-19 pandemic has brought most selling inside whether we like it or not.
Of course, Indian firms also benefit from the same revolutionary tools that SaaS companies around the world enjoy. Cloud computing platforms like Microsoft Azure and Amazon Web Services have slashed the fixed costs of forming a software company. But only India can pair this with labor costs that are one-fourth those of the US (per KPMG) and a talent pool that is already highly well-equipped for remote customer engagement and service.
Indian SaaS unicorns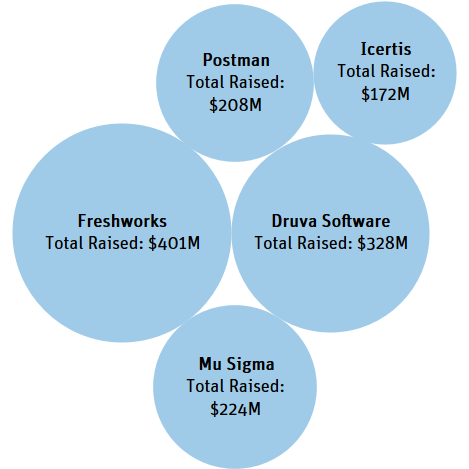 Note: Zoho is not shown because it hasn't raised institutional venture capital since 2000; Mu Sigma included for its "Service as a Software" and other platform solution.
Source: PitchBook
The industry's global value proposition
The third factor is the answer to "Why SaaS?" There is a good reason why the global SaaS market is expected to grow at 36% CAGR up to 2022 (per KPMG) — it is simply the way of the future for integrating software into organizations. It solves the problems endemic to a system in which companies "own" their software and related infrastructure, and it collectivizes the benefits of innovation. A global generation of talented developers, designers and product managers is now being leveraged to build solutions in which thousands of companies, not just one, have a stake.
Freshworks founder Girish Mathrubootham puts it best: "In the world of technology, SAAS is a demonstration of what it means to have a level playing field - competition can come from anywhere in a world where Amazon hosts your software and Google can bring you customers, from anywhere in the world."
But so much of the market is still untapped. Gartner predicts that 60% of organizations will use an externally managed cloud service by 2022, double the figure in 2018. Even after that extraordinary growth comes to pass, up to 40% of global total addressable market will remain unsaturated. In particular, future growth will be driven by vertically focused SaaS companies that can build products unique to specific industries. Until now, most SaaS giants have been sleek, industry-agnostic platforms designed in a consumer-oriented fashion (think Slack, Freshworks and Zoho). Moving forward, the next wave of adoption will be by specialized organizations using SaaS products in their vertical.
The Outlook
Despite the circumstances, 2020 VC investment in Indian SaaS companies is on track to surpass 2019. We expect to see continued late-stage activity driven by global investors, even as Indian venture and the larger economy experience a contraction. Postman's $150M Series C in early June is a signal of what's to come. After a consumer internet boom that brought the Indian tech sector to global prominence, enterprise software will make that sector global.
For our perspective on the Indian innovation ecosystem as a whole, see this blog I wrote last December. Silicon Valley Bank is playing a crucial role in helping Indian startups scale globally. If you want to be a part of this mission, let's connect.


*Article co-written by Priya Rajan and Evan Oliner.