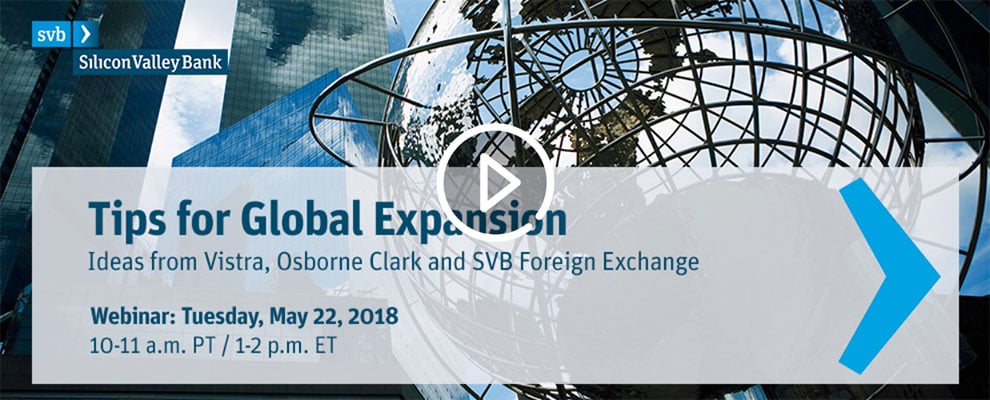 Watch the FX Webcast On Demand Replay
In this Tips for Global Expansion webcast, the speakers discuss pitfalls to avoid, and actionable insights for successful international expansion, including
Key legal matters, including hiring, contracts, privacy and legal structures
Business risks to mitigate, knowing your registration options, typical timelines, and HR laws
FX risk and international accounting implications; and
Current international market dynamics and drivers
Featured Speakers:
Steve Wilson - Head of International Expansion, Osborne Clarke*
Bill Peiffer - Director of International Expansion, Vistra*
Ivan Asensio - FX Risk Advisory, SVB
Scott Petruska - Senior Currency Strategist, SVB


If you have global expansion plans, take 60 minutes to help design your expansion roadmap.
Our FX Team is consistently ranked by Bloomberg as one of the best FX forecasters in the world for accuracy.
© 2018 SVB Financial Group. All rights reserved. SVB, SVB FINANCIAL GROUP, SILICON VALLEY BANK, MAKE NEXT HAPPEN NOW and the chevron device are trademarks of SVB Financial Group, used under license. Silicon Valley Bank is a member of the FDIC and the Federal Reserve System. Silicon Valley Bank is the California bank subsidiary of SVB Financial Group (Nasdaq: SIVB).
SVB Financial Group UK Ltd. is registered in England and Wales at Alphabeta, 14-18 Finsbury Square, London EC2A 1BR, UK under No. 5572575 and is regulated by the Financial Conduct Authority.
*Osborne Clarke LLP and Vistra, and their associates, are independent third parties and are not affiliated with SVB Financial Group.
The views expressed in this material are solely those of the authors and do not necessarily reflect the views of SVB Financial Group, Silicon Valley Bank, or any of its affiliates.
This information is intended for U.S. audiences only.
Foreign exchange transactions can be highly risky, and losses may occur in short periods of time if there is an adverse movement of exchange rates. Exchange rates can be highly volatile and are impacted by numerous economic, political and social factors as well as supply and demand and governmental intervention, control and adjustments. Investments in financial instruments carry significant risk, including the possible loss of the principal amount invested. Before entering any foreign exchange transaction, you should obtain advice from your own tax, financial, legal and other advisors and only make investment decisions on the basis of your own objectives, experience and resources.
This material including, without limitation, to the statistical information herein, is provided for informational purposes only. The material is based in part on information from third-party sources that we believe to be reliable but which have not been independently verified by us, and for this reason, we do not represent that the information is accurate or complete. The information should not be viewed as tax, investment, legal or other advice, nor is it to be relied on in making an investment or other decision. You should obtain relevant and specific professional advice before making any investment decision. Nothing relating to the material should be construed as a solicitation, offer or recommendation to acquire or dispose of any investment or to engage in any other transaction.
Bloomberg ranks FX forecasters based on three criteria: margin of error, timing (for identical forecasts, earlier ones received more credit) and directional accuracy (movements with the currency's overall direction). Scores for Q1 2018 were calculated each quarter for the three criteria, which were weighted 60 percent, 30 percent and 10 percent, respectively. The final score for each currency pair was the time-weighted average of the four quarterly scores. The best overall forecasters were identified by averaging the individual scores for each firm on all 13 currency pairs and all four quarters. Forecasters had to be ranked in at least eight of the 13 pairs to qualify for the overall ranking (62 firms qualified). All ranking tables display the top 20 percent of the forecasters who were eligible, to a maximum of 10 names.
About Osborne Clarke
Finding new solutions in a changing world.
Osborne Clarke LLP is a limited liability partnership registered in England and Wales with registered number OC397443 whose registered office is at One London Wall, London EC2Y 5EB. It is authorised and regulated in the UK by the Solicitors Regulation Authority (SRA) and is registered as a recognised body with SRA number 619990. More information about Osborne Clarke LLP can be found on our website http://www.osborneclarke.com.

The term 'partner' refers to a member of Osborne Clarke LLP. A list of members of Osborne Clarke LLP and their professional qualifications is available for inspection at the registered office. Any advice given by any individual member, employee, or consultant is the responsibility of Osborne Clarke LLP and not the individual.

Osborne Clarke LLP is part of an international legal practice.
About Vistra – Legal Notice
The contents of Vistra's publications are made available for information purposes only. They do not constitute an offer. Nothing in our publications should be relied upon as constituting legal or other professional advice and advice must be obtained from a suitably qualified professional before applying the information to particular circumstances.
Neither Vistra Holdings S.à r.l. nor any of its subsidiaries or affiliates accept any responsibility whatsoever for any loss occasioned to any person no matter howsoever caused or arising as a result, or in consequence, of action taken or refrained from in reliance on any of the contents of our publications.
Information regarding our regulated entities and their registered offices can be found at https://www.vistra.com/regulatory.
Intellectual Property: Vistra®, Truly Global, Truly Independent, Truly Personal® and Crossing Borders / Creating Solutions® are registered trademarks of:
Vistra Group Holdings S.A.
15, Rue Edward Steichen, 4th Floor
L-2540 Luxembourg
Tel: +(352) 42 22 29-1