Key Takeaways
Support for the USD as a safe haven is lessening as higher vaccination rates and a less volatile US 10-year treasury yield increase confidence.
As investors bet on a strong global recovery, commodity prices and currencies are posting significant gains.
The specter of inflation looms as central banks seek to help post-Covid economies thrive by keeping monetary and fiscal policy loose.
Strong economic data for April, accelerated vaccinations and the announcement of potentially higher fiscal spending (especially in the US) resulted in the dollar losing some of its safe haven tailwinds. The return to a bearish view of the dollar is expected to continue through 2021. With investors continuing to pour money into investments associated with the beginning of an economic upturn, the US dollar is likely to remain in a cyclical downward trend, possibly lasting years.
What happened
Economic growth diverged. Economies around the world announced significantly different Q1 GDP figures, with China reporting the largest change among developed countries, at 18%. The US came in at 6.5%. Countries that lagged in both fiscal response to the pandemic and vaccination rollouts have been less fortunate, with the eurozone shrinking 1.8% as Covid recovery funds approved last year have not yet been spent. The post-Covid economy will magnify economic disparities around the globe. Look for the dollar to lose value as more economies stabilize and begin to grow again.
Monetary and fiscal spending increased. European countries have fallen behind the US, UK and others in spending on pandemic relief and vaccinations. Several EU members have announced plans for further spending to regain economic growth. The additional spending programs would supplement the EU corona virus recovery fund approved last year. Since taking over as Prime Minister of Italy, Mario Draghi has become an EU leader and in April announced an additional spending package partially funded by funds from the EU. New spending program benefits seem to be priced into FX markets with the euro showing a 3% gain in April.
Commodity prices and currencies rallied. It is normal to see commodities spike as an economy transitions from recession to growth. Input prices in April increased - bolstering commodity currencies including the Canadian and Australian dollars. The price of oil added to its Q1 gains and is now firmly above $60 per barrel, and copper and base metals approached historic highs. A similar trend in transportation prices helped lift the Dow Jones Transportation index up 25% YoY. After falling precipitously when Covid hit in 2020, lumber prices are now rocketing higher, up 400% from 2020 lows—more than double the previous all-time high set in 2018. In Q1, commodity currencies including the Australian and Canadian dollars maintained their value versus the US dollar, at a time when many other currencies lost value. Both currencies are expected to continue to show strength as the post-Covid global economy grows.
Shutdowns continue, dollar weakened. Japan announced five cities will remain shut down under a state-of-emergency order from mid-April until May 31, including during the Golden Week holiday. Japan is preparing for the Olympic Games this summer and officials hope these measures will snuff out Covid before opening ceremonies. In spite of the renewed shutdowns, two of the three main safe haven currencies- the Japanese yen and Swiss franc - showed gains in April. The US dollar performed the worst. In fact, the dollar lost ground versus most every currency pair, suggesting dollar strength in Q1 may have been driven in part by FX speculators buying dollars to close bearish dollar positions.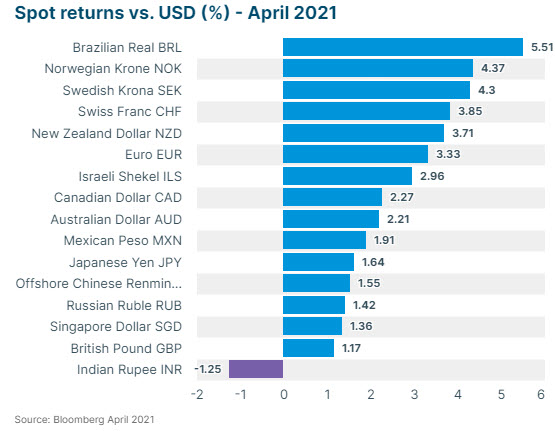 What's at play
Interest rates, quantitative easing, inflation. The European Central Bank, the Federal Reserve Bank and other central banks are keeping benchmark interest rates unchanged at close to zero or negative. They also reaffirmed quantitative easing measures will continue and don't expect to meet inflation and employment targets for several years. The exception is the Canadian central bank which indicates that slack in the economy will be eliminated by the second half of 2022. Following news of the projection, the Canadian dollar shot up 1.4% versus the US dollar. Financial markets are watching inflation carefully and fear central banks are playing chicken with potentially overheated economies. FX markets typically favor currencies with less quantitative easing and increasing interest rates.
Massive spending. After signing the $1.9T American Rescue Act in March, the Biden administration is looking for an additional $2.3T for infrastructure and $1.8T for social programs. The question remains how to pay for the programs. Financial markets anticipate the US Treasury will consider selling more bills, notes and bonds to cover the cost. The additional supply of Treasuries will likely drive interest rates higher.
Treasury yields and dollar strength. During Q1 2021, investors fretted over a sudden move higher in the US 10-year Treasury yield (from 0.90% to 1.74%). During this time, the US dollar gained 2.8% but then gave back 1.65% in April. According to SVB's Head of Risk Advisory, Dr. Ivan Asensio, higher Treasury yields do not normally lead to a stronger dollar. Read more here.
What's next
Increased taxes. When President Biden proposed a global minimum corporate tax, countries including France and Germany expressed support. But when Biden said capital gains taxes would have to go up significantly to pay for his longer-term fiscal spending plans, US equity markets took a hit as wealthy Americans braced for the anticipated tax ramp-up. Corporations may need to review organizational structures and accounting treatments should the global tax on profits change materially.
Inflation. Central bankers have expressed that 2021 inflation figures will be skewed by 2020 comparisons—comparisons made at a time when much of the global economy was shut down. That said, the US Personal Consumption Expenditure Index hit 1.8% YoY, which is about where it was pre-Covid. Much of the increase has been in commodity prices and transportation costs. Thus far, consumer prices have not been impacted but most global consumer goods companies are planning for an increase of 10% or more before year-end. In addition, according to realtor.com, housing rental prices grew at 1.1% in March—the first month where the pace of rent growth has increased since last summer. As long as higher prices lead to higher corporate profits the stock market will benefit and the dollar will lose out. However, should the Fed signal inflation expectations and the economy are getting too hot, they may raise interest rates to bring inflation down resulting in a stronger US dollar.
If you'd like to discuss your specific situation or for more analysis on FX markets or information regarding SVB's FX services, contact your SVB FX Advisor or the SVB FX Advisory Team at fxadvisors@svb.com.​