What's in play?
Trade with China. The trade friction between the US and China tapered as leaders of both countries agreed on a 90-day truce. China will reduce and remove 40 percent tariffs on US car imports and US will freeze levies on $200 billion of Chinese goods at 10 percent.*

Oil slips. Oil prices have dropped 33 percent since September and is trading just above $50 a barrel.* The concern for a supply glut and a buildup of inventories have driven prices lower. In addition, Russia and OPEC have both abstained from calling for a production cut.

Growth cools. India's economic growth eased to 7.10 percent in the third quarter after breaching 8.00 percent in the prior period.* Despite putting up one of the best GDP numbers, the rupee remains under pressure as global demand wanes and trade tensions mount. Investors are concerned that the subdued outlook will create more uncertainties to fiscal and monetary policies.
What's next?
One more hike to go. It's highly anticipated that the FOMC will raise rates for a fourth time this year on December 19. The market has a 79.6 percent probably that the benchmark will go to 2.25-2.50 percent.* There's very little on the horizon that could derail the decision.

Green Christmas? With all the metrics and interest rate hikes this year, the greenback should end the year on a strong note against other currencies. The dollar is up about 5.00 percent against most G10 currencies, and is way ahead against most emerging market counterparts. The question is if the USD will continue to rally in 2019.*

Prepared for the worst. The Bank of England Governor Mark Carney said that it is prepared for the worst possible Brexit if the deal fails. Carney stated that the economy could sink 8 percent, and housing prices could drop 30 percent under the direst scenario. The pound has been lingering lower with all the negative sentiment.
What happened?
Go left! As predicted, the House of Representatives went to Democratic control with 234 seats. However, Republicans held the Senate with 53 seats. Many of the races were extremely tight, and the markets swayed throughout the ordeal given the potential gridlock and change in agendas going into 2019.

Brexit on the brink. The Brexit deal came under heavy pressure as two cabinet members, Brexit Secretary Dominic Raab and Work and Pensions Secretary Esther McVey, resigned. Prime Minister May continues to defend the deal, but opposition to the agreement remains daunting, and the potential for a collapse is a real possibility.

No surprises. There were no surprises after the FOMC announced to maintain rates at 2.00 – 2.25 percent.* The committee kept its policy the same, but did signal that a rate hike in December was likely. The Federal Reserve has raised rates three times this year.

Steady as she goes. Data on the economic front remains on solid footing. The US unemployment rate held at 3.70 percent, and 250K jobs were created in October.* In addition, the economy grew at 3.50 percent in the third quarter backed by household spending and business investments.*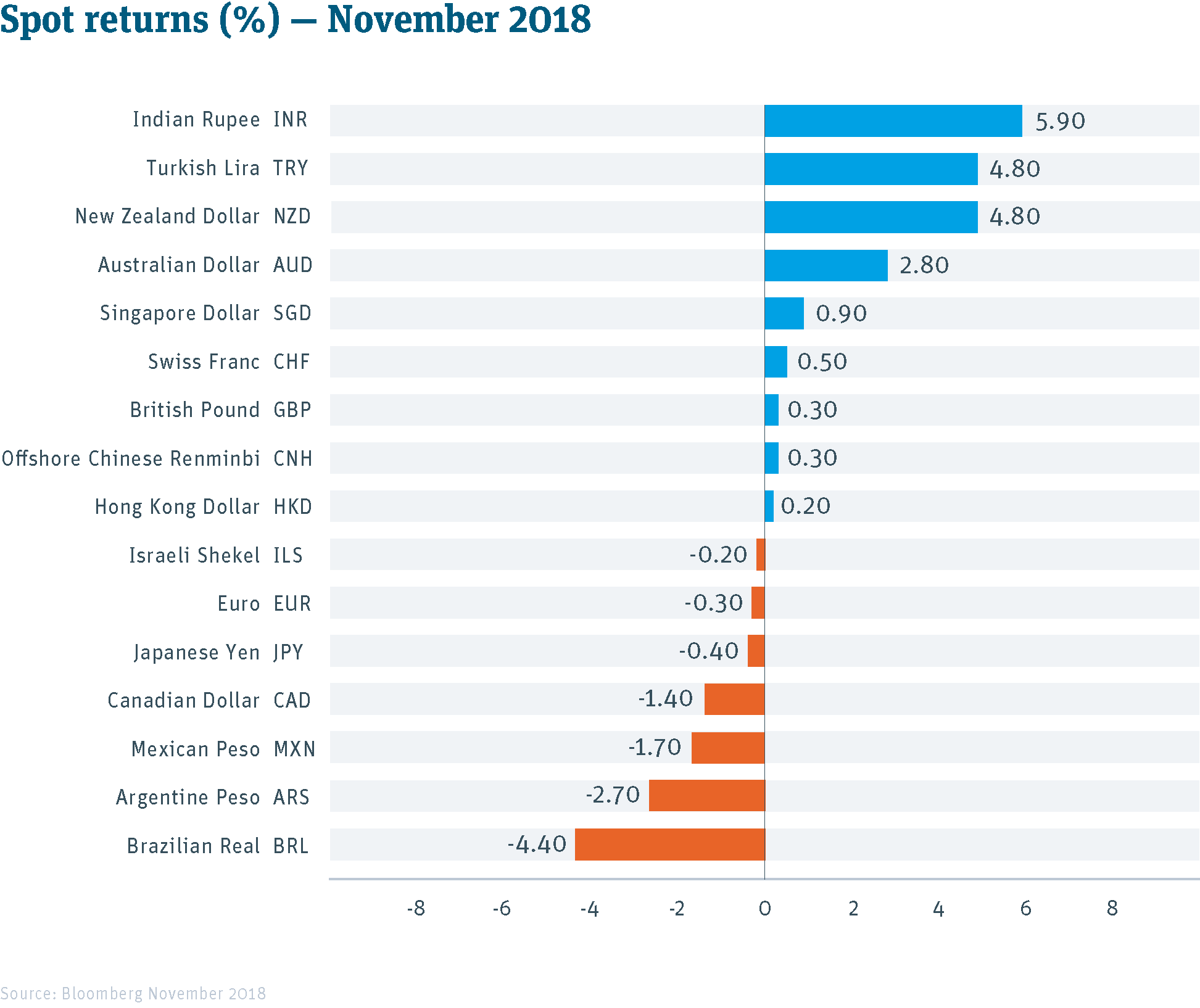 Protecting and growing your business
Rely on SVB for FX capabilities to help your company minimize foreign currency risk and maximize returns. Our advisors and traders utilize the latest currency hedging tools to help you buy, sell and operate effectively in an increasingly volatile global marketplace. SVB's FX team was recently ranked by Bloomberg as the fourth most accurate FX forecaster in the world.** We can provide you with information and ideas you need in turbulent times.


Learn more
Learn How Currency Movements Can Affect Your Global Business.

Explore all the tailored services SVB offers for your foreign exchange needs.

Subscribe to our Daily FX Updates to have FX news delivered to your inbox.


* Source: Bloomberg 2018

** Bloomberg Q3' 2018 FX forecasters are ranked based on three criteria: margin of error, timing (for identical forecasts, earlier ones received more credit) and directional accuracy (movements with the currency's overall direction). The rankings which were based on Bloomberg's foreign exchange forecasts (FXFC), were for forecasters who provided forecasts for Q3' 2018 in at least three of the four preceding quarters but no later than one month prior to September 30, 2018.

Scores were calculated each quarter for the three criteria, which were weighted 60 percent, 30 percent and 10 percent, respectively. The final score for each currency pair was the time-weighted average of the four quarterly scores.

The best overall forecasters were identified by averaging the individual scores for each firm on all 13 currency pairs and all four quarters. Forecasters had to be ranked in at least eight of the 13 pairs to qualify for the overall ranking (54 firms qualified). All ranking tables display the top 20 percent of the forecasters who were eligible, to a maximum of 10 names.


This article is intended for US audiences only.


© 2022 SVB Financial Group. All rights reserved. Silicon Valley Bank is a member of the FDIC and the Federal Reserve System. Silicon Valley Bank is the California bank subsidiary of SVB Financial Group (Nasdaq: SIVB). SVB, SVB FINANCIAL GROUP, SILICON VALLEY BANK and the chevron device are trademarks of SVB Financial Group, used under license.
This material, including without limitation the statistical information herein, is provided for informational purposes only. The material is based in part upon information from third-party sources that we believe to be reliable, but which has not been independently verified by us and, as such, we do not represent that the information is accurate or complete. The information should not be viewed as tax, investment, legal or other advice nor is it to be relied on in making an investment or other decisions. You should obtain relevant and specific professional advice before making any investment decision. Nothing relating to the material should be construed as a solicitation or offer, or recommendation, to acquire or dispose of any investment or to engage in any other transaction.
Foreign exchange transactions can be highly risky, and losses may occur in short periods of time if there is an adverse movement of exchange rates. Exchange rates can be highly volatile and are impacted by numerous economic, political and social factors, as well as supply and demand and governmental intervention, control and adjustments. Investments in financial instruments carry significant risk, including the possible loss of the principal amount invested. Before entering any foreign exchange transaction, you should obtain advice from your own tax, financial, legal, accounting and other advisors, and only make investment decisions on the basis of your own objectives, experience and resources.
Opinions expressed are our opinions as of the date of this content only. The material is based upon information which we consider reliable, but we do not represent that it is accurate or complete, and it should not be relied upon as such. The views expressed are solely those of the author and do not necessarily reflect the views of SVB Financial Group, Silicon Valley Bank, or any of its affiliates.
All non-SVB named companies listed throughout this document, as represented with the various statistical, thoughts, analysis and insights shared in this document, are independent third parties and are not affiliated with SVB Financial Group.