Consumer Digital Health: Market Shift Is Leading to New Opportunities
The next wave of consumer digital health investment is shifting from consumer wellness applications to clinically driven solutions that drive better health outcomes at lower costs. This trend underscores why there are greater opportunities for companies with solutions that create value for payers, providers, employers and consumers. In the second report in the digital health series, SVB Analytics digs deep into the consumer stakeholder and:
Analyzes broad consumer health trends and business models
Examines the shift in investments from consumer wellness to clinically focused solutions
Describes adaptation strategies of consumer wellness and wearables companies
Explores potential areas of opportunity in disease management
More Information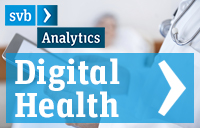 Digital Health: Opportunities for Advancing Healthcare
In the first report of their digital health series, SVB Analytics examined the challenges facing stakeholders in the U.S. healthcare system, the solutions made possible by technology advancements and opportunities for entrepreneurs and investors.
Now Let's Get Started
---
See how SVB makes next happen now for entrepreneurs like you.