COVID-19 Response & Community Support
Supporting employees, clients and communities around the world
$2.1B
Deferred principal payments on $2.1B of venture debt loans for six months.
$595M
Deferred principal payments on $595M of loans for Premium Wine Division clients.
$1.8B
Provided approximately $1.8B in Paycheck Protection Program relief in 2020.
$10.5M
Committed $10.5M to local, regional and global COVID-19 relief efforts in 15 states and 8 countries.
Relief
Government Debt Relief

SVB is actively working with industry groups and government leaders where we operate to help design and implement small-business economic relief programs and initiatives to help stabilize the innovation ecosystem and prepare for recovery.
Paycheck Protection Program (PPP)
SVB is now accepting applications for 2021 Paycheck Protection Program loans. For more information, visit our PPP website. In 2020 SVB participated in the initial round of PPP and received applications from more than 5,500 small businesses and startups. SVB provided approximately $1.8B in loans in 2020 and is actively helping borrowers apply for and receive forgiveness for these loans.

In 2021, SVB is contributing net PPP loan origination fees of $20M it received from the SBA for the initial round of PPP to support COVID-19 relief where SVB has locations around the world, economic development, and social justice.
PPP Frequently Asked Questions
In the UK, SVB was accredited to lend under the Coronavirus Business Interruption Loan Scheme (CBILS) as well as the Coronavirus Large Business Interruption Loan Scheme (CLBILS).

These programs are now closed to new applications.

If you're a client and have any questions, please speak to your Relationship Manager or call UK Client Services at 0800 023 1441 or +44 367 7881 from outside the UK.

We remain dedicated to innovation companies and investors of all sizes and continue to actively support our ecosystem.
More information on CBILS and CLBILS
SVB Relief
SVB continues to engage with clients to understand what they need right now. Our priority in this unprecedented time is to listen to our clients' needs, be flexible with our solutions and patient in our approach. We will work with clients that need additional support in the same way we always do on a case by case basis.

SVB Debt Relief
SVB's venture debt relief initiative in 2020 enabled more than 1,000 startups to defer their principal payments on a combined $2.1 billion in funded debt for six months. The Premium Wine Division enabled a majority of clients to defer principal payments for three or six months, and SVB Private Bank clients were given the option to defer mortgage payments for 90 days.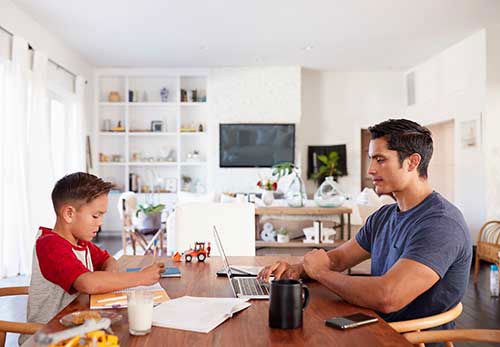 Give
SVB has committed $10.5 million to support local, regional and global COVID-19 relief activities focused on three areas: health, food security and shelter, and small business relief.

This includes corporate contributions to global, national and regional charities, and direct community-based giving.

Focused giving to address the greatest needs
The COVID-19 Global Impact & Innovation Fund, in partnership with Founders Pledge, was established to identify and consolidate into a single fund high-impact organizations that are creating solutions to the pandemic crisis. The fund is currently focused on activities to help slow COVID-19's spread and provide immediate relief to those affected. Recipient organizations to date include Johns Hopkins Center for Health Security, Coalition for Epidemic Preparedness Innovations COVID-19 Vaccine, Give Directly COVID-19 International Emergency Relief, and Meals on Wheels COVID-19 Response Fund.

Looking ahead, the fund will target initiatives to better prepare for future pandemics. SVB made an initial $1 million investment to fund this critical work, and we invite you to join us. Learn More and Donate Here

Direct giving in our communities
As part of our regional effort, SVB offices have supported many health, food security and shelter organizations around the world.














All companies listed above are independent third parties and are not affiliated with SVB Financial Group.


Support for small businesses
SVB also supported emergency and small business grants through our partner Hello Alice's Business for All initiative. Hello Alice provides grants and guidance to small, women-and minority-owned businesses and hosts a free COVID-19 Business Resource Center to link these businesses to relief programs, funding opportunities, mentors and other support programs designed for New Majority entrepreneurs. To learn more and apply for emergency grants, visit www.covid19businesscenter.com/.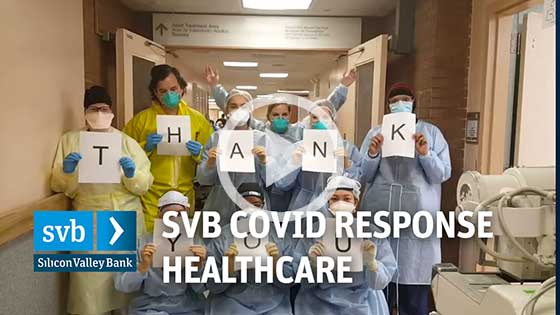 Continuity
We continue to serve our clients while doing everything we can to protect the health and safety of our employees, clients and partners around the world.
Activated our business continuity and pandemic plans
Moved to a work from home plan for our employees and prohibited all business travel
Moved all SVB-hosted events online
Supporting our employees with stable compensation and expanded health, wellness and financial benefits
Resources
We encourage you to leverage the following resources from SVB and our partners.
Connect
Visiting SVB? Our Northern California branches are open. We request that visitors who have had flu-like symptoms refrain from visiting. We strongly recommend, and you may be required depending on local laws, wearing a mask when visiting our branches. Once inside the branch, our Security Officer will ask you to momentarily move your mask to show your face to a security camera. For more information contact: