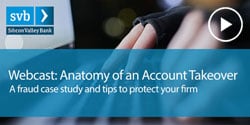 Watch the Webcast On Demand Replay [PLAYBACK]
Fraud via account takeover can cost companies billions each year. It touches firms of all sizes. View this exclusive webcast in our Fraud Prevention Series: Anatomy of an Account Takeover.
During the webcast, we share:
How a client almost lost half a million dollars to criminals overseas
How the Neverquest malware attack unfolded
The orchestrated takeover of a client's online banking, email, and mobile phone accounts
The widespread risks of account takeover
How IBM® Security Trusteer RapportTM can help you can avoid becoming a victim
Featured Speakers:
Debi Kutaka, Senior Manager, Financial Crimes Risk Management, SVB
Shawn Lawson, Senior Director, Cyber Security, SVB
Rob Zerby, Senior Director, Financial Intelligence Unit, Silicon Valley Bank
Shaked Vax, Identity and Anti-Fraud Solutions Strategist, IBM Security*

Visit our Fraud Prevention Center
*IBM is an independent third-party and is not affiliated with SVB Financial Group.
This material is provided for informational purposes only. The conclusions expressed are based upon limited information available to Silicon Valley Bank regarding your company's fraud detection and prevention programs, and should not be seen as a substitute for obtaining your own independent assessment of such programs. The security of your operating system and your procedures for conducting banking transactions with us remains your responsibility. Silicon Valley Bank is not responsible for any cost, claim or loss associated with your use of this material.