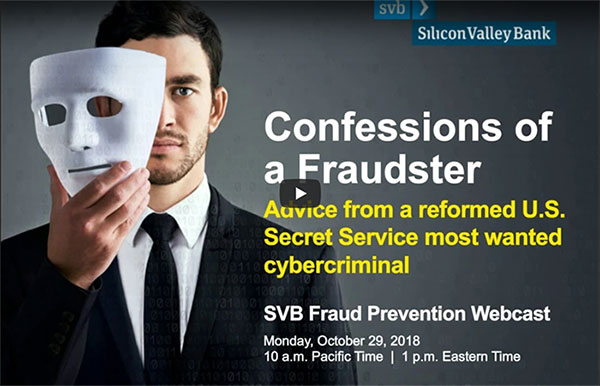 Watch the Webcast On Demand Replay
Watch our October 29, 2018 SVB Fraud Prevention Webcast: Confessions of a Fraudster with guest speaker Brett Johnson:
a former U.S. Secret Service most wanted criminal
known in enforcement circles as the "Original Internet Godfather"
now a consultant to Fortune 1000 companies and U.S. government agencies
Brett shares details on
Ways fraudsters can beg, buy and steal private data about you and your firm
How simple identity theft can lead to far more pervasive hacks
Where fraudsters find ways to penetrate your system protections
SVB's CIO Nick Shevelyov and Fraud Prevention Manager Linda Nguyen also share the bank's view on client dangers we see, and critical steps to guard against the latest scams.

Visit our Fraud Prevention Center for more information and tips on how to protect yourself and your firm.

This material is provided for informational purposes only. The conclusions expressed are based upon limited information available to Silicon Valley Bank regarding your company's fraud detection and prevention programs, and should not be seen as a substitute for obtaining your own independent assessment of such programs. The security of your operating system and your procedures for conducting banking transactions with us remains your responsibility. Silicon Valley Bank is not responsible for any cost, claim or loss associated with your use of this material.