A year ago at the start of 2017, experts believed the U.S. dollar would rally strongly against every currency. It would be fueled by a tightening Fed and relatively high interest rates. As expected, the Fed did tighten and U.S. rates moved relatively higher. But, the dollar failed to follow this promising trend as the year progressed — suffering its first annual decline in seven years.
What went wrong? Was the downward trajectory of the dollar led by the Fed, U.S. rates or even our economy? Or were other forces at work?
What's in Play?
Dollar bulls are falling by the wayside. Those who were long dollars got stung. The market now seems to favor dollar weakness — selling on negative news, then not buying as much on positive news.
The new 'weak dollar' narrative assumes that more foreign central banks will move toward policy normalization amid local and global economic expansion and higher commodity prices.
The Eurozone is in a renaissance — both economically and politically. An increasingly acceptable narrative for the EZ is that economic expansion combined with the rejection of populist movements in the region have laid the foundation for a self-sustaining recovery that could last for years.
Synchronized global economic growth. The highly-regarded Organization for Economic Cooperation and Development (OECD) recently forecast a broad-based global upturn with GDP of 3.7 percent in 2018 and 3.6 percent in 2019. All G-20 countries are expected to move in harmony for the first time since 2010.1
Emerging market countries in Asia, highly dependent on trade and export, tend to outperform in such an environment.
U.S. yield curve flattens. Markets are expecting three Fed rate hikes in 2018, but are increasingly concerned that the yield curve will move toward an inversion — raising worries about a recession in 2019.
Another dollar bearish theme gaining some credibility.
Brexit negotiations continue. In December, Prime Minister May submitted a 'divorce settlement' offer that was acceptable to the EU — effectively closing Phase 1 negotiations. Phase 2 negotiations, which involve the all-important trade relationships, now commence.
Already there are concerns that this phase may be tougher than the first. Surprisingly, investors are excessively long the UK pound — more so than in the last three years.
U.S. mid-term elections approaching. President Trump's tax cut triumph stirred fierce partisan disagreement that is set to dominate electoral mid-term elections.
Polls already indicate that Democrats have a substantial lead. Investors are undecided whether or not that would ultimately slow the economy.
What's Next?
Markets in Financial Instruments Directive II (MiFID II) takes effect. Trading volume in EU assets may be lower than normal this month as sweeping changes to rules on financial instruments kick in. MiFID represents the biggest global financial reform to hit the EU in a decade. Its goal is to provide greater protection for investors and inject more competition into the trading of all asset classes.
Secession in Catalonia /Spain and formation of a viable coalition government in Germany. Whatever the outcomes, euro bulls seem not to care as the EUR continues climbing — approaching three-year highs.
SVB forecast: The euro will reach $1.25 -$1.28 by year-end. One major U.S. bank recently published their revised forecast of $1.35.
Italian elections coming in March. The next big challenge to the Eurozone's economic recovery may be the elections in Italy on March 4. Opinion polls currently point to an unclear outcome — raising political risk in Italy just as its economic growth falters. Voter support is dwindling for the ruling pro-EU center-left Democratic party, and rising for the euro-sceptic opposition parties.
Former disgraced Italian Prime Minister Silvio Berlusconi may end up playing kingmaker — this will be one to watch.
Repatriating revenues held offshore by U.S. corporations. An estimated $2.6 trillion of cash may be coming back home.2 How much of it needs to be converted back into dollars remains an unknown.
Market pundits are suggesting $500 billion, certainly a sizable amount. But in the $5 trillion a day FX market, it should not have much of an impact — especially if converted over the course of the year.
What Happened?
The U.S. tax reform bill passed. On December 22, 2017, President Trump signed a sweeping tax bill.
Markets had already built it into the pricing of financial assets and currencies, so only mild upside was seen.
The Fed tightened rates. On December 15, the FOMC hiked rates 25 basis points to 1.25 - 1.5 percent.
There was no reaction from the market as this had been fully expected.
The South African rand soared. The rand was the top performing currency in December as investors welcomed Cyril Ramaphosa, the new president of the African National Congress party. He is an anti-apartheid hero and business tycoon now poised to lead a party and nation that have been tarnished by President Jacob Zuma's eight-year rule.3
Commodity currencies outperformed. Rising prices of base metals copper, aluminum, tin, zinc, iron ore and lead — all good indicators of global economic growth — spurred buying of the South African rand, Canadian dollar, as well as Australian and New Zealand dollars.
Bitcoin hit a new peak near $19,400, dropped 40 percent, then gained 40 percent — all in the space of two weeks.4
Even though bitcoin futures are now trading, by nearly any definition it is not a currency — yet.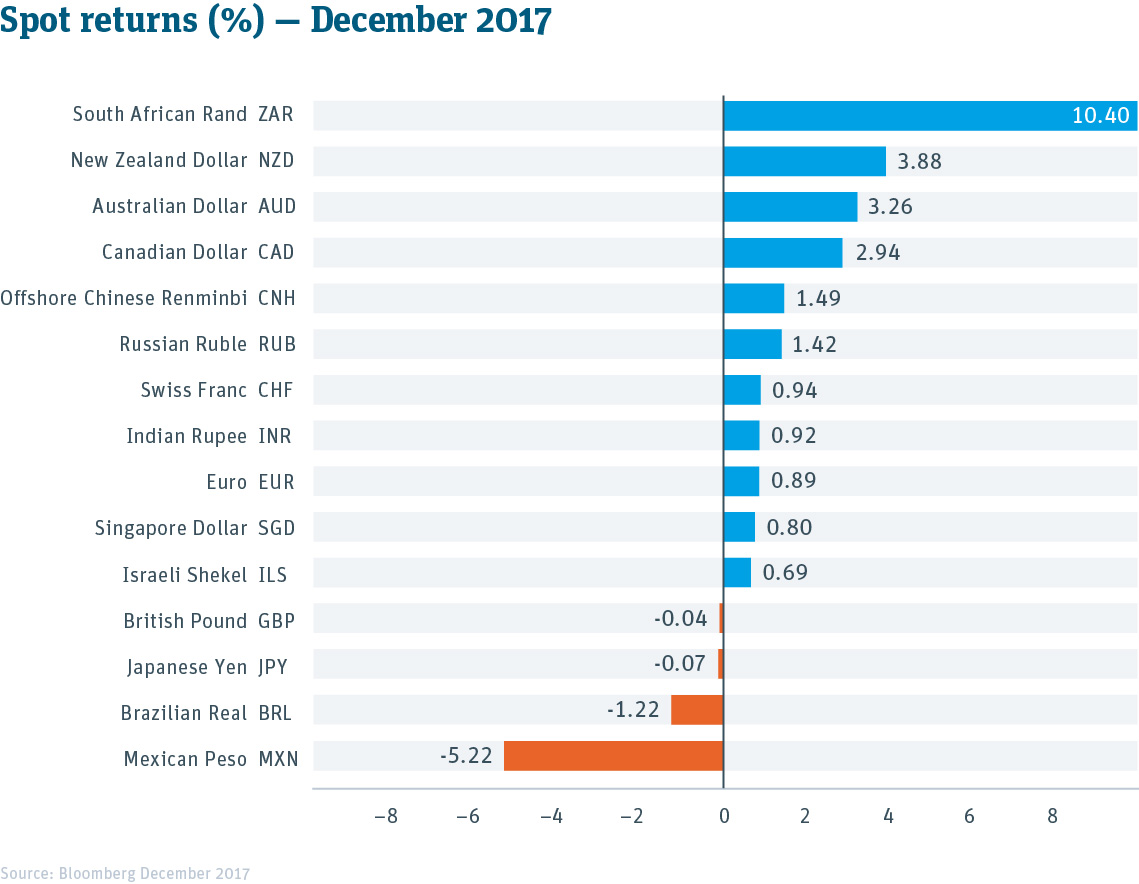 A strategic approach to managing currency risk
Rely on SVB to help you plan budget rates and protect your company with FX capabilities that allow you to move money across borders seamlessly, minimize foreign currency risk and maximize returns. Our advisors and traders utilize the latest currency hedging tools to help you buy, sell and operate effectively in an increasingly integrated global marketplace — and gain a competitive advantage while managing global currency risk.