The S
tate of
Fintech
2022
The data
In our State of Fintech report, we dive into key trends and leverage our proprietary data to offer a unique perspective on the fintech industry. Here are some highlights:
Industry trends
-24%
Change in pre-money valuations for Series C+ fintech deals from recent peak
3.7x
Web3 VC deal count growth from Q1 2019 to Q1 2022, higher than any other tech sector
66%
Share of fintech firms showing slower QoQ growth in Q3 2022
Valuations
High-flying valuations come in for a landing
After intense deal competition helped turbocharge fintech valuations in 2021, VC-backed valuations are declining at all stages.
The reset for Series C+ is most pronounced with a 24% decrease from the recent peak — marking a significant shift from October 2021, when the median valuation was $965 million, up 2x from October 2020.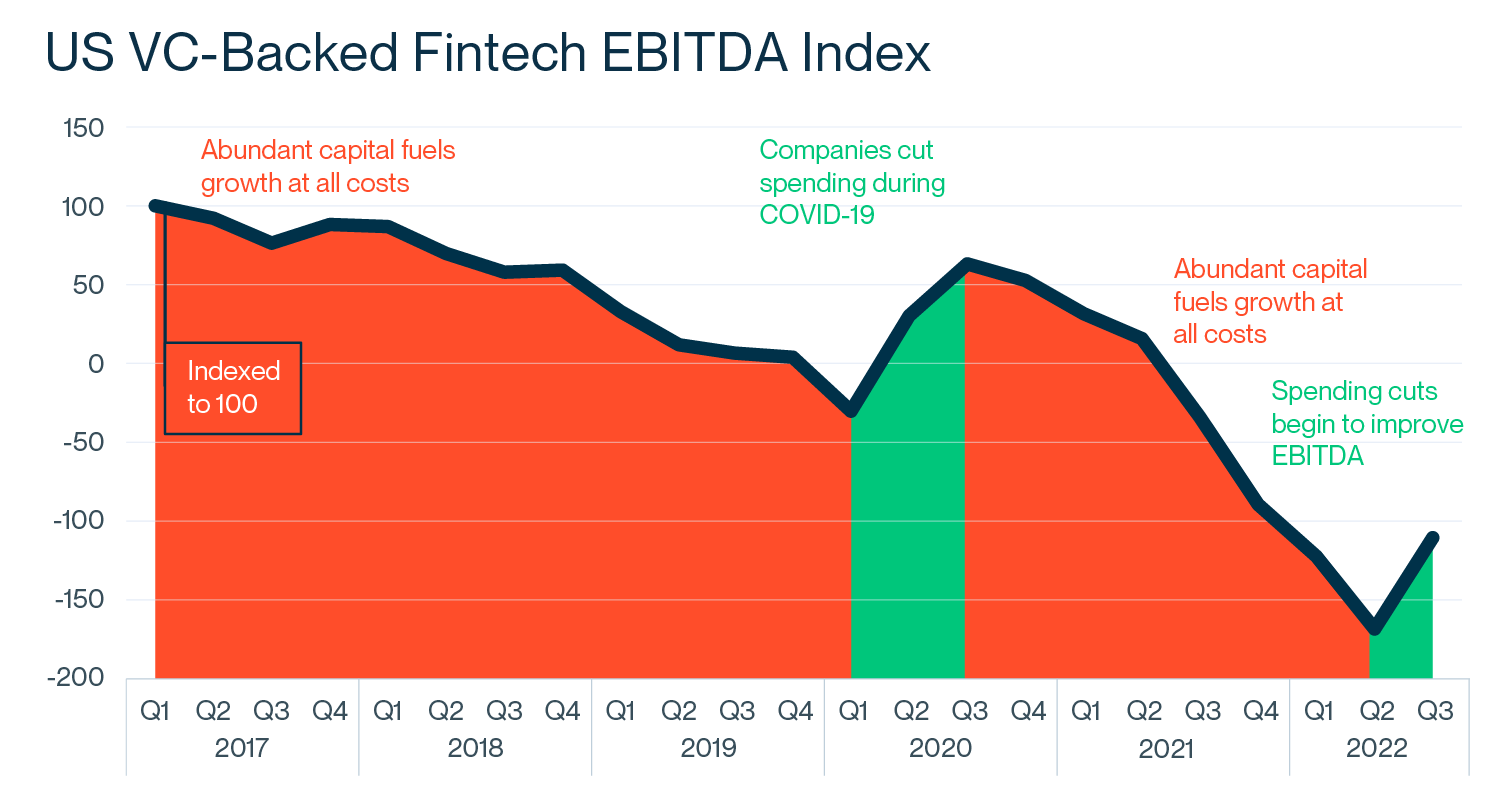 Burn rate
Companies heed warnings to rein in spending
According to SVB proprietary data, more fintech companies decreased net burn in Q3 2022 than at any point since the onset of the COVID-19 pandemic.
The cuts help illustrate that companies are right-sizing their expenses to match decreased expectations for spending and slower revenue growth.
Web3
Web3 funding rush tapers off
VC deal growth in web3 was higher than any other tech sector from 2019 to 2022, with company formations peaking at 237 in Q1 2022. However, formations are beginning to taper, falling by 43% since the peak
The companies seeded from the 2017-18 crypto price boom — and the long tail afterward — built the infrastructure and applications that enabled the recent growth in user adoption. Now, the funds raised during the recent boom may build the foundation for the next Web3 wave.
The bank of choice for fintechs
---
We get behind innovative and complex ideas with creative, flexible banking services, specialty financing and payment solutions.
Get more perspectives on other segments of the innovation economy
Written and researched by SVB experts
Our deep relationships with top entrepreneurs and investors inform our insights and give us a vantage point unlike any other bank.



1 Forbes, as of June 2022

This material including, without limitation, to the statistical information herein, is provided for informational purposes only. The material is based in part on information from third-party sources that we believe to be reliable but which have not been independently verified by us, and for this reason, we do not represent that the information is accurate or complete. The information should not be viewed as tax, investment, legal or other advice, nor is it to be relied on in making an investment or other decision. You should obtain relevant and specific professional advice before making any investment decision. Nothing relating to the material should be construed as a solicitation, offer or recommendation to acquire or dispose of any investment or to engage in any other transaction. 

The views expressed in this report are solely those of the author and do not necessarily reflect the views of SVB Financial Group, Silicon Valley Bank, or any of its affiliates.