Disruption creates opportunity in the meal kit space
About Sunbasket
SVB is excited to share the Sunbasket success story, a subscription meal delivery service whose mission is to empower people to live their healthiest lives, starting with what's on their forks. The company focuses on ingredients, sustainability and giving back to the community.


The bold idea
Shortly after America's first meal kit startups hit the market in 2012, serial entrepreneur Adam Zbar envisioned health-focused eating plans that would feature organic and sustainably farmed foods. Justine Kelly, a longtime San Francisco Bay Area chef and former contestant on Iron Chef America, shared that vision. In 2014, Adam and Justine launched Sunbasket.


The partnership
With SVB's nearly 40 years of experience in startup banking, its professionals know the importance of listening to their clients, staying flexible with solutions and being patient in their lending as business climates evolve. Adam had achieved success with SVB in fiercely competitive markets before and knew the bank would bring those disciplines to the relationship again. It was exactly what Sunbasket would need to ride out the roller coaster that followed.
In 2017, the meal kit space became extremely volatile as customers jumped from service to service, delivery services like Uber Eats introduced more eat-at-home options, and grocery companies began acquiring their competitors. With SVB's support, Adam and Justine were positioned to constantly pursue new strategic priorities as the market shifted.


SVB has been our essential partner as we've grown and scaled our business. The team at SVB took the time to truly understand our business and platform to address our growth capital needs today and in the future.
Don Barnett, CEO, Sunbasket
The solution
Series A and B funding rounds in Sunbasket's early years had raised nearly $27 million, while SVB had supported with a $2.3 million growth capital term loan and a $12.5 million revolving line of credit term loan.
In 2017, during the industry's slugfest, the company announced a $15 million Series C funding round followed by a $9.2 million Series C-2 round led by the venture capital arm of food giant Unilever. SVB came through by upsizing its term loan to $7.5 million and increasing its revolving line of credit to $15 million. Series D and E and debt segment funding rounds in 2018 and 2019 supported new distribution centers in the Midwest and East Coast and an employee base of 1,700.
The lessons that had equipped Sunbasket to pivot through the industry's shakedown also positioned the company to thrive when the world changed in 2020.


The impact
When the pandemic hit and customers began eating all their meals at home, interest in meal kits resurged. By then, Sunbasket had introduced new health-based menu plans, including diabetes-friendly and heart-healthy options developed with the nation's leading experts. Watching consumer trends, the company had also expanded to offer foods for every meal, new lines with pre-cut ingredients, and ready-to-eat items including salads and grain bowls.
By May 2020, Sunbasket's sales had nearly doubled. That August, the company introduced a ready-to-heat line, following customers' preferences as they evolved away from the cook-by-the-numbers format into more prepared meals.
Adam knew from the start that disruption can create opportunity. Backed by a bank accustomed to tumultuous market cycles, Sunbasket is poised to thrive, no matter what history — and evolving consumer preferences — bring to the table.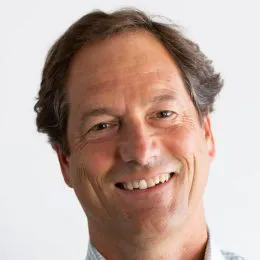 Don Barnett
CEO, Sunbasket
Headquarters
San Francisco, California
Company Size
850 employees
Goal
Deliver a full range of fresh, seasonal foods — including ready-to-heat meals and kits, snacks, sides, proteins, dairy products and pantry staples — to customers nationwide.
SVB Solution
Growth capital term loan and revolving line of credit term loan.
SVB Consumer Internet Practice
Discover
how SVB supports consumer internet companies at all stages of growth.
Learn more
The Future of Retail Report
Dive into consumer retail in our latest report. Topics include the role of omnichannel, consumer online shopping trends, and how adoption of new technology and partnerships become paramount for to remain competitive in a COVID-19 world.
Insights to inspire you
---
Read insights and stories from industry experts to help as you work to accelerate your company's growth.