Share your passion, show your commitment
Today Pejman Nozad of Pear Ventures listens to pitches from startups. Just a few years ago, however, he was making the pitch. So he knows what it takes to secure funding, starting with those precious few moments in front of potential investors.
Cash-strapped early-stage startups need to share their passion. Since the data just aren't there yet, show that passion by sharing your story, advises Nozad. "Don't be shy about telling your story. Sometimes your story is as important as your project and metrics," he explains. "Talk about how you overcame difficult times and be very honest about it." That can show investors you have the skills, such as problem solving and self-awareness, necessary for success.
Another signal investors look for is closeness to the problem driving the product; that indicates both passion and a deep commitment. "Founders who are really close to the problem they're solving end up building something people love," Nozad says. "You need motivation, you need mindset."
Having a close, productive team is another way investors assess startups. "I look for someone who can hire, scale and build a team, for those founders who believe in their team," he says. "There are a lot of people who can build a product; only a few can build a company."
And part of building a business is being able to ask tough questions about your company without losing direction. "Successful founders know where they want to go, but they question themselves every day in a very healthy way," Nozad says.
Prepare for the long game
Passion and commitment also help a new company through the inevitable failures. Anticipate setbacks. "You want everything check-marked, which doesn't work," Nozad explains. Seeing the opportunity in failure is a must. "You learn through these experiences," he says.
Keep in mind that you're choosing an investor as much as the investor is choosing you. And your company's success may depend on that relationship. Investors check a startup's references "so don't be afraid to do a reference check on investors," Nozad advises.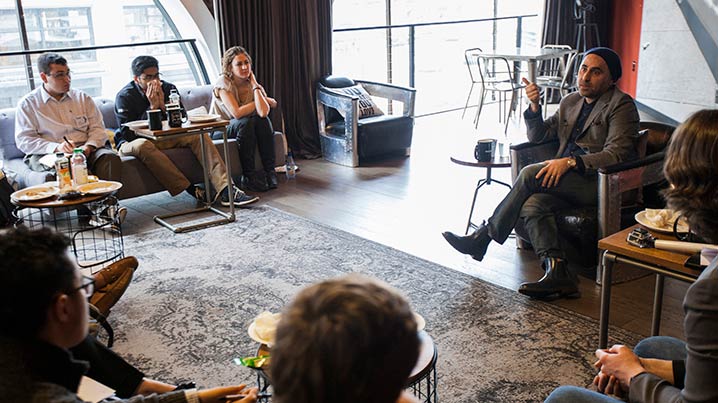 Successful founders know where they want to go, but they question themselves every day in a very healthy way.
– Pejman Nozad, Founding Manager Partner, Pear
Your past is not your destiny
While some startups can share similar beginnings —the reality is nuanced. Nozad's experience reflects a broader reality: Success originates with the founders; a great company can begin anywhere.
Jim Marshall, Head of Emerging Manager Practice at Silicon Valley Bank, sees Nozad's path as the future of startup financing. "I believe he represents the next generation of venture. His humble beginnings made him who he is today and shape how he evaluates and supports the founders he invests in."
Choose a bank that knows the startup world
Experience has also taught Nozad that an investor's job is to support the founder, a pay-it-forward mentality. "Entrepreneurs create the future, not investors," he says. Forward thinking is a trait he sees, and appreciates, in Silicon Valley Bank. "It comes back to the philosophy that you give before you get, and I think SVB is a great example of that," he explains.
And SVB readily understands the startup culture. "I see SVB as part of the startup ecosystem. I think they run everything like a startup," Nozad says. "I talk to a lot of founders and a lot of other venture capitalists. They really love what Silicon Valley Bank is doing for the entire ecosystem."