January 2017 is likely the start of restrictions to core taxable estate techniques
Clients of the Private Bank may face reduced tax savings starting in 2017 due to new Treasury Department regulations. These new rules will impact many families' estate plans, and we suggest that investors and executives review their current structures as soon as possible. Changes may not be needed immediately, but an assessment of your estate plan may be prudent.
What's new?
In August 2016, the Treasury Department released proposed new regulations under Section 2704 of the Internal Revenue Code that would restrict high-net-worth individuals from utilizing some core estate planning techniques to reduce a taxable estate. 
Specifically, proposed regulations would end most forms of lack of control and lack of marketability discounts for intra-family transfers of businesses during the transferor's life. These important "lack of" discounts are typically used to reduce the taxable value on the transfer of certain assets in an estate plan.

Family Limited Partnerships (FLPs), Family Limited Liability Companies (LLCs) and S Corporations are the most common business structures that have utilized lack of control and lack of marketability discounts for intra-family transfers. These have been used to allow parents to transfer value, at a discount, to their children, without necessarily relinquishing immediate control of the assets. The ultimate goal is to diminish the impact of federal (and in some cases state) estate taxes. Currently, an estate tax of 40% applies to lifetime gifts or bequests in excess of $5.45 million for single individuals and $10.9 million for married couples. These amounts are usually indexed for inflation.

Any eliminated tax savings could have a substantial impact.
Who does this affect most?
 FLPs and LLCs are utilized in the VC and Private Equity investment communities as partners enter the distribution phase of their fund or approach estate tax thresholds. Real estate assets or shares of private portfolio companies in a co-investment vehicle are assets typically utilized for intra-family transfers.
Entrepreneurs anticipating a liquidity event often work with an estate attorney to create FLPs or LLCs, in conjunction with grantor trusts, to transfer shares of their private companies to family members. Due to lack of marketability and lack of control discounts, more of the company can be transferred to their family members. Additionally, any future appreciation of the transferred asset occurs outside of the founder's estate.

If your estate—including any illiquid assets—is close to or exceeds the federal estate tax threshold of approximately $11 million, now would be a good time to contact SVB Wealth Advisory to help determine the appropriate third-party tax and estate providers needed for your personal needs.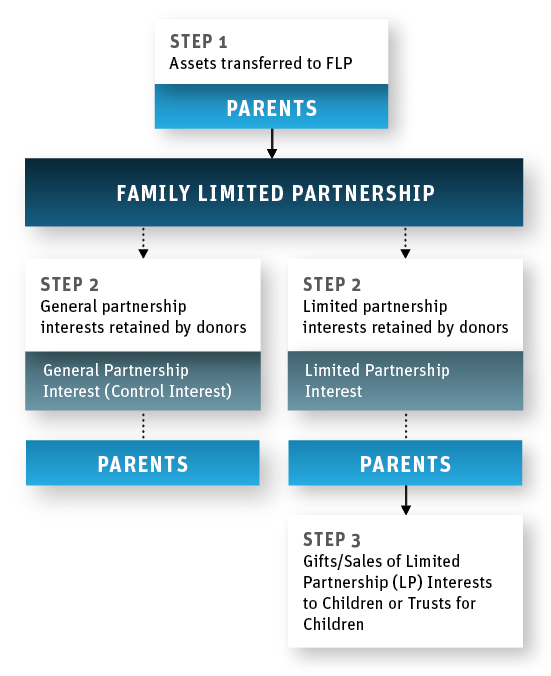 An example: How currently available valuation discounts can help optimize wealth transfers
A company CEO wants to take advantage of existing available discounts. The estate planning attorney and the SVB Wealth Advisor have advised the executive to contribute an asset to a Family LLC, allowing her to transfer non-voting interests in the LLC out of her estate at a valuation below the fair market value (FMV) of the contributed asset. The CEO establishes an irrevocable grantor trust (Wealth Preservation Trust) for the benefit of two adult children.

A Family LLC is created with a voting member and a non-voting member. If she transfers her vacation home to the LLC and sells the non-voting interest to the Wealth Preservation Trust in exchange for a promissory note, the non-voting interest could be eligible for an estimated discount of as much as 30% below the FMV of the contributed asset due to the lack-of-control and lack-of marketability restrictions of interest, so long as the governing documents contain appropriate provisions that lend themselves to discounts. The CEO would need a valuation report for the valuation discount, and the SVB Wealth Advisor can introduce the qualified expert to provide the report. The discounts reflected above are merely examples and not projections or guarantees.

The result: the "lack of" discounts allow for the transfer of the CEOs' vacation home asset. The home is removed from the estate at a reduced value without utilizing any lifetime gift exemption because of the promissory note sale. Future appreciation would accrue to her heirs in the Wealth Preservation Trust outside of the CEO's estate.

What should I do?
Many estate planning attorneys serving investors and executives are urging clients to go through a review before the rules take effect. The proposed Section 2704 changes would apply only to transfers occurring on or after the date the regulations come into force, and the Treasury Department regulations, if adopted, would take effect approximately at the end of December 2016. 
Bryan Galat, an estate and tax attorney with DearthGalat LLC, believes that "of all the tools available to minimize estate tax exposure, valuation discounts have often been a key planning component, whether for gifts of FLP interests or installment sales to grantor trusts. We are advising our clients with significant planning opportunities to act now while we know what the law and regulations say, rather than wait to see what happens before year end, when those planning opportunities may be lost."

All executives and investors should ask themselves these three key questions:
Will the regulations be accepted in their proposed format? 
How do your individual family dynamics impact your gifting strategy? 
Are you willing to consider irrevocably transferring an asset out of your estate?
We are open to discussing the potential implications of the proposed Section 2704 Treasury Regulations on your estate plan and to consider whether transferring part of your business interests to an FLP or LLC makes sense for you. Our Wealth Advisory team, alongside third-party estate and tax planning providers, can support your needs. 
The Fine Print
| | | |
| --- | --- | --- |
| Are Not insured by the FDIC or any other federal government agency | Are Not deposits of or guaranteed by a Bank | May Lose Value |
Neither SVB Wealth Advisory, Inc., Silicon Valley Bank, nor its affiliates provide tax or legal advice. Estate planning requires legal assistance. Please consult your tax or legal advisors for such guidance. Banking services are provided by Silicon Valley Bank, and wealth advisory services are provided by SVB Wealth Advisory, Inc