The year hasn't all been a Snap! Though not without its challenges, 2017 is tracking toward a healthy year for liquidity in the venture capital ecosystem. The exit environment has picked up steam after a slow 2016, and the pipeline of opportunities for future liquidity events remains robust. Signals point to active IPO and M&A markets in the months to come as advancing technologies continue to redefine traditional industries.

Read SVB's new State of the Markets report to learn more about what we're seeing in the markets — and continue reading for our viewpoint on the themes around exits in the first half of the year.
IPO market is heating up, but valuation concerns remain
The biggest questions remain around private market valuations and the potential for recalibration as investors evaluate their options for liquidity. With an abundance of unicorn companies borne out of the funding craze fueled by crossover investors in 2015, the IPO market froze in 2016. Companies focused on, unit economics and a path to profitability in an effort to justify their lofty valuations. Halfway through 2017, many of these companies are on their way to becoming fundamentally sound, IPO-ready enterprises. Some, however, have been unable to sustain the growth momentum that late-stage investors bought into (or sacrificed other critical KPIs to hit their growth targets); this may further delay their IPO plans as they first explore alternative financing or liquidity events before testing the wary public markets.
With growing demand from institutional investors and a large supply of billion-dollar IPO candidates, the IPO window remains open for new issuances in 2017. Bellwether Snap successfully listed in March, which brought some other notable VC-backed tech names to the public markets (e.g., MuleSoft, Alteryx, Elevate Credit, Okta, Yext, Cloudera, Appian, Blue Apron and Tintri). Moreover, a plethora of companies has reportedly kicked off their IPO process, so we expect this momentum to continue through the year.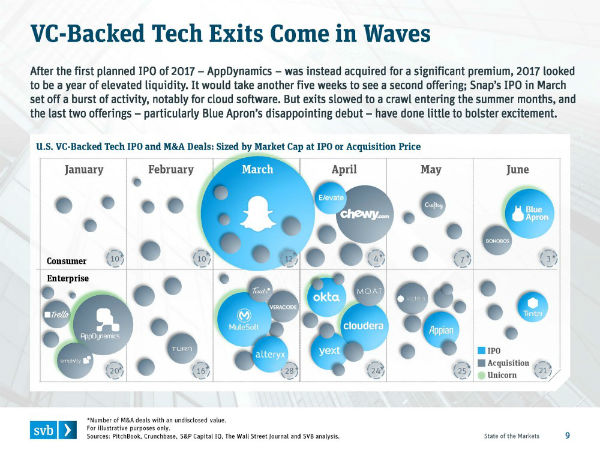 Most of the recent tech IPOs are trading above their latest private financing valuations (14 out of the last 18 VC-backed public tech offerings since 2016). Still, some companies will naturally face a valuation crunch as they look to the public markets. When they evaluate liquidity options, these companies may choose to price their IPOs at a discount (taking a cue from Cloudera, Blue Apron and Tintri) or turn to M&A at a down round (as SimpliVity and Viptela did). This type of recalibration is healthy for the overall innovation economy, and early investors still will be positioned for compelling investment multiples as they harvest the returns resulting from the last decade of sweeping innovations.
Financial and strategic buyers fuel robust M&A activity
Along with a strong IPO pipeline, M&A continues to be an attractive path to liquidity. Earlier this year, AppDynamics showed that corporates are willing to pay up for innovation after a surprising $3.7 billion acquisition offer came from Cisco one day before the company's planned public offering (considerably higher than the approximately $2 billion market cap set in the IPO terms). This was not the only headline acquisition in 2017 — other notable deals include Trello ($425 million), Turn ($310 million), Veracode ($614 million), Mobileye ($15.3 billion), Teads ($308 million), Chewy.com ($3.3 billion), Bonobos ($310 million) and Bankrate ($1.4 billion).
In addition to the surge in strategic M&A, financial buyers have become increasingly active in acquiring technology companies. For example, Vista Equity Partners added VC-backed Marketo, Cvent, Infoblox and Lithium Technologies to its tech portfolio in just the last year. With many of the largest private equity firms fresh off a fundraise and now flush with cash, we expect more tech investments from this group in buyout opportunities as well as private financing rounds alongside traditional VCs.
There is no doubt that tech M&A will continue to involve traditional industries and verticals, albeit not necessarily in the same direction as we saw in the flagship acquisitions of 2016 (GM/Cruise Automation, Unilever/Dollar Shave Club, Walmart/Jet.com). Amazon's $13.7 billion acquisition of Whole Foods is an example of the reverse (a leading technology company buying a leader of a traditional industry). This is an important distinction, as the technology sector has rapidly grown its market share in the broader economy, and very few acquisition targets are out of reach for today's largest tech giants. To put this into perspective, the world's top five largest companies by market capitalization all come from the technology sector, and collectively these companies hold over $500 billion in total cash — enough to purchase every private unicorn company in the United States at its latest valuation.
Tech companies are redefining traditional industries
A trend that now feels more certain than ever is the ability for tech-native companies to accelerate the disruption of incumbent business models. Just look at some of the recent billion-dollar companies funded by VCs in the last few months. Opendoor, which is disrupting residential real estate, received a billion-dollar valuation from investors in November 2016. Robinhood, replacing traditional stock brokerages, also hit unicorn status earlier this year. Finally, Peloton, impacting health and fitness, has become one of the hottest tech companies of 2017 — raising at a $1.4 billion valuation in May. But remember: Technology companies are not only disrupting traditional industries, they also are redefining them.
Old-guard companies have recognized and embraced the need to innovate, and every sector of the global economy has been affected by this next generation of technology. Whether through the creation of dedicated venture capital investment arms (over 100 new corporate venture capital groups were created in 2016) or strategic M&A, legacy corporates are actively looking for inorganic growth and accelerated access to hot markets. As the Amazon/Whole Foods deal (among others) illustrates, the lines that define technology as a sector are quickly blurring. Technology is evolving into an essential layer across the economy rather than a single sector within it, creating great opportunities for the fast-moving startup companies that power the innovation ecosystem.
Looking ahead to the second half of 2017, we expect a healthy level of exit activity from the technology sector as companies cautiously navigate the IPO and M&A markets. Valuations will remain top of mind, and entrepreneurs and investors will assess every new signal as they gauge their confidence levels in the coming months.