The following article appeared in the Pitchbook-NVCA Venture Monitor report. Read other articles and learn more about our new partnership.

What Public Market Fluctuations Signal for Venture Dealmaking

As we know all too well, tech company IPOs tend to slow during periods of turbulence in the public markets. Naturally, few want to test their growth story amid public scrutiny when larger unpredictable market forces are in play. But what about the impact of public market turbulence on private venture investments to scaled tech companies?

At SVB, by analyzing both public and proprietary data, we see correlations around how topsy-turvy public markets affect venture deal making. More on that in a minute, but first a little scene-setting.

At the start of 2018, the current bull market that started in March 2009 seemed determined to celebrate its ninth birthday on a heady upswing: The S&P 500 index closed up nearly 6 percent in January 2018, marking one of the best new-year debuts in nearly two decades. But February arrived with a sobering downturn: In the first three trading days, the S&P 500 gave up all of its January gains and headed into correction territory, bottoming out after a  10 percent decline from its January high. Importantly, during this period of decline, the long-dormant CBOE Volatility Index (the 'VIX'), which measures expectations of stock market fluctuations, closed above 30 for the first time since August 2015 and recorded the biggest single-day jump since the index was created in 1990.

At the time of this writing, with the exception of a few bumps caused by trade war or interest rate fears, the markets seem to have recovered from that rocky early February of 2018. The IPO window appears to be opening again, with the strong post-IPO gains of Zscaler and Dropbox, and several more VC-backed tech companies on deck to go public. Still, the volatility index remains above the benign sub-15 level it held through 2017, which could signal rocky times ahead. What might this public market experience mean for private late-stage VC investing?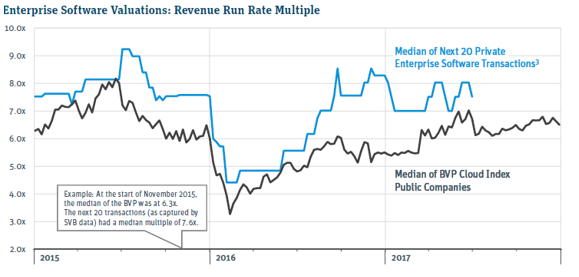 One way to explore this question is to compare valuations of public companies with a set of late-stage venture financings from the same industry to determine any differences in valuation characteristics. We examined revenue run-rate multiples on over 100 late-stage venture financings in the enterprise software space (as shown by the light blue line below). We then compared them to the BVP Cloud Index (as shown by the black line), which tracks the performance of 50 publicly traded cloud software companies.

We found that the revenue run-rate multiples of the late-stage private deals tracked closely to those in the public markets, with valuations of private enterprise software deals marginally higher than the contemporary median multiple of public companies in the BVP Cloud Index. The higher multiple is attributed to the fact that investors are willing to pay more for higher growth rates: the median revenue growth rate for the private companies was 60 percent, compared to 30 percent for those in the public cloud index.

Not only are late-stage private valuations influenced by how public markets move, but prolonged market corrections can also slow down venture deal activity across the board. In the Q1 2016 market correction that pushed enterprise software revenue multiples down by half, the ensuing quarters saw the number of SaaS deals and capital invested also fall by half before recovering in Q2 2017.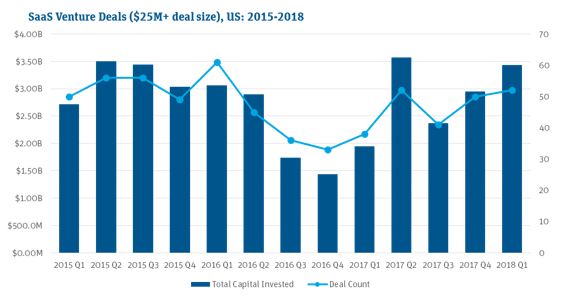 Source: Pitchbook data, SVB analysis

In both cases of valuation and volume of SaaS company investments made, private markets tended to slightly lag behind public markets, as it takes time for private investors to make sense of greater market movements. Still, it seems clear that for later-stage private companies, public market movements not only affected IPO timing, but they also affected venture deal velocity and valuation multiples.

Companies referenced throughout this document are independent third parties and are not affiliated with SVB Financial Group.
The views expressed in this article are solely those of the author and do not reflect the views of SVB Financial Group, Silicon Valley Bank, or any of its affiliates.
COMPID 1261