2018 OUTLOOK
THE US WINE INDUSTRY IS AT THE TAIL END OF A 20-YEAR GROWTH PERIOD
Rob McMillan, EVP and founder of Silicon Valley Bank's Wine Division, writes one of the wine industry's most authoritative annual reports that assesses current conditions and provides a unique forecast based on micro- and macroeconomic and behavioral trends. In this latest report, he says that successful wineries 10 years from now will be those that adapted to a different consumer with different values — a customer who uses the internet in new and interactive ways, is frugal and has less discretionary income than their generational predecessors.
This consumer rotation, along with several other indicators that point to reduced direct-to-consumer success, has specific implications for small wineries. Action is required now to stay ahead of these changes.
Forecasts for 2018:
Consumers are leaving the lower price segments in favor of better-quality offerings, but after more than 20 years of straight-line growth trends, total volume growth is leveling off. Retiring baby boomers and frugal millennials are driving a rotation of consumer preferences. Premiumization will continue, but softening is likely on the luxury end for wineries without preexisting strong brands.
The premium wine segment will grow in the range of 4 to 8 percent, down from the estimate of 10 to 14 percent in 2017. For the industry as a whole, sales will rise by 2 to 4 percent, while volumes will increase slightly.
Acquisitions will cool somewhat from the torrid pace of the past three years as many of the major buyers digest their recent purchases. We will still see foreign purchases of US wineries and significant transactions for vineyard properties.
When 2018 totals are calculated, California will have crushed about 3.8 million tons of grapes, slightly more than in 2017. In the Pacific Northwest, Oregon will set another record in terms of yield, and Washington's yield will slightly moderate.
For more than 20 years, we've seen regular increases in volume and price. But sustaining routine increases may be difficult for wineries given the low-growth, low-inflation environment. Price increases will be hard to pass through in 2018, so overall pricing will be flat.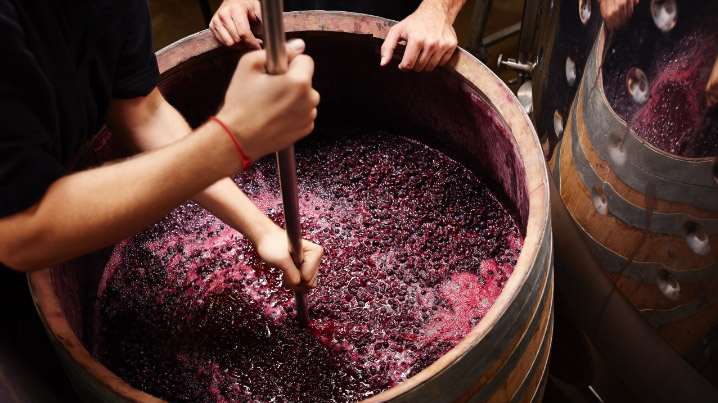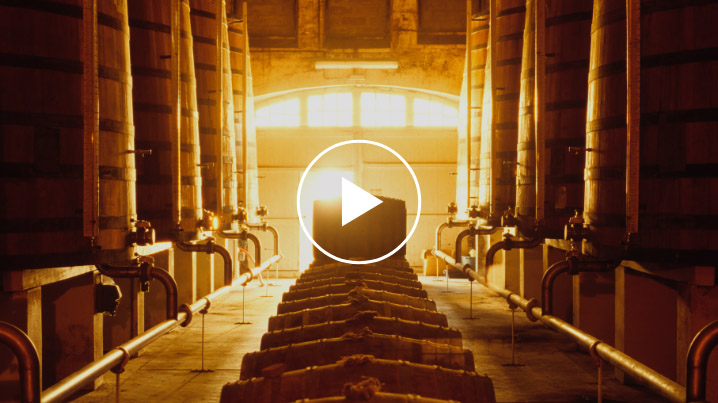 US WINE CONSUMPTION
After more than 20 years of straight-line growth, total volume growth is leveling off. Premiumization is still the dominant trend, so volume drops in lower-priced generics are part of the explanation for flattening volume; but in a more recent development, even premium wine growth is slowing.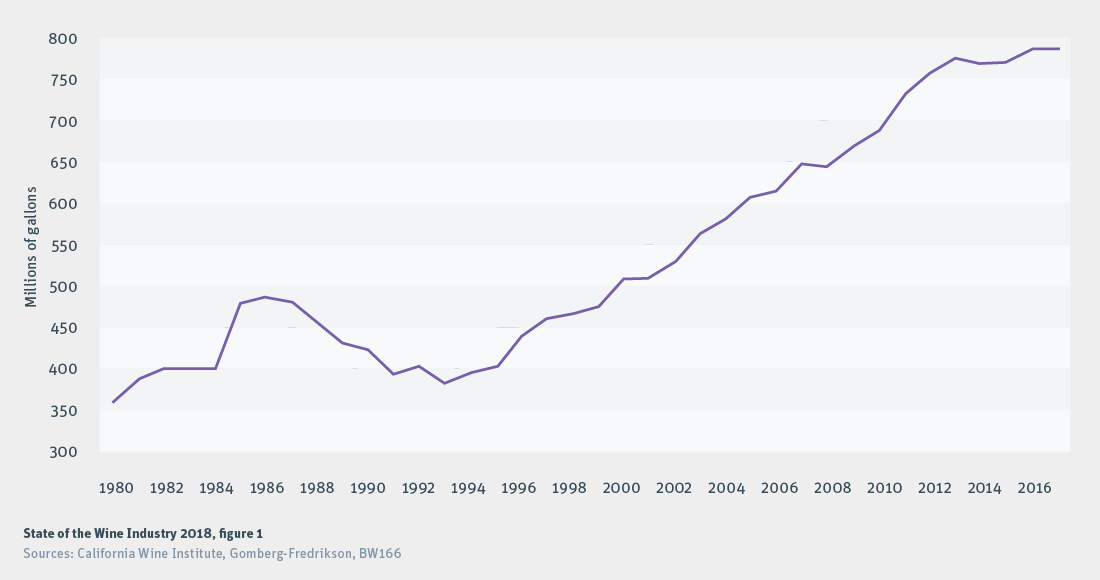 PREMIUM WINE SEGMENT
The premium wine segment — which we define as wine above $10 per bottle — dominates sales and is responsible for all the growth in the wine trade today.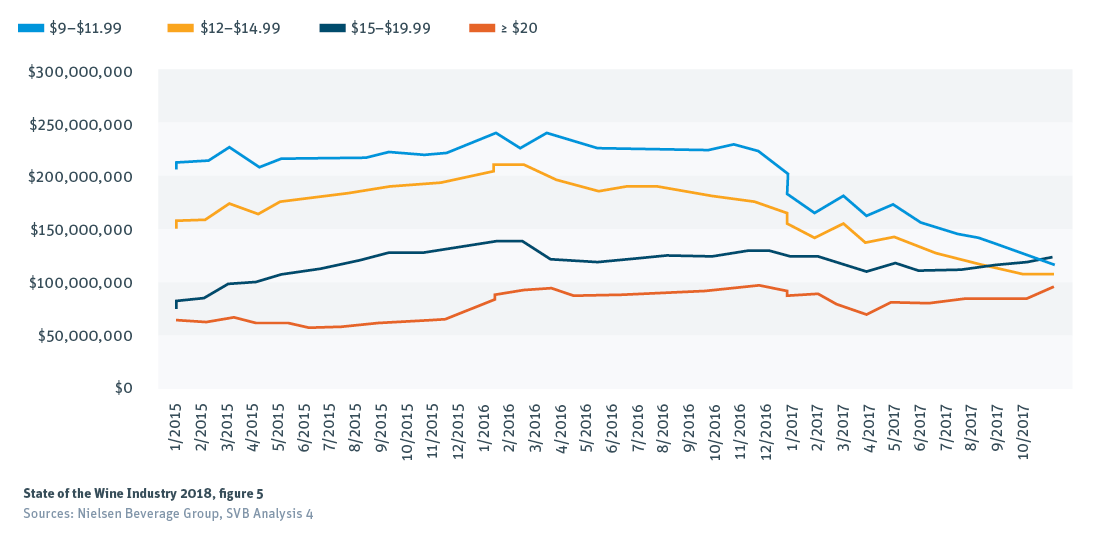 GENERATION SHARE OF WINE CONSUMPTION BY BOTTLE PRICE
Retiring baby boomers are starting to have an impact: They are evolving to lower-price premium segments in place of the higher-price segments they previously dominated.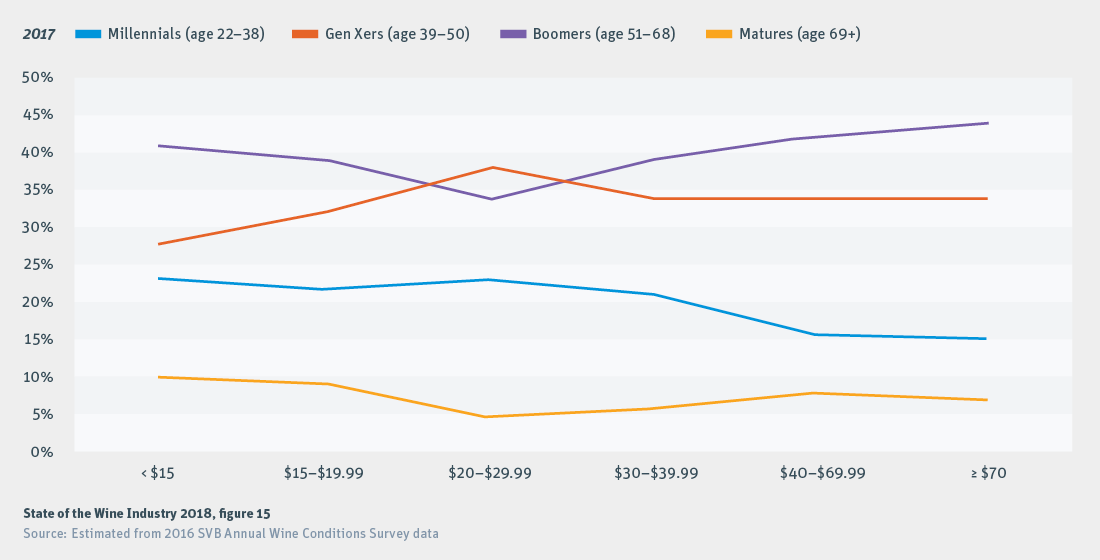 GROWTH IN VARIETALS
With respect to varietal segments, reds are still dominating premium wine growth, but chardonnay has emerged as the second-highest growth varietal, moving ahead of red blends.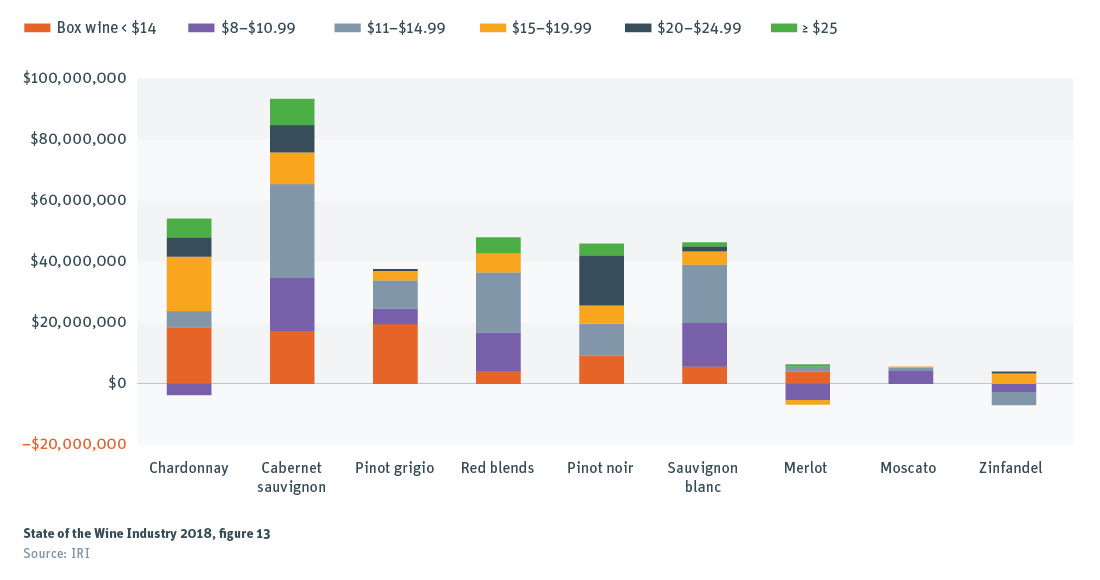 GENERATIONAL DIFFERENCES IN NET WORTH AND INCOME
Today, Gen Xers lead in income and spending. Their presence has been below the radar, but their consumption continues to increase. They are perfectly positioned to surpass baby boomers as the dominant cohort in fine wine consumption around 2021.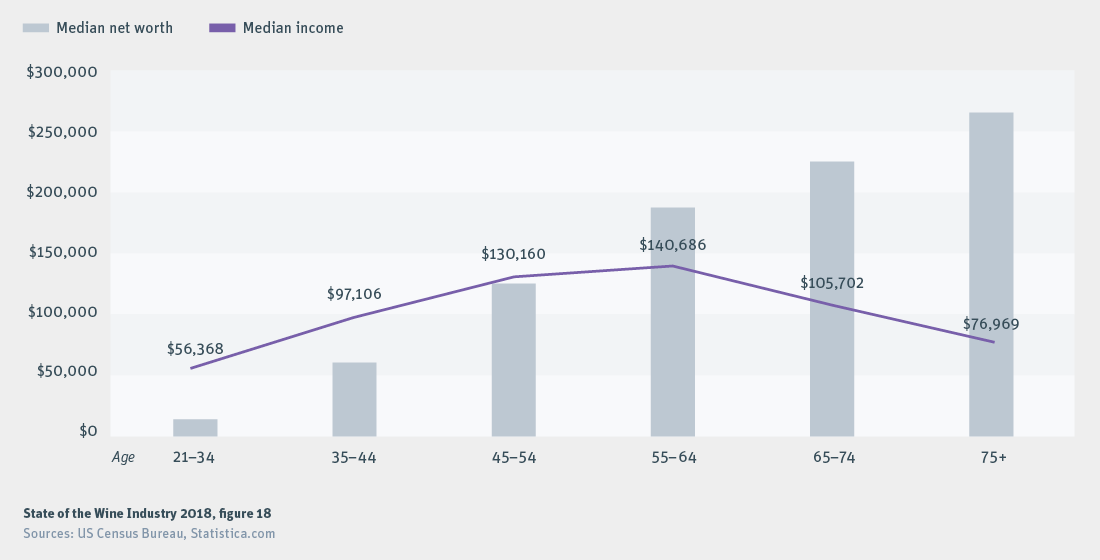 About SVB Wine Division
Founded in 1994, SVB's Wine Division offers financial services and strategic advice to premium vineyards and wineries. With one of the largest banking teams in the country dedicated to the wine industry, SVB's Wine Division has offices in Napa and Sonoma counties and primarily serves clients in the fine wine–producing regions along the West Coast of the United States.
Now Let's Get Started
---
See how SVB makes next happen now for entrepreneurs like you.