Key Takeaways
Whilst 2021 saw impressive growth in the European tech ecosystem, the market still faces challenges such as the gender gap, diversity, and sourcing talent.
The market is continuing to grow at the same rate as 2021, however macro factors could deter this in the coming months.
Startups that link Healthtech and Fintech pose a unique opportunity to empower consumers with affordable access to healthcare.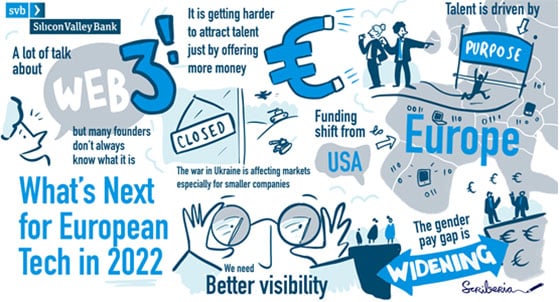 Following our recent webinar exploring the ground-breaking year that was 2021 for the innovation economy, seeing record levels of investment, mega-rounds, unicorn creation, M&A, and Exits, SVB's Early Stage Director, Alex Threipland was delighted to host a panel with Atomico's Partner & Head of Insights, Tom Wehmeier, Sifted Fintech Reporter Amy O'Brien, and Gaia's Founder & CEO Nader AlSalim.
They dived into some of the key insights from the Atomico State of European Tech Report, recapped this quarter to see if the momentum of 2021 has carried forward already and explored what other trends we are likely to see throughout the rest of the year.
The State of European Tech in 2021 - 7 Key Highlights
The growth of the European tech industry is just getting started: as of the end of 2021, it was valued as a multi-trillion-dollar industry. To put that recent growth into perspective, the journey to the value of $1 trillion in December 2018 took decades, yet we've seen three times the growth in just three years.
Investment into European tech is the hottest ticket in town: throughout 2021 new investors and more capital has flowed into the ecosystem, a lot, notably from the US. Over $100 billion was invested, 2.5 times more than 2020 and ten times more than in 2015.
Record-breaking exit activity reached an astonishing $275 billion in deal value: this enables talent and capital to be recycled back into the ecosystem, to help other projects get off the ground or for reinvestment elsewhere. The perfect example of what Atomico call the 'Fly Wheel'.
The challenge of finding, attracting, and retaining the best talent: 64% of Series A founders confirmed that it is proving to be difficult to hire the best talent. To tackle this, outside of paying more, founders are hiring remotely to reach a wider distributed talent pool and giving focus to their mission and purpose to help attract their team.
A clear shift across the ecosystem towards a purpose: this is reflected in what customers want, where the talent wants to work and where investors are looking to invest.
A new, positive message is coming out of Europe: for years, Europe has been playing catch up with the US, however, with this recent growth the industry is sending a message that big, successful businesses can be built from Europe.
The gender gap is widening in Europe: despite the best efforts of many VCs over the last few years, the amount of total capital that was invested into all-female teams went down from 2.4% to 1.1%. It's possible that other underrepresented founders are also struggling with funding too.
Whilst 2021 proved to be an incredibly successful year for European tech, the first few months of 2022 are tracking along the same positive trajectory. By the end of February, the investment amount YoY had doubled from $9 billion in 2021 to $20 billion, and unicorns are continuing at a high rate; there has been 17 already in this year.
From Seed to Series A
Whilst the number of Series A deals is growing, the nature of these deals is also evolving. From the speed of execution and the types of investment, the market is seeing the highest levels of fundraising ever.
Trends in Series A
With press releases from the latest startups landing in her inbox daily, Fintech reporter Amy O'Brien is no stranger to spotting the trends and identifying the next big tech story for Sifted. The biggest evolution in the last year was the return of blockchain and crypto and a move towards Web 3.0. Beyond that, round sizes are getting bigger and bigger, 'we get pitched stuff that is so interesting, but I have to go back and say, I'm sorry it's just not big enough', Amy adds 'it would have been 5 years ago, but not now'.

The startup's point of view
Nader AlSalim, who recently raised $20mil with Atomico, explained that the fundraising journey is always hard no matter how 'smooth' the process is. To build a meaningful partnership, like his company Gaia has with Atomico, you must do this over a much longer period than just two weeks of fundraising.
Interestingly, however, the pandemic brought some positive outcomes to the typically inefficient and archaic process. Virtual sessions have enabled compressed timelines and easier cross-border investment opportunities.
The investor's point of view
Hot on the heels of Nader's commentary about building a strong relationship, Series A investor Tom Wehmeier explains these are the key areas the team at Atomico are looking for when seeking their next investment:
Is there an aligned vision and a shared understanding of the problem? Will this endure over the next 7 - 10 years?
What is the scale of the opportunity to solve that problem?
Is this particular product or approach best positioned to win in a competitive landscape?
Do we believe these are the best possible founders to take this brand to market?
What are the proof points that show success in those early stages of the journey?
With the market becoming increasingly faster and more competitive, the team at Atomico are looking for ways to build relationships quicker and earlier to keep up with compressed timeframes, whilst still doing due diligence. 'We want to make sure that when we're doing an evaluation, we can balance the need for speed with the integrity of what we do', comments Tom.
Looking ahead into 2022
Handling a volatile market
Whilst the start of 2022 has continued on the trajectory of 2021's success, geopolitics, globalisation, changes in monetary policy, inflation and covid are huge factors offering an uncertain market backdrop.
The result of all these factors is an unforgiving market backdrop explains Tom, 'In a world where startups are priced for perfection, if you somehow miss expectations, if you don't hit product launch or your revenue growth isn't quite where it needs to be, I think it can be quite an unforgiving place'.
Despite a likely downturn in the public markets affecting investment, Amy comments it's probable that the top tier companies will still raise high valuations.
Great founders will always start great companies
In general, with a market backdrop like that of today, the overall liquidity of the market will tighten. However, Tom readily reminds us that there's plenty of capital ready to be invested. The longest-tenured investors understand you've got to invest in every stage of the cycle and investment companies, like Atomico, don't want to miss out on opportunities.
When great founders start great companies is agnostic to whatever the macro backdrop is. Ultimately a founder's vision and ability to execute is a more important factor in determining their success.
Health and finance are inextricably linked
Two of the biggest sectors in Europe at this moment are Healthtech and Fintech. 'I don't think any sectors really combine better' comments Nader, 'if you think about it, the ultimate goal for healthcare is to create a more cost-effective delivery system without compromising quality'.
Post-pandemic, there has never been a better time to bring together health and finance. Giving consumers more affordable options and empowering them to really take charge of their own healthcare is the future of these sectors.
The European Tech Market is hot on the heels of the US, with opportunities to grow exponentially in the coming years. What will be most interesting is how the current macro factors influence investment across all stages of the cycle and how that impacts the pace of growth in 2022.
Re-watch the full panel conversation via YouTube.