2018 Startup Outlook

UK Report
UK Entrepreneurs are bracing for Brexit

Eighteen months on from the Brexit vote, the UK remains a strong pillar for innovation in the EU. Despite uncertainty about what a breakup may look like, startups are successfully raising capital and a large majority plan to hire. They are, however, concerned about access to talent, cybersecurity and international trade.                                                            

Jump to Business Conditions | Public Policy | Hiring & Talent | Funding
Business Conditions
---
UK startups remain optimistic
Given the backdrop of political and economic uncertainty, UK entrepreneurs are notably confident, with 49 percent of leaders saying that business conditions in the coming year will be better. An already confident group of respondents is feeling more optimistic, with fewer than 10 percent predicting that conditions will worsen in 2018.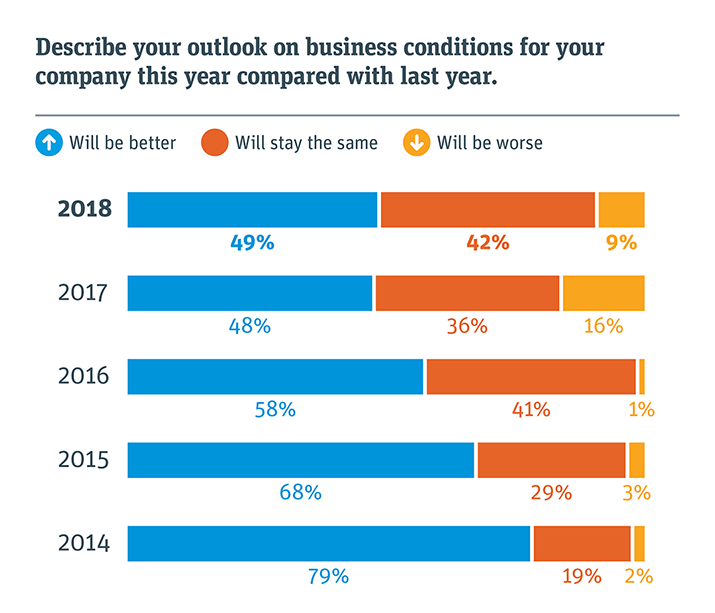 Public Policy
---
Brexit drives some startups to expand to Europe
With Brexit negotiations under way, startups are making preparations. While half say they don't plan to expand outside Britain, one in four is thinking of establishing a European outpost, up from one in five last year. Fintech businesses in particular are looking to expand to Europe to facilitate passporting.
"Brexit is complicating hiring. We are a global firm with a global team; we need them to be able to travel and relocate easily."

—Co-founder/CEO, software company, London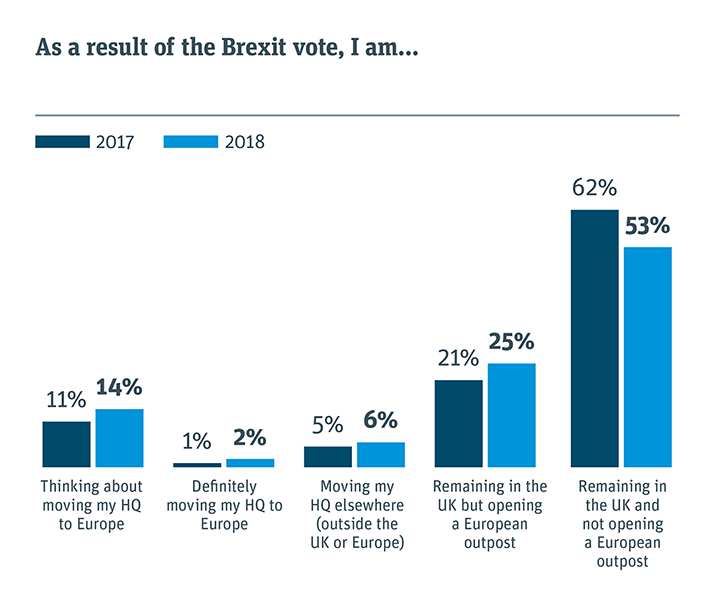 ---
Access to talent grows even more critical
Access to talent has become more of a concern over the past year for technology and healthcare businesses. Ongoing Brexit negotiations are causing uncertainty around the future of immigration and international trade, startups say. Cybersecurity and consumer privacy are also growing concerns. New EU regulations designed to protect individual privacy – the General Data Protection Regulation (GDPR) – are scheduled to take effect in late May 2018. The measure has largely been welcomed by the industry, though many startups cite the extra strain on time and budget to comply with the new legislation.
"Lay out a clear path on immigration that keeps the UK open to the sort of technical folks who have made the UK sector such a success."

—CEO, security software company, Guildford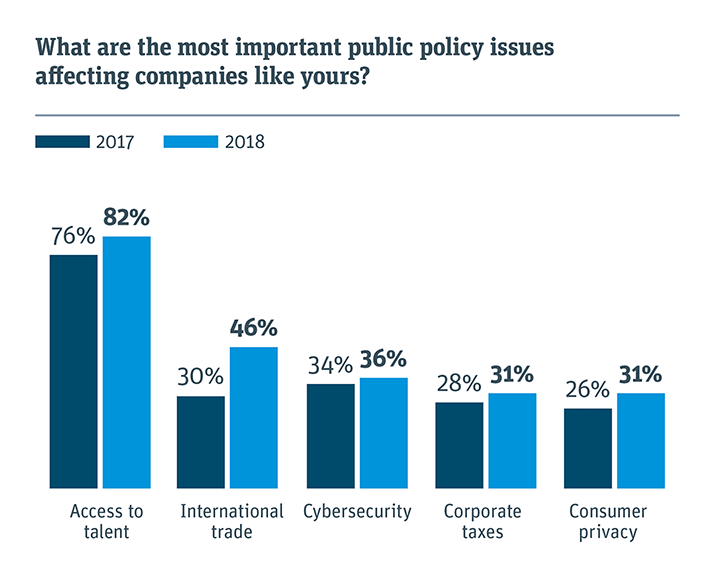 Note: Respondents could choose up to three responses.

Hiring & Talent
---
UK startups are hiring
With access to capital getting easier, forecasts for hiring remain robust. Eight in 10 startups plan to expand their workforces in 2018, matching hiring plans of US startups.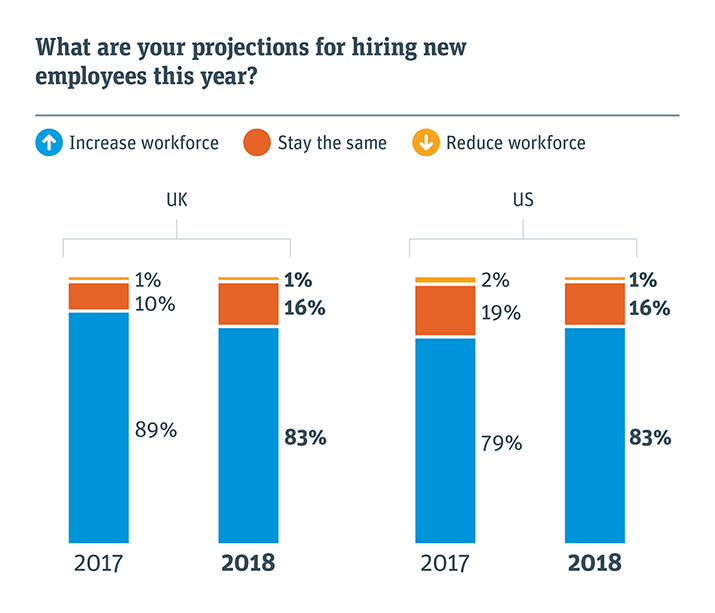 ---
The talent crunch continues
Each year for the past six years, Startup Outlook has reported that huge majorities of entrepreneurs find it somewhat challenging or extremely challenging to find workers with the skills needed to grow their businesses. Though respondents say Brexit is complicating hiring, a lack of talent is a bigger, longer-term issue.
"Innovative startups already face huge barriers; the ability to hire great talent should not be one of those. Companies should be able to hire from anywhere in the world with as little friction as possible."

—CFO, software company, London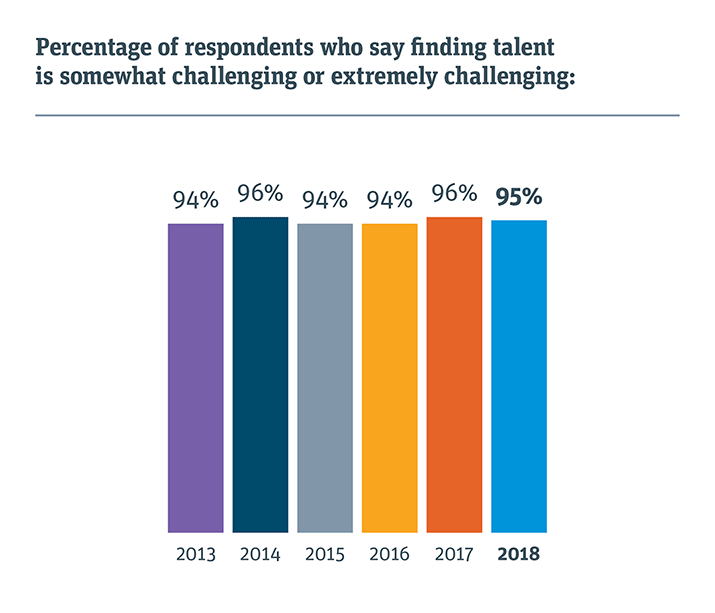 ---
More women in the C-suite
In an interesting turn, more UK startups report having women in C-level positions than in prior years. Far fewer have women on their boards of directors. Thirty-eight percent of startups say they have programs in place to increase the number of women in their leadership ranks.