Building and leading a Series B company requires the founder/CEO to quickly evolve and develop new skills. Silicon Valley Bank invited Weebly Founder and CEO Dave Rusenko to share his tips for growing into the role and asked Khosla Ventures' Partner Keith Rabois to share his perspective on scaling a Series B company. Read on to get their advice. And read this related article on how to prep to take a company from Series A to Series B.
Getting a check doesn't guarantee success as a Series B company. You have to earn success by executing.
Building and leading a Series B company can be extremely difficult: For one reason, it requires the founder/CEO to quickly evolve and develop new skills, literally almost overnight. Dave Rusenko, founder and CEO of Weebly, says the Series B experience for him was comparable to going from flag football to tackle. "It's critical to improve yourself, and invest in yourself," he adds.
Silicon Valley Bank invited Rusenko to share his advice as a founder and investor about how to be a successful Series B CEO and asked Khosla Ventures' Partner Keith Rabois to provide the investor's point of view for scaling a startup.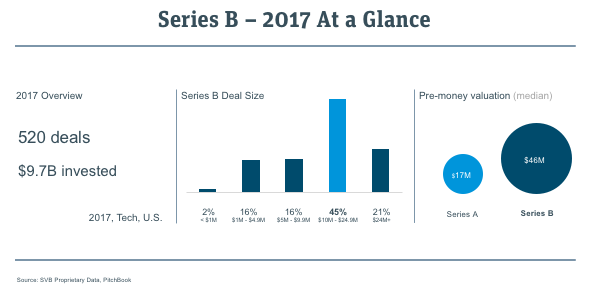 Stay lean until you are ready to deliver results
While each company may be different, a magical threshold for scaling appears when you reach about 25 employees. For that reason, Rusenko subscribes to the 'lean is mean' mantra: "You want to stay under 25 FTEs until you're confident you've found product market fit, because everything really starts to scale once you cross that mark." Rabois agrees that, from the investor perspective, he wants his companies "to consciously decide when to cross the threshold." This is the time to find people with strategic and leadership skills to help you.
SVB analysis of cap tables illustrates why it's important to be prepared for scaling quickly. The number of shareholders on the cap table often correlates with headcount as a company grows and scales. This table underscores how fast companies grow between rounds, doubling shareholders from Series A to B and again from Series B to C.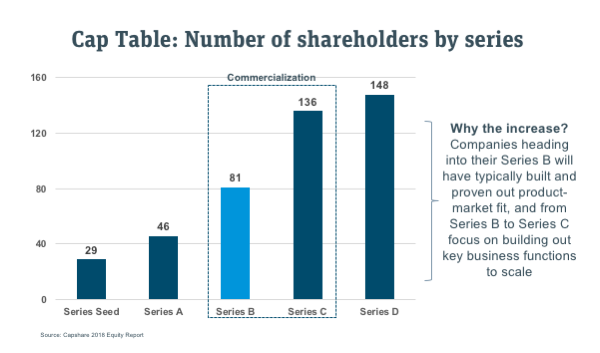 Get financial planning help – and a dose of realism
While often overlooked, a top hiring priority should be to find someone with financial planning and analysis (FP&A) experience. SVB analysis shows that technology companies raising their Series B rounds over the past six years had median operating expenses 120% higher, or more than double, their revenues. In comparison, Series A expenses were 145% higher than revenue.
Using modeling and scenario planning, the financial planner can help you manage the burn between milestones. Once you hire people and sign office leases, it's hard to quickly cut costs. Planning is critical. "We plan our expenses to baseline and then adjust up as we deliver above that," he says. "Entrepreneurs by definition are optimists," he says, adding that having "a more realistic view, as far as your expenses are concerned, can help ensure that you don't get too far over your skis."
Tips for hiring at Series B
Rusenko and Rabois advise keeping headcount low until you are really ready to scale. Should you have a gap, lean on a board member. Rusenko also takes a unique approach by hiring managers who are "able to see around the curve," but also are willing to spend a few months "rolling up their sleeves." For example, he asked a VP of engineering candidate to work as an engineer for a few months before taking on the lead role. Anyone who believes in the company realizes they will make up for any lost time quickly, he says.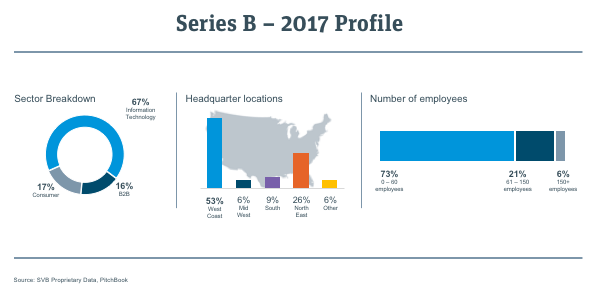 Learn to delegate work, then decisions
Rusenko believes Series B is the time to get honest with yourself. The founder/CEO role will be changing dramatically, and you will be tested in ways you cannot imagine.
Perhaps the hardest lesson in the evolution process, says Rusenko, is for the founder/CEO to give up doing some things. "Strangely enough, everything that makes you good before Series B can make you bad after. Being a micromanager in the early days is very healthy behavior. When you scale past 25, it's super destructive."
He once was on a panel with former CIA Director George Tenant, who offered up his theory on delegation: "I don't mind if you bang up the ship a little bit, but if you think you're going to put a hole below the waterline, you come tell me first." First learn to delegate work, then learn to delegate decisions.
Another recommendation from Rusenko: Newly minted CEOs should seek out executive coaching and conduct 360-degree feedback sessions with all employees. You may not like everything you hear, but he concludes, "Both things were immeasurably helpful for me to grow as a CEO."


eBook: Strategies for growth beyond Series A
Get the eBook with insights from founders, CEOs and venture capitalists and receive tangible recommendations to consider post Series A. Learn more
COMPID 1242

The views expressed in this column are solely those of the author and do not reflect the views of SVB Financial Group, or Silicon Valley Bank, or any of its affiliates. This material, including without limitation the statistical information herein, is provided for informational purposes only. The material is based in part upon information from third-party sources that we believe to be reliable, but which have not been independently verified by us; and, as such, we do not represent that the information is accurate or complete. You should obtain relevant and specific professional advice before making any investment or other decision. Silicon Valley Bank is not responsible for any cost, claim or loss associated with your use of this material.

All non-SVB named companies listed throughout this document, as represented with the various statistical, thoughts, analysis and insights shared in this document, are independent third parties and are not affiliated with SVB Financial Group.