SVB Financial Group Appoints Mary John Miller, formerly of the U.S. Treasury Department, to its Board of Directors
Company news | May 13, 2015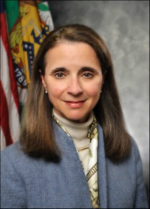 SANTA CLARA, Calif.––SVB Financial Group today announced the appointment of Mary John Miller, former Under Secretary for Domestic Finance for the U.S. Department of the Treasury, to its board of directors. SVB Financial Group is the parent company of Silicon Valley Bank, the bank of the world's most innovative companies and their investors.
"As we continue to grow SVB both domestically and globally, Mary adds valuable skills to the board. Her investment and regulatory knowledge as well as cultural alignment will enable Mary to add unique perspective and insight," said Roger Dunbar, Chairman of the Board of SVB Financial Group. "As we strive to be the most sought after financial partner in the innovation sector, Mary will be an important part of our board."
Silicon Valley Bank helps address the unique needs of entrepreneurs, innovative companies and their investors in technology and life science sectors. The company offers a range of specialized financial services through locations around the world. With nearly $40 billion in assets and more than 1,900 employees globally, SVB strives to improve the probability of its clients' success.
"Helping our clients bring new innovations to a global marketplace requires the kind of financial acumen, leadership and experience that Mary will bring as an advisor to SVB," said Greg Becker, President and CEO of SVB Financial Group and Silicon Valley Bank. "We are grateful for Mary's enthusiasm in joining our board to help us successfully maintain and grow our central role in the innovation economy."
"Silicon Valley Bank is a dynamic bank serving key sectors of the U.S. and world economy," said Mary John Miller. "Its work with technology and healthcare companies fuels new job growth and creates an environment that fosters innovation. I'm excited to join this board and be a part of SVB."
Miller served in two Presidential appointments at the U.S. Treasury, from her Senate confirmation as Assistant Secretary for Financial Markets in February 2010 through her subsequent confirmation as Under Secretary of Domestic Finance in March 2012. In these roles she was responsible for managing the federal debt, overseeing financial regulatory reforms, overseeing the fiscal operations of the U.S. government, and advising the Secretary on Treasury's policies and guidance in these areas. Miller resigned from her role as Under Secretary in September 2014.
Prior to joining the U.S. Treasury Department, Miller spent 26 years at T. Rowe Price Group in Baltimore, Maryland. In 2004 she became the director of the Fixed Income Division and a member of the firm's Management Committee.
For more information about SVB, visit www.svb.com.
About SVB Financial Group
For more than 30 years, SVB Financial Group (NASDAQ: SIVB) and its subsidiaries have helped innovative companies and their investors move bold ideas forward, fast. SVB Financial Group's businesses, including Silicon Valley Bank, offer commercial and private banking, asset management, private wealth management, brokerage and investment services, funds management and business valuation services to companies in the technology, life science and healthcare, private equity and venture capital, and premium wine industries. Headquartered in Santa Clara, California, SVB Financial Group operates in centers of innovation around the world. Learn more at svb.com.
Banking services are provided by Silicon Valley Bank, member FDIC. SVB Financial Group and Silicon Valley Bank are members of the Federal Reserve System.