Key Takeaways
Nobody knows exactly when the Federal Reserve will begin unwinding its asset purchase program, but based on recent data and Fed commentary, this might begin as early as year-end.
The good news is that the Fed is taking extraordinary care in communicating its message, and we do not expect significant volatility or rapidly rising interest rates when the taper begins.
Remember that the Fed has emphasized that tapering asset purchases is not tantamount to raising the fed funds rate, which will ultimately require near-full employment and signs of lasting inflation at or above 2%.
This month's main article, Taper Time?, takes a closer look at the economic factors impacting the Federal Reserve's decisions on when to unwind its asset purchase program.

Also included are the following themes:
Taper Time?
Paula Solanes, Senior Portfolio Manager
It's the big question on many investors' minds. When will the Federal Reserve begin its "taper"? In other words, when will the Fed begin to slow or end its monthly purchases of assets, which is one of the tools it's been using to keep interest rates low while the economy recovers?

It has been almost 18 months since COVID-19 threw the world into a tailspin and the economy is still recovering. At the start of the pandemic-induced slowdown, the Fed acted swiftly by slashing interest rates effectively to zero and implementing an array of facilities to support financial markets, including committing to purchase Treasury and mortgage-backed securities (MBS). In March 2020, at the height of the turmoil, the Fed announced it would buy at least $500 billion in Treasury securities and $200 billion in MBS in coming months, leaving the total amount open-ended. In June 2020, the Fed adjusted the plan and committed to buying at least $120 billion per month in securities, $80 billion in Treasurys and $40 billion in MBS. At the time, the huge monetary stimulus was warranted and helped jump-start a quick recovery. But what about now? The Fed is pondering whether this stimulus is still appropriate and how it should shift to a less accommodative approach.

To answer these questions requires a deeper dive into the economic data. The table below shows some economic highlights, with February 2020 as the benchmark and March/April 2020 as the peak of the uncertainty, followed by a gradual recovery that has led to where we are today. As of the end of July, the US economy had recovered approximately 75% of the jobs lost in the spring of 2020. Looking ahead, the ongoing vaccination rollout, school reopenings and an end to extended unemployment benefits are likely to lead to further job gains. It is estimated that approximately three million people have decided to retire since the pandemic began, which implies that there are three million fewer jobs left to regain. If the recent three-month pace of job growth continues, the economy is not too far from recovering all the jobs lost.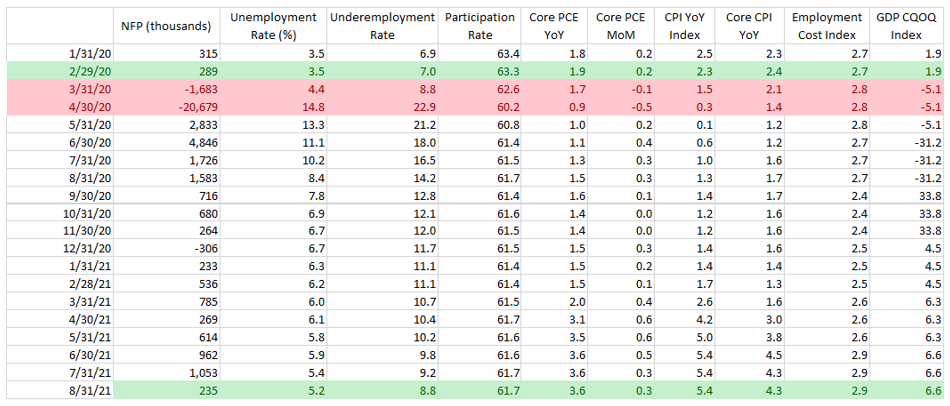 Based on this data and the trajectory of the recovery, a clearer path toward tapering appears to be gaining momentum as summer wraps up and we move into fall. Recently, more Fed governors have moved into the "sooner" camp, noting that there is no longer a need for asset purchases on such a large scale. Meanwhile, the market is taking any potential tapering in stride. And while we still don't know the exact timing just yet, the "taper tantrum" we saw back in May 2013 is unlikely to repeat itself. That's when then-Chairman Ben Bernanke hinted toward a taper in Congressional testimony, which immediately began a steep bond sell-off that caused the yield on 10-year Treasurys to climb from nearly 2% to a high of almost 3% by year-end. This also triggered substantial volatility in equities.

This time around, the market's reaction to a taper looks to be milder, perhaps in part because this is not the first time the Fed is tapering asset purchases. Now the Fed is providing ample notice and making a concerted effort to clearly message that any tapering will be methodical and gradual. In addition, there is tremendous liquidity in the system right now, as evidenced by the steady amount of reverse repurchase agreement (RRP) usage, more than $1 trillion. Finally, the Fed is trying to soften the blow by creating facilities like the standing repurchase agreement (SRF), which will act as a backstop to support money markets and maintain smooth market function when necessary. The SRF program will allow a counterparty in need of funding to post securities (Treasurys, agency debt securities and agency MBS) as collateral in exchange for liquidity at an attractive rate relative to borrowing from another counterparty. While the latest rounds of quantitative easing have provided ample liquidity, this new SRF will help support smooth market function in the future, especially if the Fed is scaling back asset purchases.
Deciphering "Fed-Speak"
At the end of August, investors kept a close eye on Chairman Powell's speech at the Jackson Hole Economic Symposium in hopes of gaining more clarity regarding the taper timing. Although Chairman Powell's address focused more on the progress toward the Fed's dual mandates of price stability and maximum employment, he did state that most Federal Open Market Committee (FOMC) participants believed that if "the economy evolved broadly as anticipated, it would be appropriate to start reducing the pace of asset purchases this year." In addition, he suggested that inflation has reached the point of "substantial progress" while there has been "clear progress toward maximum employment." So, while the exact taper timing wasn't revealed, before year-end seems like a very reasonable guess.

Non-farm payrolls rose by just 235,000 in August, almost a half million lower than expectations as the recent Covid wave slowed hiring. With this latest report, the taper announcement is likely to be delayed to November or December. Despite the jobs miss in August, the prior month was revised upwards by 134,000, the unemployment rate decreased to 5.2% and average hourly wages increased 0.6% on a month over month basis. So, although the headline payrolls figure missed expectations this month and the Delta variant has created some volatility in hiring, the continuing economic recovery should give the Fed cover to consider reducing asset purchases as we head into year-end.

What does all of this mean for interest rates, particularly since the Fed has been messaging that ending asset purchases doesn't necessarily coincide with raising the federal funds rate? The Fed has repeatedly emphasized a higher bar for raising interest rates and a more rigorous test, which includes not only maximum employment but also signs of lasting inflation at or above 2%.

All this work digging into the data and deciphering Fed-speak has been done so that we can advantageously position portfolios. For portfolios with shorter-term benchmarks, we continue to target a longer duration than the index since we see little to no risk of a rate increase in the next 12 months. In addition, we continue to favor non-Treasury sectors to provide relative value given the low yields in the front end of the Treasury curve. For longer duration portfolios, we maintain a neutral duration target relative to the benchmarks. This allows us to take advantage of the steepening in the curve as we extend beyond 12 months, while also mitigating risks associated with the potential for rising rates in late 2022 or early 2023.


Credit Vista: Threading the CapEx Needle
Nicholas Cisneros, Credit Research Associate
Credit analysts love to see companies with strong free cash flow. But can too much free cash flow also be too much of a good thing? That might be the case if a business prioritizes free cash flow (and shareholder payouts) rather than making the capital expenditures necessary for maintaining a competitive edge. For investors, it's important to find those companies that are threading the needle — generating cash flow to comfortably meet any debt service obligations but still making the right capital expenditure investments to keep up with technological advancements and stay ahead of the competition.

This dynamic is something to watch, particularly in the industrial sector, where capital spending among investment-grade industrial issuers has been at feeble levels over the past few years. The result has left many companies operating with outdated technologies and less efficient production infrastructure. Even with strong earnings, many companies have prioritized spending on dividends and share repurchases over capital investments. That's shortsighted, and it has left them unable to offset this year's rising input costs, which have crimped profit margins.

Figure 1: Capital Expenditures and Free Cash Flow to Grow Simultaneously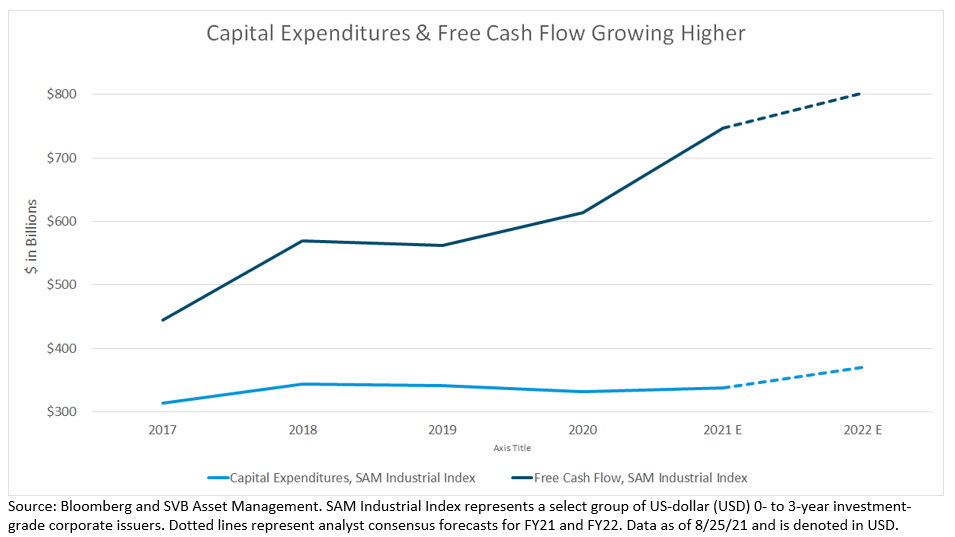 Now, with earnings growth threatened, many of these firms are ramping up spending for software, IT hardware and R&D to offset inflationary pressures with increased efficiency. As depicted in Figure 1, capital expenditures are projected to rise nearly 9% in fiscal year 2022 versus the current year. The good news, however, is that increased spending is not expected to detract from free cash flow, which is also projected to rise 7%. This dual expansion in capital expenditures and free cash flow is being driven by two key factors. The first is revenue growth as demand returns to pre-pandemic levels and global commerce normalizes. Second, many issuers have put their aggressive shareholder return programs, as well as some CapEx spending, on hold during the pandemic to ensure the core health of their business.

Below, we highlight an example of the energy industry, which is a capital-intensive industry with historically aggressive shareholder return programs. During the pandemic, many investment-grade energy issuers halted both dividend hikes and share repurchase programs, as declining oil prices caused free cash flow to drop dramatically. Large oil field expansion projects were also tabled to protect the reduced cash flow that comes at the bottom of the cycle.

Figure 2: Energy Index Historical and Projected CapEx and Free Cash Flow




The energy sector discounted capital investments to prioritize financial returns but is now set to increase capital expenditures to support future growth through improved technologies and clean energy solutions.

With cash flow set to grow across industrials, it's not just energy companies looking to invest in the future. Several recent surveys of corporate executives suggest that they plan on reinvesting in their businesses — and especially in technology — as the global economic outlook improves.

Figure 3: Business Investment Shifts to Technology Solutions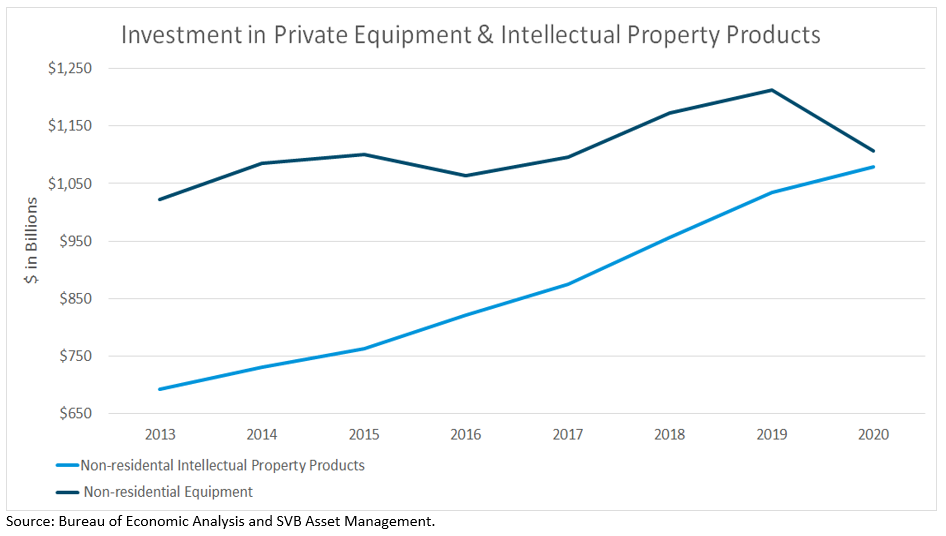 Figure 3 shows that businesses across the entire economy have already begun to shift their spending toward intellectual property products. Intellectual property products are comprised almost entirely of software and other R&D. Physical equipment spending, on the other hand, has stagnated and even begun to drop over the past five years. One of the only positive sub-categories in equipment spending has been hardware, further emphasizing a shift toward technology upgrades over hard equipment. Businesses are more likely to focus on improving technological aspects of the business, and recent research shows that even more capital will be spent on intellectual property products due to the shift in worker habits caused by the pandemic. COVID-19 has fundamentally changed the landscape, spurring increased spending to enhance productivity in a decentralized workplace.

Increased spending on these projects should be net credit positive in our view, as it improves an issuer's business-strength profile. It also shows that companies are embracing and building for a future that deeply relies on digital integration. Any continuing economic recovery should provide companies with growing earnings to pay for the increased spending, as noted in Figure 1. Free cash flow is expected to continue its multiyear expansion even though CapEx is projected to rise by nearly double digits. As a result, the outlook for investment-grade credit should remain stable, as free cash flow provides strong support for debt servicing while also accommodating important investment spending that can help fortify future earnings.


Trading Vista: Following the Flows
Jason Graveley, Senior Manager, Fixed Income Trading
The world is awash with money, and investors need to watch closely where it's flowing. It's estimated that global money market balances boast more than $4.5 trillion in cash, while the Fed's overnight reverse repo (RRP) facility utilization is at more than $1.2 trillion. There's no doubt about it: Cash remains a dominant driver of rates in the money market.

So how did we get here? Money market fund (MMF) balances peaked at the start of the pandemic, as investors exited positions amid unprecedented volatility and sought the relative safety of Treasurys and government funds. As markets rebounded and investors reentered them — albeit with the comforting support of the Fed — balances waned for a short period. However, liquidity has swelled through different fiscal stimulus and monetary policy measures. The Fed's continued large-scale asset purchases mean that we could see an additional $500 million in cumulative asset purchases before year-end, which would push the Fed's balance sheet to almost $9 trillion. Institutional MMFs have helped facilitate these flows, absorbing an estimated 30% of new money entering the system. Much of this cash will likely end up back on the Fed's balance sheet as bank reserves or overnight reverse repo balances. However, the remainder is likely to flow into the Treasury bill market and continue to strain the supply/demand imbalance in the short term.

On the supply side, there has been an overall contraction in money market instruments. Year over year, agency debt is on pace to decline almost $300 billion, while Treasury bill supply has already fallen by nearly $850 billion, or 17% of outstanding. While Congress continues to work on a resolution to the debt ceiling, Treasury bill supply is expected to decrease another $300 million through October. A debt ceiling resolution will alleviate the continued contraction in Treasury bills, but any issuance increase will only make a minimal difference in the face of so much pent-up demand.

What's the bottom line? With almost $5.7 trillion available in overnight liquidity, any move higher in front-end yields will be easily absorbed (and welcomed) by markets. MMFs have few alternatives outside of the Fed's RRP as well, with the 5-basis-point return comparable to that of a 1-year Treasury. On top of that, the most recent messaging from Jackson Hole was quite dovish relative to consensus expectations, and thus pressure on MMFs will continue, where an estimated 70% of expenses are currently being waived. The RRP program will stay front and center as well, setting a floor for front-end rates and absorbing cash from latent bill demand. And with no confirmed timeline to taper, the market should expect a continued focus on front-end fund flows. We will certainly be following them ourselves.
Source: Bloomberg and Silicon Valley Bank as of 8/31/21.


Markets

Treasury Rates:
Total Returns:
3-Month
0.04%
ML 3-Month Treasury
0.00%
6-Month
0.05%
ML 6-Month Treasury
0.01%
1-Year
0.06%
ML 12-Month Treasury
0.00%
2-Year
0.21%
S&P 500
3.04%
3-Year
0.40%
Nasdaq
4.09%
5-Year
0.78%
7-Year
1.09%
10-Year
1.31%

Source: Bloomberg, Silicon Valley Bank as of 8/31/21