Key Takeaways
The jobs picture is tricky. Are there true labor shortages, or is there an abundance of "slack" in the market? Deciphering this data matters because it will undoubtedly impact the Federal Reserve's future rate decisions and the bond market.
Right now, the outlook remains murky, and it's difficult to draw sweeping conclusions; however, we should soon get better visibility into the labor market as some of the external influences fade.
The unemployment rate has continued to fall, but the story is clouded by labor force participation levels. Investors must look at the full dashboard of data to grasp if and when the Fed will begin tapering.
This month's main article, Duplicitous Data, takes a closer look at the data behind the labor market and potential impact to the Federal Reserve's future actions.

Also included are the following themes:
Duplicitous Data
Jeff Probst, CFA, Portfolio Manager
While the economy and stock market have rebounded to new highs since the depths of the pandemic, the labor market continues to puzzle — and in some cases worry — market participants. Reports from nearly every sector of the economy cite labor shortages, while other key labor data continue to reflect significant numbers of unemployed or workers otherwise opting out of the labor market. In short, it's confusing.

Let's look back at the labor market's wild ride over the past year and a half. After losing more than 22 million jobs during the first two months of the pandemic, based on nonfarm employment figures from the Department of Labor (DOL), the economy has regained over 16.5 million jobs through June 2021. The sudden collapse and almost equally abrupt recovery have been remarkable. However, there are still roughly seven million workers displaced from the labor market. And using a wider measure of individuals seeking government unemployment benefits — including the newer federal programs designed to assist self-employed individuals — there are nearly 13 million people still seeking support. So, what is the true current status of the labor market? Are there labor shortages, as many CEOs are reporting? Or is there an abundance of "slack" in the market? Deciphering this story will undoubtedly impact the Federal Reserve's (Fed's) future rate decisions and, in turn, the bond market.
Two Sides of a Coin
You don't have to be an economist to understand that some businesses are having a very difficult time hiring workers, especially in the service industry. "We Are Hiring" signs are abundant in the windows of nearly every service or retail business. Some businesses are having such a hard time filling positions they are actually cutting back hours or capacity. And it is not just service industry jobs that are going unfilled. Many of our technology and life science clients have expressed difficulty in hiring skilled workers. To combat this, many firms have raised their starting wages and/or are offering generous bonuses, with mixed success to date.

The difficult hiring environment is evidenced in the Job Openings and Labor Turnover Summary (JOLTS) survey, where open positions reached a record of more than 9.2 million jobs, which is over 2.0 million more than in 2019. To make the problem worse, employees are quitting their jobs at the highest rate ever, signaling confidence in returning to the labor market on their own terms.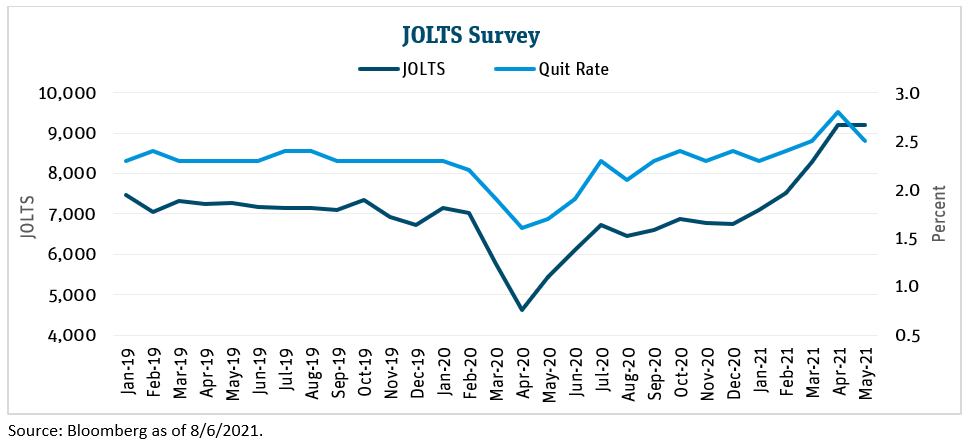 On the other hand, a wide array of data also points to the labor market not operating at full capacity. The broadest measures of participation can be seen through the employment ratio and labor force participation rate, both 2.0% to 3.0% below pre-pandemic levels. While both of these measures have recovered from their recent lows, this is still a long way from "normal" healthy levels.

The unemployment rate has continued to decrease and will likely continue to do so, but we must also understand that unemployment figures can be distorted by participation levels. Rather, we prefer to look at the full dashboard of data to help understand the true status of the labor market, which suggests there is still ample slack in the labor market.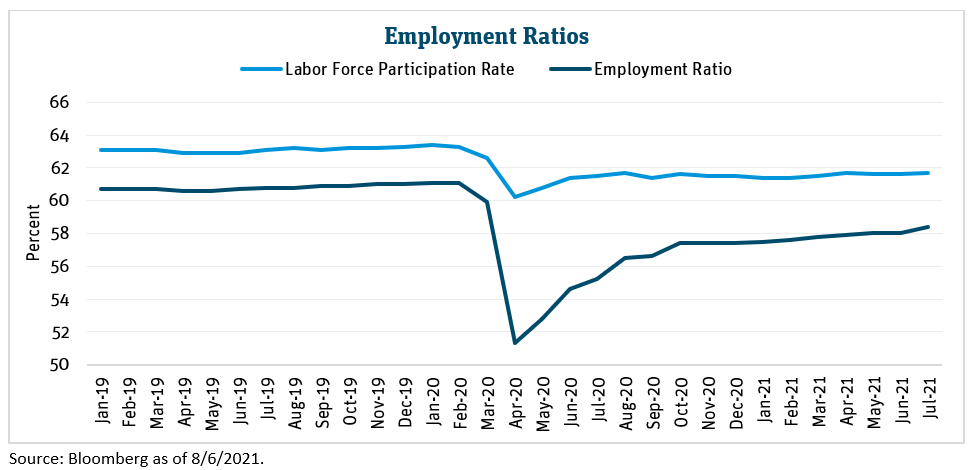 Given the nature of the COVID-19 pandemic and the extremes we have seen, it's important to remember that data can only tell part of the story, and we may not fully understand this unusual period until we reflect back at some point in the future. After all, we have witnessed a massive reshuffling of the work force, and traditional service sector employees may have found jobs in different industries. Moreover, the pandemic likely fueled unusual labor migrations that caused certain markets to experience more severe labor shortages than other areas. Even today, some workers continue to exhibit a reluctance to re-enter the labor market, given new childcare responsibilities or perhaps an enduring fear of the virus. And let's not discount the fact that generous unemployment benefits, which expire in September, may be exacerbating the lack of broad participation in the labor market.

Right now, the outlook remains murky, and it's difficult to draw sweeping conclusions. However, we should soon get better visibility into the labor market as some of the external influences fade, and we will be watching closely. The Fed continues to emphasize the labor market recovery as central to its policy actions. If employment data continue to strengthen and consistently surprise to the upside, we could see the Fed's tone become less accommodative. In this scenario, the Fed may start to unwind some of the accommodations earlier than expected. Of course, the Fed has communicated that tapering balance sheet purchases will be the first step, and any Fed funds rate increases will follow at a later date. So while no interest rate increases appear imminent, we will continue to analyze the data to understand the true state of labor markets, and we will be watching every employment report to see how it might impact Fed policy and future interest rates.
Economic Vista: By the numbers
Paula Solanes, Senior Portfolio Manager
As we progress into the second half of the year, it appears the US economy is slowly on the path to recovery. Financial markets and many sectors of the economy have recovered, some faster than others. Yet the two key drivers of monetary policy, the labor market and inflation, remain in uncertain territory. The labor market is still short almost seven million jobs compared to pre-pandemic levels (check out this month's deeper dive into labor markets). Meanwhile, various inflation metrics are trending well over historic averages as pent-up demand and disrupted supply chains have driven prices higher. Though we have been cautiously optimistic on the recovery, let's dig into some of the numbers.

According to the latest figures from the U.S. Bureau of Labor Statistics (BLS), the US added approximately 943,000 jobs in July, and the unemployment rate fell to 5.4% from 5.9%. The labor participation rate improved slightly to 61.7% as more people appear ready to re-engage, thanks to the vaccine progress, improvements in childcare and fading unemployment benefits. That said, labor participation is not quite back to pre-pandemic levels, and the unemployment rate for some segments of the population continues to lag behind the national average. The uneven job recovery has been one reason the Fed has been reluctant to alter its extremely accommodative policy to date.

Shifting gears and looking at the ISM manufacturing data also offer interesting insights. The latest reading fell modestly to 59.5 from 60.6, mainly driven by ongoing supply chain disruptions. However, the data showed that labor shortages are abating and the increase in prices has eased.

Speaking of inflation, the Fed's preferred measure, core personal consumption expenditures (PCE), increased 0.4% on a month-over-month basis. This is slightly lower than the prior month's rise, which perhaps suggests that the rising price trend may finally be abating. On a year-over-year basis, core PCE has increased by 3.5%. Meanwhile, the most recent consumer price index (CPI) increased 5.4%, while core CPI (excluding the volatile food and fuel inputs) rose 4.5%, which is close to a 30-year high. These increases largely point to transitory factors, perhaps best illustrated by prices for used cars increasing 10.5% on a month-over-month basis. Higher prices for tourism and transportation also were notable and likely reflect pent-up demand coinciding with summer. These types of inflationary pressures should wane over time.

In terms of overall economic growth, second quarter GDP came in below expectations at 6.5% vs. forecasts of 8.5%. A sharp drop in inventories is largely blamed for the miss, though it is not that surprising given how supply chain disruptions have upended inventories across many industries. Perhaps it's more important to note that the overall growth number is still robust. Although consumption contribution was strong, it reflected the tailwinds from fiscal stimulus, so it would not be surprising if third-quarter consumption dips as the effects of the stimulus fades. Going forward, economic growth will face more headwinds if there is sustained rise in COVID-19 cases or if supply chain challenges persist.

So how will all these numbers ultimately influence the Fed? At the latest Federal Open Market Committee (FOMC) meeting, the Fed left the federal funds target rate unchanged at a range of 0.00%–0.25%, and the committee reiterated its stance that inflation is likely transitory. There has been no signaling that the Fed will begin tapering its monthly bond purchases yet, but we should get more clarity later in the year. The next several months of payroll and inflation data will no doubt be highly influential in shaping the Fed's policy actions. Furthermore, the new shift to an "average inflation target over time" allows the Fed more flexibility in keeping its accommodative stance in place to prioritize a broad-based labor recovery. Of course, we'll be watching the numbers closely, just like the Fed.
Credit Vista: Ratio reversal
Nicholas Cisneros, Credit Research Associate
Last spring, corporate fixed-income investors were faced with a flurry of rating actions from the major rating agencies. The overall economic view was grim, and the agencies took a pessimistic view on prospects faced by industrials and financials. In 2020, the Up/Down Ratio, the ratio of upgrades to downgrades over a certain period, fell below one for the first time since 2016. There were just 79 upgrades to 100 downgrades. We last covered this topic in December of 2020. However, since then we are pleased to report we have seen a significant trend reversal this year. A combination of quantitative easing, a prevailing sense of optimism among credit rating agencies, and an ongoing global economic recovery has helped drive the Up/Down Ratio above one again. Year to date (YTD), the number of upgrades has outpaced downgrades by 137 to 100. If you'd been on a desert island and looked at this chart today, you might have thought 2020 was a minor blip on the radar.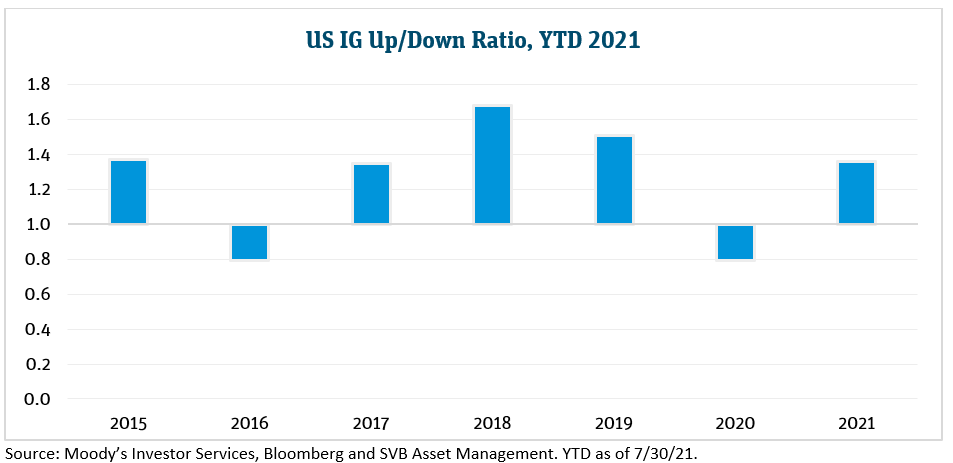 When the pandemic began, financial issuers were expected to face elevated asset quality degradation, eroding capital levels and unfavorable interest rates. While the last point remains true in terms of interest income, there was relatively minor deterioration in asset quality across the financial sector. Capital ratios improved over the last year, as banks became cautious and built up sizable capital cushions to address the possibility of a deeper economic downturn. In fact, capital ratios for some banks rose to the highest levels in years, as shareholder returns were cut and some of the larger banks benefitted from more stable fee-based revenue streams. With earnings rebounding this year, the credit positioning of banks has improved, as reflected by an Up/Down Ratio of 1.78 for financials. Among the contributing factors, rating agencies have been revising their worst-case scenario that emerged at the beginning of the pandemic.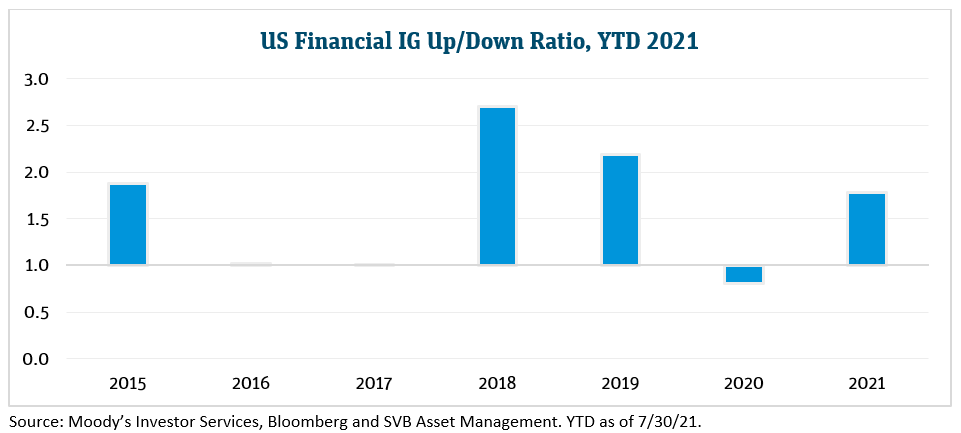 Credit conditions have been constructive this year for industrials as well. Consumer sectors have also benefitted from increased consumer spending, as lockdown restrictions eased throughout the Western world. Management at consumer-centered companies has recently noted a sharp increase in home sales that parallels the rise in consumer mobility in North America. Economic reopening has been a relief not just for everyone sitting in a dark room all year. Ratings agencies have also taken it as a credit positive. As a result, the Up/Down Ratio for industrials has flipped, just as it did for financials. The one sector that has bucked the improving trend is utilities, which continues to face headwinds ranging from regulatory scrutiny; severe weather; and environmental, social, and governance (ESG) concerns.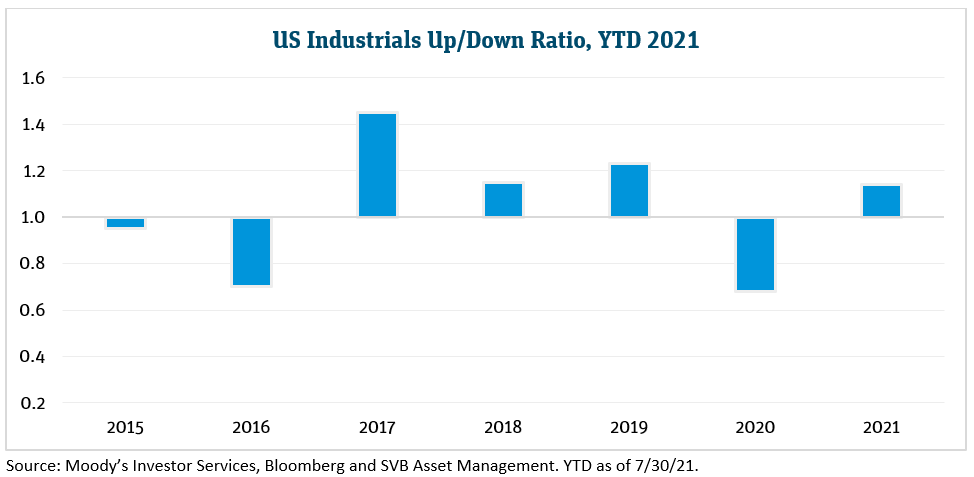 The Up/Down Ratio is a useful barometer for credit velocity, and it's most effective viewed over an extended period. Moving forward, we expect agency actions to slow as the perceived economic recovery in North America has mostly been factored into current ratings. In the investment-grade universe, it should come as no surprise that agencies have taken a more optimistic view to a global economic recovery. If anything, we expect upgrades to outpace downgrades, leading to a slightly positive skew for the Up/Down Ratio in the final months of 2021.

Trading Vista: Still searching
Jason Graveley, Senior Manager, Fixed Income Trading
What, if anything, will push all-in yields higher? That's what markets continue to search for as investors weigh competing narratives of higher inflation and tighter monetary policy vs. a possible gradual slowing of the economy and fading stimulus. It seems that for every tailwind discussed by market analysts there's a corresponding headwind. Based on dealer forecast models and surveys, the general expectation has been for higher Treasury yields in the near-term, but such moves have yet to materialize. The median bond yield forecast for 2-year and 10-year Treasury notes are 0.32% and 1.80%, respectively, for the end of 2021. However, despite these forecasts, the 2-year Treasury yield has contracted almost nine basis points (bps) from its high in late June, while the 10-year Treasury yield dropped 25 bps in July — its largest one-month drop since the beginning of the pandemic.

Supply and demand dynamics, as well as Fed rate expectations, continue to be the biggest driver of short-term rates. Economic data will continue to shape future rate expectations, while investors look to the U.S. Treasury and Congress to resolve an overall contraction in supply. YTD, the U.S. Treasury has reduced overall Treasury bill (T-bill) supply by more than $832 billion, in advance of the debt ceiling expiration at the end of July. Now that a new debt ceiling has been reinstated, markets are waiting for Congress to either raise or suspend it. However, with Congress on recess through August, this will continue to hang over markets in the near term. And as investors see less purchase opportunity in Treasuries, they will rely more directly on the Fed. The Fed's overnight reverse repo (RRP) facility, an overnight risk-free investment meant to serve as a floor for interest rates, spiked to over $1 trillion for the first time ever. This simply illustrates how excess cash continues to search for a home.

On the rate expectation front, investors continue to parse every data point for clues as they are released. Although the US economy continued to surge in the second quarter, GDP missed consensus estimates. And given the alarming spread of the Delta variant, many investors are now wondering just how robust economic growth will be going forward. All of this has manifested in slightly higher volatility this past month.

While rising volatility can be unsettling, it also provides an opportunity to take advantage of pricing dislocations. We believe our portfolios are well-positioned to take advantage of any shift in rates. For example, by extending duration, investors have been able to pick up approximately 12 bps in Treasuries within one and two years. This illustrates how clients may be able to capture more income and better diversify across the credit spectrum, while also maintaining sufficient liquidity for business or additional investment needs. That's just one example of how investors can navigate volatility in this challenging environment.
Source: Bloomberg as of 7/30/2021.
Markets

Treasury Rates:
Total Returns:
3-Month
0.04%
ML 3-Month Treasury
0.01%
6-Month
0.05%
ML 6-Month Treasury
0.01%
1-Year
0.06%
ML 12-Month Treasury
0.03%
2-Year
0.18%
S&P 500
2.38%
3-Year
0.34%
Nasdaq
1.19%
5-Year
0.69%
7-Year
1.00%
10-Year
1.22%

Source: Bloomberg, Silicon Valley Bank as of 7/30/21