Key Takeaways
The debt ceiling debate is back again. We expect a great deal of posturing and intense debate, which could increase market volatility as we approach the deadline.
Technically, the debt limit expired in July 2021. Temporary measures have allowed the US government to continue funding its obligations, but only an act of Congress can lead to a lasting solution and allow the US Treasury to issue more debt.
If the government were to default, irreparable damage could be done to the US economy and have ripple effects throughout global financial markets. In the end, however, we expect a compromise that will raise the debt limit.
This month's main article, Debt Ceiling Showdown, takes a closer look at the political negotiations around the debt ceiling and the potential implications of failure to reach a timely resolution.

Also included are the following themes:
Debt Ceiling Showdown
Jon Schwartz, Senior Portfolio Manager
The debt ceiling debate has come front and center again as policymakers dig in their heels to resolve this recurring political fight to suspend or raise the debt limit and thus avoid a government shutdown and/or a potential default by the US government. Without raising or suspending the debt limit, the federal government will run out of cash to perform some of its most basic functions, such as paying employees and, importantly, repaying investors who own US Treasuries. The notion that the US government would ever default on some of its debt obligations is not one that most investors contemplate — and indeed, it would have severe ramifications. Let's hope we never get there.

Raising the debt ceiling is often contentious, but typically it has been resolved in a bipartisan manner. After all, the country's debt outstanding is used to support the spending projects that were agreed upon by both parties. Incidentally, history shows that both parties spend aggressively, so neither can truly claim the "fiscally responsible" mantle. For example, under the Trump Administration, the Tax Cuts and Jobs Act of 2017 and the early COVID-19 spending package increased the deficit by approximately $8 trillion. Now, President Biden is proposing a $3.5 trillion infrastructure spending package that has been strongly opposed by the GOP. By dragging out the debt limit conversation, the GOP appears to be forcing the Democrats to push for more debt on their own. But despite all the rhetoric, it seems clear that both parties have been happy to spend for their favored projects.
What's the Concern?
So what exactly is the debt limit, and why do we still have this polarizing process in place? The debt limit is intended to be a mechanism that controls government spending to some degree. It sets a maximum level of outstanding debt that can be issued by the US Treasury to fund all spending programs and continue the essential functioning of the US government. In the Constitution, Congress was granted the "power of the purse," which clearly outlines Congress's authority to tax and spend public money for the national government. The debt limit is meant to be one of the checks and balances in the event that a new project requires a significant amount of new debt issuance.

But even if there is no new spending on the horizon, existing commitments still need to be funded. It's uncertain exactly when the US Treasury will run out of cash. However, following the passage in October of a $480 billion increase in the debt limit, the Treasury Department currently estimates the government will be able to meet its obligations through December 3. Technically, the current debt limit suspension expired in July 2021 following a two-year extension Congress agreed to in 2019. Treasury Secretary Janet Yellen has been using "extraordinary measures" to allow the government to pay its obligations since July, but only an act of Congress can provide a lasting solution that will allow the government to continue paying its obligations beyond the temporary extension formulated in the October bill.
A Little History
The debt limit has been in place since 1917 and has been raised 57 times in the past 50 years. More recently, this debate has been used as a political bargaining tool, but Congress has always acted to avoid default. Action to suspend or raise the limit often comes at the final hour, but Congress has never yet let the decision drag far beyond the deadline. That said, in 2011, S&P downgraded the US government credit rating to AA+ from AAA, citing "political brinksmanship and the rising US debt burden." We also had a 16-day government shutdown in 2013, but default was once again avoided at the final hour.

The reality is that the federal government perpetually commits to projects that cost more money than the government raises via tax revenues. In other words, the US government runs an ongoing budget deficit. If Congress can't agree to increase the debt limit before the US Treasury runs out of cash, Social Security payments could be delayed, American troops might miss paychecks and, perhaps most shockingly, the Treasury could even delay or default on its US Treasury security obligations.
The End Game?
As we all know, markets don't like uncertainty. In the event of a default, government payments would have to be prioritized, payments to US Treasury bondholders could be delayed and there could be another downgrade of US government credit ratings. The value of risk assets would likely fall significantly.

In the words of Janet Yellen, "a delay that calls into question the federal government's ability to meet its obligations will likely cause irreparable damage to the US economy and the global financial markets. At a time when American families, communities and businesses are still suffering from the effects of the ongoing global pandemic, it would be particularly irresponsible to put the full faith and credit of the United States at risk." That sounds like an ominous warning. But in the end, most commentators agree that this is mostly about political theater. We don't expect Congress to make the irresponsible choice of letting the US debt limit lapse. We expect the federal government to make good on all of its obligations, and we expect the US dollar to remain the world's reserve currency. Although we continue to monitor developments in Washington for the impact on portfolio risk, we are not recommending clients take any investment action regarding the debt ceiling at this time.


Credit Vista: Is inflation good for banks?
Fiona Nguyen, Senior Credit Risk and Research Officer
Transitory or not? That is the question — or at least one of the key issues we look at closely when analyzing the banking sector. And beyond that, is higher inflation good or bad for banks? The answer is complicated.

The increase in consumer prices persisted into the third quarter as the supply chain bottlenecks showed no sign of easing. The core personal consumption expenditure price index rose 3.6% in July compared with a year ago. The increase continued to reflect a general surge in demand thanks to the reopening of the economy, as well as supply-led disruptions, labor shortages and, most recently, rising shipping costs. Although the increase in COVID-19 cases has slowed the recovery in parts of the economy, inflation seems to be stickier than what Federal Reserve officials had anticipated. In its September FOMC meeting, the Fed altered its description of inflation from "has risen" to "is elevated" while also acknowledging that "transitory inflation" might last longer into next year.

We previously discussed the implications of higher inflation on consumer-related sectors. The US financial sector has not felt any direct impact from rising inflationary pressure so far, as banks are least likely to run into input cost problems. Nonetheless, the indirect relationship between inflation and bank performance is rather complex and multifaceted since there are so many forces at play. According to a Fitch research report, over the last 36 years, average bank earnings and loan losses have been at their most favorable when inflation averaged around 2% to 3%. Outside of this range, the same metrics turned unfavorable when there was deflation or inflation higher than 4%. With that in mind, let's examine some of the risk factors that could affect the banking sector's credit fundamentals.

Inflation and Bank Performance (%, industry averages since 1984)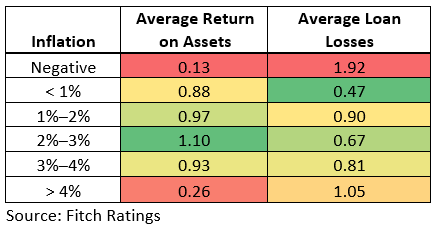 One of the important indicators of bank performance is net interest margin, or the spread between loans and deposits. When the market is worried about inflation risk, benchmark government bond yields tend to rise in tandem — a correlation that can be explained partly by mounting inflation expectations and investors' anticipation of future interest rates. While rising interest rates, in general, could be beneficial to net interest margin, the size of the expansion depends on whether bank balance sheets are asset-sensitive or liability-sensitive (the sensitivity refers to how fast a bank's assets reprice relative to its liabilities). An asset-sensitive bank's net interest income benefits the most from an instantaneous parallel shift in interest rates. Bank of America, for example, in the second quarter of 2021 disclosed that an upward 100 basis points (bps) parallel shift in the yield curve is estimated to increase its net interest income by $8 billion over the next 12 months. According to Fitch, the largest US banks are mostly asset-sensitive in the current environment; hence, we can expect a positive impact on earnings if inflation maintains its pace.

The increase in long-term yields has another effect on bank balance sheets. Since a significant portion of a bank's investment portfolio is comprised of fixed-rate securities, a rise in rates will reduce the mark-to-market value of these investments, which could have an adverse impact on bank capital ratios. Some banks will be more vulnerable than others depending on the size, composition, duration and accounting classification of their securities portfolios.

Another way to examine bank balance sheets is through asset quality. From the corporate borrowers' perspective, higher inflation could dampen profitability if they are unable to pass on the ever-increasing input costs to protect margin. In addition, a rising rate environment in association with upward inflation would boost borrowing costs for corporate borrowers, exerting further pressure on their credit quality and heightening the default risk. With corporate leverage already high — thanks largely to current low interest rates and excess liquidity — a sudden surge in borrowing costs could lead to defaults and expose banks to meaningful loan losses. Although we don't expect that to become a trend in the near term, it is something we continually monitor as we build portfolios and manage risks.

With many factors creating different scenarios, there is no obvious answer to the question "is inflation good or bad for the banking sector?" It all depends on the magnitude of each of these forces and how they interact. When it comes to understanding bank balance sheets, one thing is certain: A bottom-up research approach on credit fundamentals can help investors reach an informed conclusion.


Trading Vista: Volatility - it's back!
Hiroshi Ikemoto, Fixed Income Trader
After months of watching bond yields trading in a tight window, we are finally seeing an uptick in volatility. On the heels of a somewhat surprisingly hawkish tone from the Federal Reserve during the September FOMC meeting (in which the Fed reiterated that it is poised to start tapering bond purchases later this year), short-term Treasury yields increased as many participants are now pricing in rate hikes as early as late 2022. The Treasury bill market, which focuses on tenors within one year, remained relatively unchanged overall, though investors who are monitoring the political squabbling over the debt ceiling might note some funny behavior in certain maturities. Bills maturing in December, when the Treasury department currently projects the government to run out of funds, are being priced about 3 to 6 basis points (bps) higher than the surrounding curve. In the overnight market, the general collateral repo rate has been ranging from 3 bps to 6 bps, and as of October 8, 2021, the Fed's reverse repo program usage was still near an all-time high, with 80 or so counterparties tapping the facility for a whopping $1.4 trillion. The usage of this facility is expected to remain elevated, with Treasury market uncertainty pushing eligible investors to the relative safety of the Fed's balance sheet.

In the credit market, investment-grade new issuance totaled $164.4 billion in September, and the current year-to-date issuance is up to $1.19 trillion. This September's figure will be among the largest September issuance totals on record, further highlighting the liquidity and credit market access that corporations currently enjoy. Despite the historically high issuance, secondary-market spreads have remained flat month-over-month. Investors have benefitted from higher all-in yields across security types, but that has been more specific to moves in benchmark rates. In September, the two-year and three-year Treasury yields rose more than 15 bps and 9 bps, respectively, from their lows. Two-way flows remain robust as bid-to-ask spreads continue to be extremely tight, which also indicates ample liquidity in the market. One-year commercial paper has edged higher as three-month Libor has slowly cheapened in recent days, with quarter-end flows light as pressures mount for yields to possibly move even higher.

Right now, markets continue to comb through recent Fed rhetoric, Congress's action on the infrastructure package, the debt ceiling debate and general economic data. We hope to soon have a clearer picture of forward rate trends. In the meantime, we continue focusing on our disciplined strategies and are positioning to take advantage of the higher volatility we are currently seeing.
Markets

Treasury Rates:
Total Returns:
3-Month
0.03%
ML 3-Month Treasury
0.01%
6-Month
0.05%
ML 6-Month Treasury
0.01%
1-Year
0.07%
ML 12-Month Treasury
-0.01%
2-Year
0.28%
S&P 500
-4.65%
3-Year
0.51%
Nasdaq
-5.27%
5-Year
0.97%
7-Year
1.29%
10-Year
1.49%

Source: Bloomberg, Silicon Valley Bank as of 9/30/21