Key Takeaways
As central banks attempt to contain inflation, investors see policy risk as the biggest risk for global investment in 2022.
The US dollar was king in 2021, but as foreign central banks catch up with the Fed's hawkish stance, currency forecasters predict a weaker dollar ahead.
Covid-19 variants and inflation were two big themes in the final quarter of 2021-- both are set to pose further significant economic challenges in 2022.
Last December, as the Omicron variant pushed daily cases to record levels, stock markets barely noticed. Fueled by optimism, the 'Santa Claus rally' pushed stocks to all-time highs in the final week of the year. With mounting evidence that the Omicron variant is less severe than earlier strains, investors anticipate an economic rebound.
Inflation started 2021 gradually, then accelerated. Heading into last year, the CPI was rising at a 1.4% YoY pace. By the end of 2021, strong consumer demand coupled with supply-chain breakdowns drove inflation up to 6.8% YoY—the fastest increase since 1982. Inflation in the eurozone unexpectedly rose to 5% YoY in December, its highest level since the euro's inception in 1999. According to Financial Times columnist Mohamed El-Erian, the key to economic growth in 2022 will be how central banks attempt to contain inflation. The latest Bank of America Survey of Global Fund Managers shows that central bank "policy risk" is seen as the biggest tail risk for 2022, followed by inflation and new variants of Covid-19. (Tail risk is the risk of an asset moving more than three standard deviations from its current price.)
In currency markets, the dollar picked up in mid-November on the back of the Fed's hawkish pivot, but then stalled for the rest of the year. With tapering in place and expectations of multiple rate hikes by the Fed now baked into the markets, dollar bulls may need fresh fuel to drive the greenback higher. In fact, the timing in withdrawing stimulus and/or hiking interest rates by other central banks may have a greater impact than the Fed on FX markets in 2022. Currency forecasters predict a weaker dollar as 2022 progresses.
What happened
US dollar finished strong. The USD finished 2021 strong as a result of three supports: US interest rates were relatively high, the Federal Reserve seemed ready to cut stimulus more aggressively than many of its central bank peers, and the dollar continued to fulfill its role as a safe haven asset. Safe havens have been in demand in this uncertain world filled with economic slowdowns, supply bottlenecks, labor shortages, rising inflation, persistent Covid-19 variants, and Chinese regulatory crackdowns and property debt crises.
US stocks and bonds remained attractive to global investors. In Q4 2021, the S&P gained 10.6% and its technology sector gained 16.5%, making it the top performer amongst G-10 bourses (stock markets in non-English-speaking countries). US Treasury markets experienced high volatility within a wide range, while yields stayed relatively attractive. Crude oil, priced in US dollars, saw strong demand, ending the quarter close to $80 a barrel. All financial markets provided support for the US dollar.
Emerging markets were under fire. The Omicron variant, soaring inflation, tightening monetary policies, political discord, and climate change pushed EM assets and currencies lower. All factors threatened emerging markets more than developed markets. In fact, investors had been moving out of EM assets/currencies for much of 2021.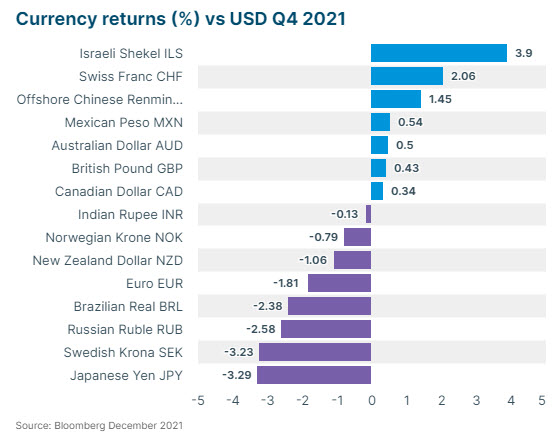 What's in play
Hawkish shifts by central banks.
After spending much of 2021 assuring investors that inflation was transitory and that its stimulative monetary policy would continue, Fed Chair Powell pivoted from dove to hawk in November. The Fed tapered its monthly bond buying program, then accelerated tapering in December. The Fed's bond-buying program is now set to end in March, setting the stage for as many as three rate hikes in 2022. Since the Fed's pivot is mostly baked into the markets, the US dollar may not benefit much going forward – it may gain another 1-2% at most before turning lower later in the year as other central banks become increasingly hawkish.
Despite the Omicron variant spreading like wildfire in the UK, the Bank of England (BOE) surprised markets in December by hiking its benchmark rate to 0.25%. Traders are predicting four additional BOE hikes this year (see Table 1 for expected policy rates implied by futures markets). The UK pound should benefit from higher interest rates, gaining against the US dollar and even more so against the euro.
The European Central Bank (ECB) announced it would slow its bond-buying program this year and indicated a possible rate increase in 2023. The Bank of Japan (BOJ) tapered its buying of corporate bonds and commercial paper. For much of the year, the overly dovish stances by the ECB and BOJ have helped drive down the value of the euro and yen, respectively. The hawkish turns by the ECB and BOJ will be slower than the Fed, the Bank of Canada (BOC), and the Bank of England, leading to slower gains versus USD.
The BOC will hike rates on the back of strong labor and outperforming economic data. Analysts expect the BOC to hike its benchmark rate 25 basis points at its January 26 meeting, earlier than the previous forecast for April 2022, and possibly another five hikes through the end of 2022. The Canadian dollar should benefit from the higher interest rates as well as from expectations of higher commodity prices this year -- the 'loonie' may end the year as one of the best performing G-10 currencies.
Table 1.
Investor rotations from tech. Propelled by expectations that the Omicron variant will be less disruptive to important global economies than previous variants, investors may rotate out of the highly-valued Tech sector (a sector seen as having benefited from Covid-19 related constraints) into industrial, energy and financial sectors—sectors that will benefit from a global economic recovery and higher interest rates.
Chinese impact on global economic growth. Slowed by a declining population, rising debt and increased government regulations, China is seeing its portion of global GDP growth shrink. Further, China's sharp turn from trade to "self-reliance" is weakening its ties to other economies, particularly Asian emerging markets. Nevertheless, China is the leading trading partner for more nations than any other, and leading global buyer of commodities.
Military tensions. Financial Times columnist Gideon Rachman wrote in December that the Biden administration is simultaneously facing "…militarized crises in Europe, Asia and the Middle East, which collectively amount to the biggest challenge to America's global power since the end of the cold war." Rachman believes that the US will most likely respond to any aggressive military actions with stringent economic sanctions, which could impact global growth.
What's next
Still fighting Covid-19. Notwithstanding impressive rebounds in 2021, forecasters warn the world economy will face continued challenges in 2022. What happens will largely depend on: the severity of the pandemic, vaccination rates and government restrictions on mobility; the supply of products to and demand from consumers (an imbalance which created the inflation to which central banks are responding by tightening policy); and resources available to a given country to recover from the pandemic. Ultimately, the value of a foreign currency could be directly impacted by the country's success or failure in containing/defeating Covid-19.
Challenges for Europe. A combination of risks face Europe this year:
Geopolitical risks - January's Italian and April's French elections and Germany's unique new government coalition.

An energy crisis - natural gas prices rose 26% YoY, as supplies to Europe from Russia slowed.

Covid-19 risks - Europe has passed 100 million cases of the coronavirus since the pandemic began two years ago, gaining nearly five million in the first seven days of 2022.

ECB policy risk - record high eurozone inflation may pressure the ECB to reduce its monetary stimulus more quickly than planned. Speculation is already mounting that the ECB may accelerate the move from its uber-dovish stance, which would certainly be euro-supportive.

Chart 1 shows EUR/USD historical rates and forecasts. While forecasters predict a gradually appreciating EUR versus the USD, the range between high and low median forecasts is quite wide, illustrating considerable uncertainty.
Chart 1. EUR vs. USD 2020-2021 with 2022 Forecasts

Source: Bloomberg
Uncertainty and volatility in financial markets. "The withdrawal of monetary stimulus is likely to be a messy process," writes Katie Martin, Financial Times columnist. Fritz Zurbrugg of the Swiss National Bank agreed, opining that there are "signs of overvaluation in the stock and real estate markets in various countries," adding, "Coupled with extraordinarily high public and corporate debt, these vulnerabilities make financial markets more susceptible to shocks, particularly large interest rate rises."



"Large currency speculators, as a group, continue to hold exceptionally large "long" US dollar positions, essentially unchanged from late September. Complacency or confidence? Maybe a little bit of both."



A gradually weaking dollar. According to the latest Bloomberg survey of currency forecasters (Table 2), the dollar will weaken gradually this year. Outperforming currencies should be those with relatively high interest rates (BRL, MXN, NZD) and those which will benefit from global reflation, particularly commodity-currencies (AUD, CAD, MXN and RUB). Held back by negative interest rates and expectations of sluggish growth in the eurozone, the euro is forecasted to gain versus the dollar but underperform against most other currencies. In contrast to forecasters, the most recent CFTC (Commodity Futures Trading Commission) Commitments of Traders report shows that large currency speculators, as a group, continue to hold exceptionally large "long" US dollar positions, essentially unchanged from late September. Complacency or confidence? Maybe a little bit of both.
Table 2. Median currency forecasts vs. USD quarter-end



If you'd like to discuss your specific situation or for more analyses on FX markets or information regarding SVB's FX services, contact your SVB FX Advisor or the SVB FX Advisory Team at fxadvisors@svb.com.