Spot (mid-market) rate = MXN 18.90 / USD (12:00pm, July 9th, 2019)
One year ago on July 1, 2018, Andres Manuel Lopez Obrador won Mexico's presidential election. The veteran leftist politician presented himself as an agent of change and secured a landslide win. Since then, the Mexican peso has become the strongest currency in the world (Table 1). As of today, it's kept its place on top of the leader board for July (Table 2).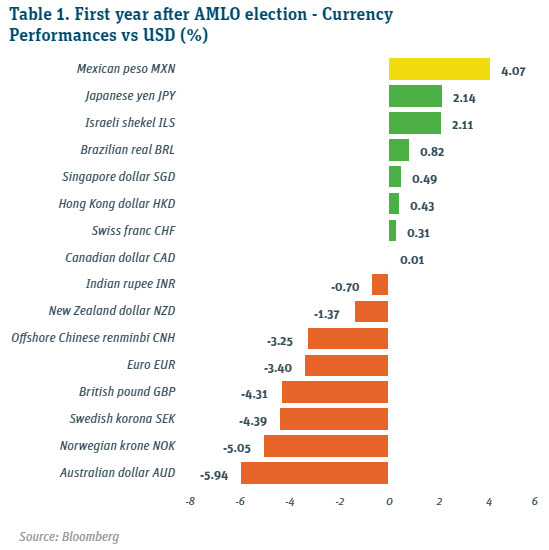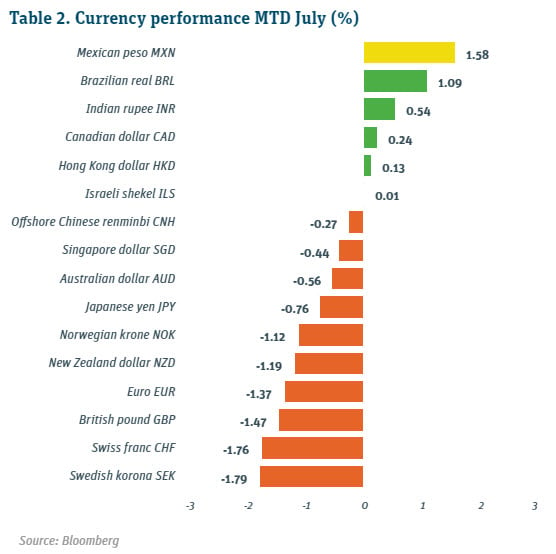 Summary:
The US-Mexico trade deal went better-than-expected. Businesses on both sides of the border are relieved that President Trump backed off from a stepped-up trade war with Mexico, but his tariff threat still looms large.
Global investors show confidence in President Obrador. Demand for Mexican stocks and bonds increased significantly following President Obrador's election and this has continued. Remarkably, the MSCI Emerging Market Latin American (equity) Index outperformed all other EM regional indices around the world.
Mexico's interest rates remain attractive. Both long- and short-term rates declined this year, but remain attractive compared to those of other developing economies. In fact, the long MXN/short USD currency pair is the best performing (short-term) "carry trade" in 2019 of all currency pairs. The highly profitable MXN/USD carry trade may be the single most important reason for the peso's strength.
Debt rating downgrades. There is a cause for concern here, especially for creditors. Ratings agency Fitch recently downgraded Mexico's debt rating, citing risks posed by heavily indebted oil company Pemex and trade tensions. Moody's has lowered its outlook to Negative.
Economic uncertainty prevails. Many recent indicators are pointing to a weakening Mexican economy. The IMF recently cut Mexico's GDP growth forecast from 2 to 1.6 percent, citing declining private investment and government spending as negatively impacting its economic growth.
Technicals:
Here is a weekly chart of movements in the USD/MXN. We can see that the trading range over the last two years has been narrowing. Our view is that the currency pair will break below the supporting uptrend line and head towards a MXN 17-18 range. Within that new range lies the 50% retracement of the entire upmove from 12.85 to 21.60, and where previous key tops and bottoms also reside. The timing is uncertain, we estimate within 3-9 months.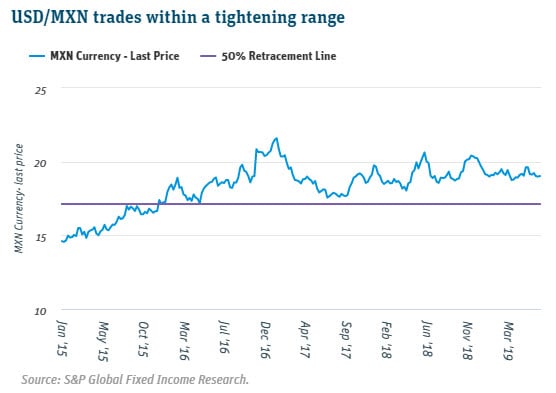 Our view:
We are bullish the Mexican peso. However, further strength in the peso may be constrained by political uncertainty with Mexico's new administration and by a slowing economy. We expect Mexico's central bank to begin an easing cycle later in the year.
Mexico remains vulnerable to hiccups in US-Mexico trade relations. Yet Mexico has been a major beneficiary of the ongoing US-China trade war – in fact, Mexico now tops China as the biggest exporter to the US.
This signals a radical change in global trade: the US-China trade war is fueling the transformation of global trade, towards a "de-globalization" of supply chains. Cheap labor is no longer the dominant driver of production. Consumer demand for popular items such as clothing and electronics, along with the rise of highly customized products, is forcing manufacturers to locate production closer to their consumer markets. Mexico is right next door to the largest group of consumers in the world – the good ol' USA, which makes us bullish Mexico and the Mexican peso.
Tactical hedging of MXN-denominated expenses is recommended if the USD/MXN climbs to 19.25-19.50 . Strategic hedging should be considered, as our longer-term view (1-3 years) is for a stronger Mexican peso and a weaker US dollar against all currencies.
This article is intended for US audiences only.


© 2022 SVB Financial Group. All rights reserved. Silicon Valley Bank is a member of the FDIC and the Federal Reserve System. Silicon Valley Bank is the California bank subsidiary of SVB Financial Group (Nasdaq: SIVB). SVB, SVB FINANCIAL GROUP, SILICON VALLEY BANK and the chevron device are trademarks of SVB Financial Group, used under license.
This material, including without limitation the statistical information herein, is provided for informational purposes only. The material is based in part upon information from third-party sources that we believe to be reliable, but which has not been independently verified by us and, as such, we do not represent that the information is accurate or complete. The information should not be viewed as tax, investment, legal or other advice nor is it to be relied on in making an investment or other decisions. You should obtain relevant and specific professional advice before making any investment decision. Nothing relating to the material should be construed as a solicitation or offer, or recommendation, to acquire or dispose of any investment or to engage in any other transaction.
Foreign exchange transactions can be highly risky, and losses may occur in short periods of time if there is an adverse movement of exchange rates. Exchange rates can be highly volatile and are impacted by numerous economic, political and social factors, as well as supply and demand and governmental intervention, control and adjustments. Investments in financial instruments carry significant risk, including the possible loss of the principal amount invested. Before entering any foreign exchange transaction, you should obtain advice from your own tax, financial, legal, accounting and other advisors, and only make investment decisions on the basis of your own objectives, experience and resources.
Opinions expressed are our opinions as of the date of this content only. The material is based upon information which we consider reliable, but we do not represent that it is accurate or complete, and it should not be relied upon as such. The views expressed are solely those of the author and do not necessarily reflect the views of SVB Financial Group, Silicon Valley Bank, or any of its affiliates.
All non-SVB named companies listed throughout this document, as represented with the various statistical, thoughts, analysis and insights shared in this document, are independent third parties and are not affiliated with SVB Financial Group.