Last month the dollar index reached its highest level in over two years.1 Its persistent strength has defied market strategists (including myself) who have forecasted a material downturn within the year. The downturn has not materialized leading many currency analysts to call the strong dollar one of the big "missed market calls" of the year.
Notwithstanding what analysts thought, global investors got it right, remaining long on the dollar and US assets, especially tech stocks and US Treasuries.2 In addition to relatively attractive yields and returns available from investing in US assets, there has been significant safe-haven demand for the dollar, as relentless geopolitical uncertainties and tensions both here and abroad continue to foment uncertainty.
What happened
Big central banks eased monetary policies.
Prominent central banks eased monetary policies. Last month the Fed, the Bank of England, the European Central Bank, the Bank of Canada, and the Bank of Japan eased monetary policies and set the stage for a return to Quantitative Easing (QE). The moves were anticipated given persistent slow global growth, ongoing trade tensions and low inflation rates.3 Central bank members and market pundits argue that lowering already low interest rates could lessen the effectiveness of the practice. ECB president Mario Draghi encouraged Germany and the Netherlands to consider increased fiscal spending as much-needed stimulus to slow the economic down-turn. 4
Euro fell to 2 ½ year lows. Following a contraction of the Eurozone Manufacturing PMI (an indicator of economic trends in the manufacturing and service sectors) the German industrial sector declined into recession, which led to the overly-dovish ECB meeting. By the end of September, the euro traded under $1.09, ending the month as one of the world's worst performing currencies. 5
Oil prices spiked. Oil prices jumped nearly 20% after drone attacks on Saudi Arabia infrastructure destroyed more than half the nation's production capacity.6 The price jump marked the largest percentage daily gain in nearly thirty years and triggered knee-jerk rallies in the dollar, yen, US Treasuries and gold as investors flee to safe haven assets. 7
Mexican peso takes place as a top performer. The Mexican government announced a 'realistic but conservative' 2020 budget with an economic growth target of 2%, and material increase in social spending.8 Despite analysts concerns that the country's growth assumptions are overly optimistic, the Mexican peso gained and was a top-performing currency for the month. 9
What's at Play
Nancy Pelosi announces formal impeachment inquiry. Within 24 hours of the announcement, markets responded with rallies in the S&P up 0.70% (risk-on), 10-year T-bonds yields up 10 bps (risk-on), and dollar index up 0.70% (risk-off). 10
Italy forms a new government—again. Since WWII, and the reign of Mussolini, Italy has (by design) built a government that modulates presidential power.11 The latest changes mark the 67th government structure for the country. Even so, the euro was unmoved by the change, and Italian bonds remain in demand (for their yield), with the Italian stock market outperforming most other EU countries in September.12
Spain coalition-talks collapse. Caretaker Prime Minister Pedro Sanchez failed to gain the support of the left-wing Podemes and pro-market Ciudadanos parties, setting the country on course for an election on November 10 – its fourth in four years.13 The euro was unaffected by the news, Spanish government bonds are in demand, and Spain's stock market has outperformed most other EU countries for the month. 14
Protests continue in Hong Kong. In addition to the ongoing trade war, Hong Kong's status as a regional economic hub has been severely damaged by the protests, with profound market reaction.15 Since protests began on March 31, the Chinese RMB fell 5% and stock market values for both China and Hong Kong dropped nearly 15%.16
What's Next
Brexit approaches October 31 deadline. According to UK bookies, almost any outcome remains possible: a "no-deal" Brexit; a Brexit deal with withdrawal agreement; an extension or revocation of Article 50; a second no-confidence vote; a Brexit extension; a general election (currently, at 10% odds); a new Brexit/EU referendum (currently, at 87% odds).17 Even with little further clarity of a possible resolution, the UK pound gained 1% in September, UK gilts were in high demand, and UK stocks had their best monthly close in more than a year. 18
Christine Lagarde takes over as ECB president. European Central Bank's Mario Draghi will step down October 31, 2019, leaving Ms. Lagarde with the fallout of an overly-dovish monetary legacy. Heeding Draghi's recommendation for enhanced fiscal remedies, Ms. Lagarde has already begun pursuing an agenda to encourage the EU's wealthier countries to spend more on programs which stimulate eurozone economies.19
Possible Warren nomination could shake US equity markets. As the odds of Senator Elizabeth Warren winning the Democratic nomination grow, experts fear US equity markets may respond negatively to proposals which target the wealthy and corporations with new taxes.20
Federal Reserve expected to cut federal funds rate. Following unexpectedly weak Institute for Supply Management data, weak consumer confidence and slowing spending, odds for cutting the federal funds rate on October 30th jumped from 40% to 80%.21 Lower interest rates could weaken the dollar.
US and China agree to reopen talks. The meetings – the first since negotiations in Shanghai in late July –offer hope that the US and China can avoid further escalation of the trade conflict, which has fulminated for nearly two years.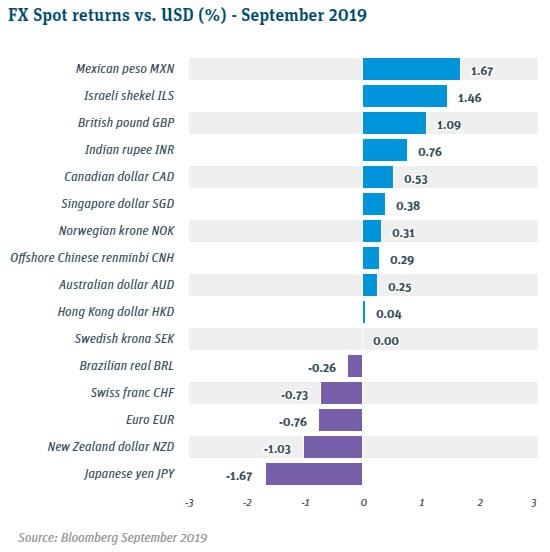 This article is intended for US audiences only.


© 2022 SVB Financial Group. All rights reserved. Silicon Valley Bank is a member of the FDIC and the Federal Reserve System. Silicon Valley Bank is the California bank subsidiary of SVB Financial Group (Nasdaq: SIVB). SVB, SVB FINANCIAL GROUP, SILICON VALLEY BANK and the chevron device are trademarks of SVB Financial Group, used under license.
This material, including without limitation the statistical information herein, is provided for informational purposes only. The material is based in part upon information from third-party sources that we believe to be reliable, but which has not been independently verified by us and, as such, we do not represent that the information is accurate or complete. The information should not be viewed as tax, investment, legal or other advice nor is it to be relied on in making an investment or other decisions. You should obtain relevant and specific professional advice before making any investment decision. Nothing relating to the material should be construed as a solicitation or offer, or recommendation, to acquire or dispose of any investment or to engage in any other transaction.
Foreign exchange transactions can be highly risky, and losses may occur in short periods of time if there is an adverse movement of exchange rates. Exchange rates can be highly volatile and are impacted by numerous economic, political and social factors, as well as supply and demand and governmental intervention, control and adjustments. Investments in financial instruments carry significant risk, including the possible loss of the principal amount invested. Before entering any foreign exchange transaction, you should obtain advice from your own tax, financial, legal, accounting and other advisors, and only make investment decisions on the basis of your own objectives, experience and resources.
Opinions expressed are our opinions as of the date of this content only. The material is based upon information which we consider reliable, but we do not represent that it is accurate or complete, and it should not be relied upon as such. The views expressed are solely those of the author and do not necessarily reflect the views of SVB Financial Group, Silicon Valley Bank, or any of its affiliates.
All non-SVB named companies listed throughout this document, as represented with the various statistical, thoughts, analysis and insights shared in this document, are independent third parties and are not affiliated with SVB Financial Group.