What's in Play
Trade wars turn into production moves
The Chinese trade war with the US has taken a different turn, with Chinese companies set to move some of their production to the US to avoid the potential of new tariffs being put in place. President Trump imposed $200 mln in mid-September only to unwind some of them. Some Chinese production may move to India as another option. Other developing economies are also interested in attracting Chinese production to their countries.1
President Trump wants car parts to be made in the US and not be imported from Canada and Mexico. The two commodities that will be effected most are steel and aluminum; tariffs on both will likely make US goods made of them more expensive for US consumers.
Go to top

Brexit
As the Conservative party annual conference takes place, Brexit is the main topic of conversation. Boris Johnson ex-Lord Mayor of London has come out swinging at Prime Minister Theresa May, not only as a matter of policy but also as a weapon to try and force her out so he can try and take her place. He does have support from some of the Conservative party members, but it is not clear if he can muster enough support to make a difference.
What's Next
Brazilian elections
The Brazilian elections are about to start, but the voters are generally not happy with their choices. There are few moderate party choices, only far right and far left, leaving the moderate voters stranded. Four out of the current 13 candidates could win enough votes in first round-voting on October 7 to move on to a head-to-head runoff on October 28. Leading candidates are not middle-of-the-road. Projections for the Oct. 28 runoff vote suggest both Bolsonaro and Haddad will win 40 percent of the vote. A win by either extreme candidate may shake up Brazil's currency and financial markets.
USMCA
Markets are waiting to see what NAFTA replacement USMCA does to North American trade taxation between the three countries.
Where the Fed stands now
The Fed appears to have factored in three more interest rate hikes next year. Traders currently put the odds at 77 percent that the Fed hikes rates another 25 basis points to a target range of 2.25-2.50 percent. Another rate hike widens the spread between US and foreign interest rates. The European Central Bank has already said it will hold its policy rate of minus 0.40 percent at least through next summer, and the Bank of Japan has said it will stick to its near zero rate setting until 2020. Dollar strength will continue to be fueled by diverging interest rates.
Go to top
What Happened
The Fed agreed that the US economy is healthily growing
The Fed raised interest rates by 0.25 percent as expected, and most importantly did not change its wording on the state of the economy.2
USMCA
The replacement of NAFTA, USMCA was just resolved, as Canada agreed to come in line with what was agreed upon with Mexico.
Turkey
Turkey eventually bowed to market pressure and raised interest rates. The overnight interest rate rose to between 22 and 24 percent.3 On the same day, President Erdogan implied that Turkey would not take the interest rate action, so he looked a little out of touch when the central bank made the move that day. The resolution at least temporarily took the risk and pressure off the other emerging market currencies.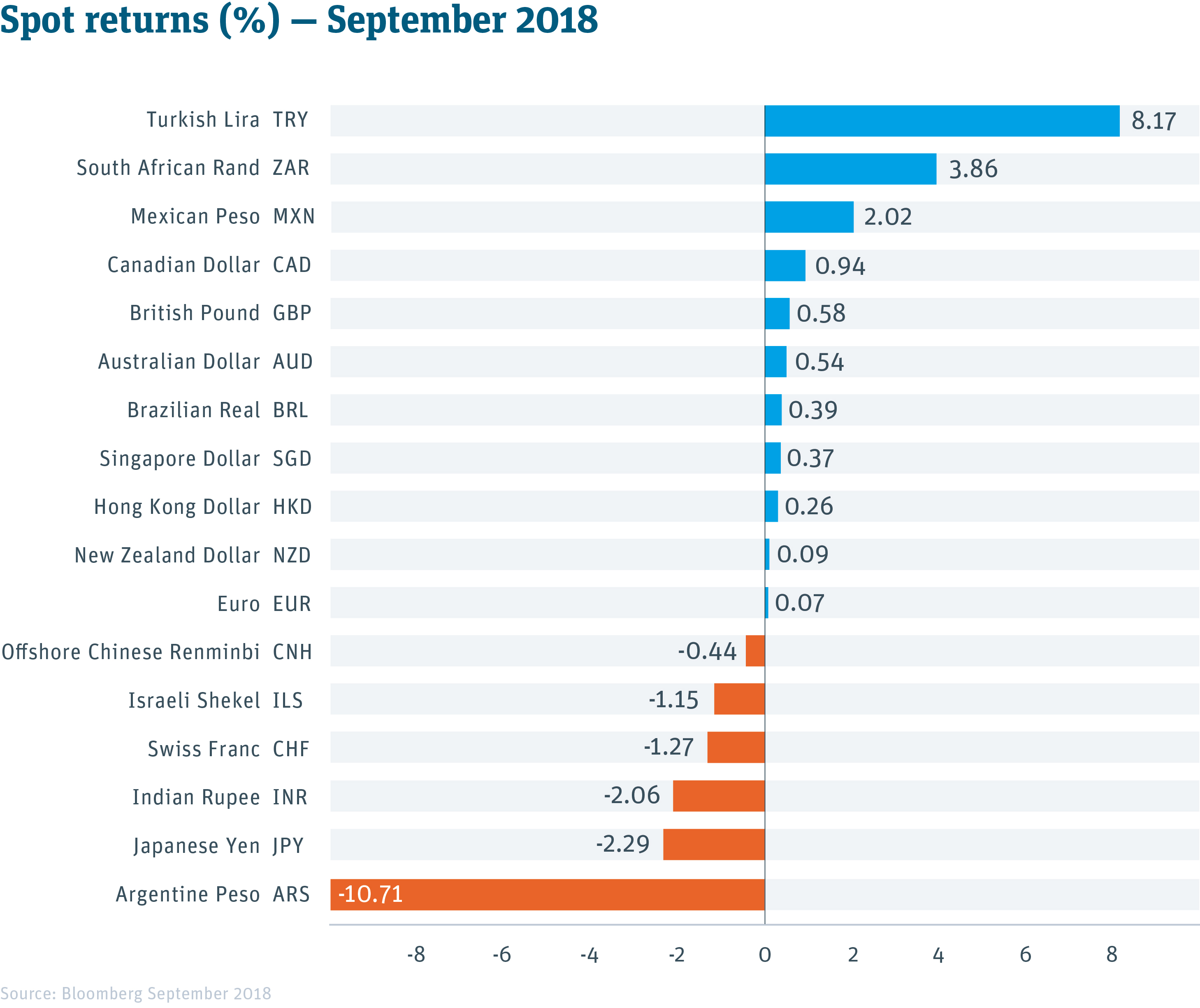 Go to top
Protecting and growing your business

Navigating foreign exchange in a turbulent political world can seem daunting. Leverage the expertise of SVB's FX team, recently ranked by Bloomberg as the fourth most accurate FX forecaster in the world.
4
Our highly skilled FX team can give you the information and ideas you need to protect and grow your international business.
Learn more

Read our latest FX Market Insight:
Australian Dollar May Be Ready for a Turn-Around.
Learn
How Currency Movement Can Affect Your Global Business.
Explore all the tailored services SVB offers for
your foreign exchange needs.