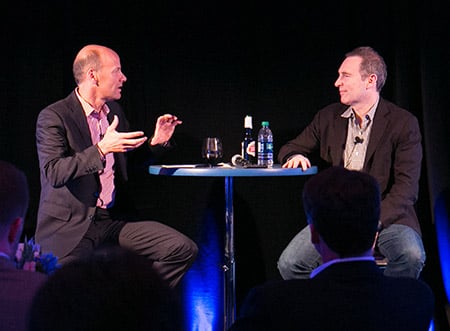 Photo: Silicon Valley Bank CEO Greg Becker with Andy Jassy, head of Amazon Web Services


As part of our ongoing series of conversations with influencers in the innovation ecosystem around the world, I had the pleasure of sitting down with Andy Jassy, head of Amazon Web Services, for an event with 75 of our clients in Seattle this week.
The stories of how businesses really got started are always fascinating to me, so I was listening closely when Andy recalled sharing the original six-page business plan and vision document for AWS with Jeff Bezos and the board. He started by sharing the approach Amazon takes when considering a new business opportunity, which was of keen interest to our audience of founders and business leaders.
They ask four questions:
If it's successful can it be really big?
Is it [the target market] being well served today?
Do we have a differentiated approach to that space?
Do we have any competency in that space?
If the answers to all four questions are positive, then, Andy explained, Amazon would pursue the opportunity even if it is very different from what they are doing today. Amazon likes to invent, to pioneer, and to make bold bets. We've seen this penchant for innovation over and over at Amazon.Since it is a question I have been fielding a lot these days, I was quite interested in Andy's take on current valuations in the technology space, particularly recent speculation regarding the value of Amazon Web Services. He said, "Valuations are temporal, you really build a lasting meaningful company over time and you have to be successful over a long period of time. It's a marathon." I couldn't agree more.
Thanks to all the incredible business leaders and innovation companies I get to meet around the world, I continue to be inspired by their vision to improve business, health, communication and especially as they are disrupting industries that are overdue for a new way of thinking. I'd personally like to thank Andy Jassy and all of our Seattle clients who participated in this event for the interesting conversation and inspirational ideas.