Business Banking Services
Advice-driven custom banking solutions tailored to your organization's specific goals.
We're poised to help you move ideas forward. We'll partner with you to identify the services that can support present demands as well as set you up for where you're headed.
Partnership to support you
Convenient, secure technology
Take advantage of tools that help make managing your business's finances more efficient.
Industry experts
Banking professionals who know the innovation economy, ready to advise on your current challenges and help you manage for the future.
Service customized for your business
Focused attention from experts who can collaborate with you on solutions that fit your unique situation, as needs arise—and as you look ahead together.
Consultative services and technology designed to manage your business operations and cash flow
You may need more than just tools. We provide advice to help you choose the tools that will get you closer to your business goals and set you up for the future.

Learn more
Four common cash flow missteps to avoid
Avoiding common cash flow pitfalls can help your business be well-positioned for long-term growth.

Read now
Business digital banking
Streamline your financial operations with a powerful platform that's simple and secure.

Learn more
Four common cash flow missteps to avoid
Regardless of whether your business is big or small, young or old, successfully managing cash flow remains an often-overlooked key to scaling growth and weathering unpredictable competitive threats and economic cycles.

Read now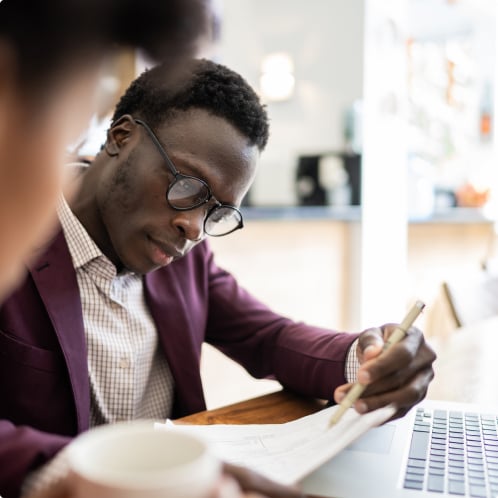 Business banking solutions & services
Learn more about how our expert advice and targeted offerings can serve you
Demand Deposit Accounts
Ideal for daily operations and instant availability of funds without restriction, our FDIC-insured Demand Deposit Accounts allow you to save and make unlimited withdrawals as needed.
Money Market Savings and CDs
Our business money market accounts allow you the opportunity to increase your savings simply with highly competitive interest rates. SVB Private CDs help secure rates and terms consistent with your business savings objectives for your surplus capital.
Interest on Lawyers Trust Accounts
Our IOLTA accounts earn interest on your short-term client funds, which can be transferred automatically into the appropriate state bar program.
Fiduciary Master and Sub-Accounts
Holding funds on a client's behalf becomes simpler when you use a Fiduciary Master Account to separate your operating accounts, and use Fiduciary Sub-Accounts so that interest can accrue independently for each client.
Business Debit Cards
Round-the-clock accessibility, convenience, and protection are essential for your business spending. An SVB Private Business Debit Card offers all three.
How we help
Our business banking advantage
You're creating the future. We're here to help you with your financial goals.
Keeping pace with change means being prepared. We can help. SVB Private serves today's innovators and investors like you to develop a fresh, holistic approach to your financial life and legacy.
Learn more

We're here to build a collaborative partnership.
Communication and connectivity are at the heart of everything we'll accomplish together.
Get to know us
Individuals and families are different
We collaborate to arrive at a deep understanding of what drives you. With a holistic approach, we can help you grow and protect your wealth and legacy at every stage of your journey by considering your complete picture.

More ways we help