We're pleased to provide you with insights like these from Boston Private. Boston Private is now an SVB company. Together we're well positioned to offer you the service, understanding, guidance and solutions to help you discover opportunities and build wealth – now and in the future.
By: Rob McMillan, Founder, Silicon Valley Bank Wine Division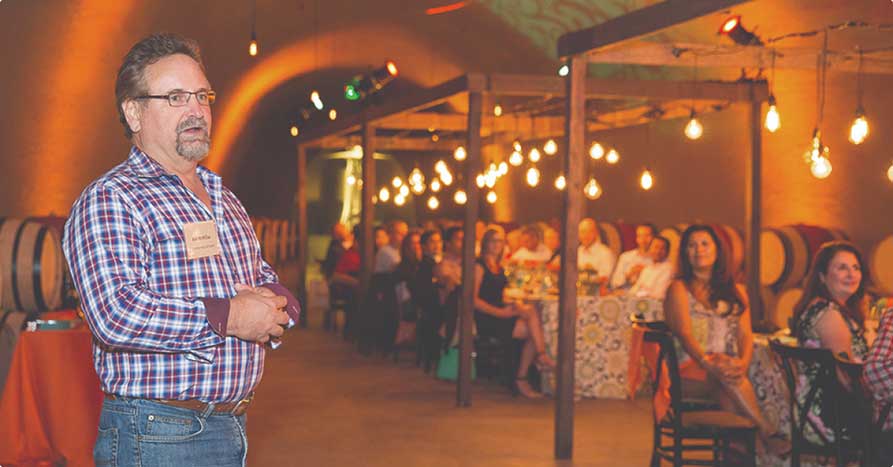 Rob McMillan is one of the top wine-business analysts in the United States and the author of SVB's highly regarded Annual State of the Wine Industry Report. With decades of experience researching the wine business, his views are sought after and trusted by winery owners, journalists, entrepreneurs and investors.
Rob is a prominent speaker, domestically and internationally, and is extensively quoted in the national, regional and trade press. He has been named one of the Top 50 Most Influential People in the U.S. wine industry several times. Rob's banking career has spanned 35-plus years — more than 30 of those at Silicon Valley Bank. In his free time, he plays percussion and drums.
He founded the Wine Division in 1994, and SVB now has one of the largest banking teams in the country offering financial services and strategic advice to premium vineyards and wineries. Wine Division offices are located in Napa, Sonoma and Portland, Oregon, serving fine-wine producers throughout the West Coast and beyond.
You've been called a pioneer in the business of financing wineries by The Wall Street Journal. Why is Silicon Valley Bank in the wine business?
The short story is that not long after I joined SVB, we were encouraged to identify profitable niche businesses. The wine business at the time was in a period of declining demand, but I believed the premium segment was about to take off. That turned out to be prescient. In 1994, after getting the green light on the business plan, we opened the Division. That was the start of a 25-year period of rapid growth and expansion. Demand for premium wine is still growing, albeit more slowly. Fast-forward and today we've grown into the leading provider of strategic direction and financial services for the U.S. fine-wine industry.
What is your day like?
The Wall Street Journal titled a 2019 article about me "This Banker Gets to Drink Wine All Day." In& truth, while I& have access to great wine, this is a tough, fast-evolving business – with livelihoods on the line.
Our clients (and their families and workers) in the West have been through destructive earthquakes, fires, floods and crop loss in recent years – and that was before the pandemic that required tasting rooms to close. Like my colleagues who lend in technology, life science and private banking, I work closely with clients and prospects to consult on strategy, then find ways to meet their unique financing and related needs. For my clients, that ranges from acquiring an existing winery, to developing a new vineyard or consulting on the best strategies to finance, market and sell their wine. And yes, on occasion, I even get pulled into wine-blending trials, so I do in a way get paid to drink wine.
What wine consumption trends do you see?
In 2018, our Annual State of the Wine Industry Report caused a bit of a fuss in the industry when we forecasted slow-to-flat sales after a 25-year run of great growth. The fundamental underpinnings that created growth have been changing. Millennials haven't embraced wine consumption as many had hoped. Lower spending capacity is a major component, but cannabis legalization and a cumulative negative health message surrounding alcohol have also combined to temporarily stall wine consumption among young consumers. At the same time, wine-loving Baby Boomers are transitioning into retirement and adjusting to living on a fixed income.
No question this is a difficult transition for the premium wine producers, and the pandemic, combined with natural disasters, has led to the worst business conditions since Prohibition for many. But humans have been making wine for some 8,000 years, so it's not going away and remains fundamentally a good business featuring great stories of resilience, often based on family roots and community fortitude. I'm proud to be part of it.
How are wineries meeting these challenges?
Winery owners are traditionalists, often slow to change. But the pandemic advanced many business practices that had been slowly simmering in the background.
For years, family wineries have depended on tasting rooms to connect with their consumers. But tasting rooms were forced to close and customers were staying at home, so something had to give. So, in-person winery experiences evolved to at-home Zoom wine and food experiences, and the tasting room purchase converted to an online sale.
Today, with an opening economy, there is pent-up demand for in-person events, dining out and travel, concerts, sporting events and delayed celebrations that should help wineries recover some of the lost sales from the pandemic closures. Long-term we believe online sales trends are part of a permanent consumer shift for the business and will be the change agent that delivers the greatest transformation of wine sales over the next decade.
Will my favorite tasting room survive?
That depends on the creativity of the winery owner – and you. To be successful, they will have to reduce their dependency on walk-ins and find other channels and ways to differentiate themselves so you will keep coming back. The industry will have to evolve to appeal to a more laid-back consumer who values experience. They'll have to take the experience on the road and can't just expect young consumers to walk through the doors.
Wine clubs, too, will evolve to target members by categories that can be personalized through content and wine selections – another win for consumers. While predictive analysis has been around for a long time in e-commerce, only now is the wine industry beginning to see the value – especially small-to- medium wineries. In fact, our recent Direct-to-Consumer Wine Survey Report found that consumers generally tend to be more loyal to smaller wineries than the larger ones. So, head down to your favorite nearby winery for a tasting or order a case from an interesting, new winery across the country.