SVB Asset Management's monthly Observation Deck newsletter covers current topics on portfolio management, credit considerations and market events that influence investment strategy.
A Maiden Lane to higher rates
By Timothy Lee, CFA, Senior Credit Risk and Research Officer
While there has been some hand wringing regarding the potential impact of high interest rates on the economy, short-duration investors — including corporate treasuries — stand to earn more income as the Federal Reserve reverses its quantitative easing (QE) by contracting its balance sheet. Perhaps this is a good time to look back on how the global financial crisis ushered in an era of unprecedented monetary policy and how the unwinding of those actions is affecting investors today. The following six graphs help put the current rising-rate environment in perspective.
Graph 1: Ten years and $2.5 billion in profits later, the Fed announced in September that it had sold the last remaining assets tied to its rescue of Bear Stearns near the beginning of the last recession in 2008. The formation of Maiden Lane LLC, an entity formed by the Fed to purchase $30 billion in mortgage-related assets from Bear Stearns, was the first of many extraordinary actions the Fed would take to ease monetary conditions in response to the financial crisis. The effective end to the historic expansion of the Fed's balance sheet epitomizes the current direction of U.S. monetary policy.

Source: Federal Reserve – H.4.1
Graph 2: In the decade that followed the creation of Maiden Lane LLC, the Fed would end up lowering benchmark interest rates to near zero and run a QE program that more than quadrupled its balance sheet to over $4.5 trillion at its peak. With U.S. economic conditions now on firm footing, the Fed is on a journey to raise interest rates and reverse the size of its balance sheet.

Source: Federal Reserve – H.4.1
Graph 3: Additional asset purchase and loan programs followed the creation of Maiden Lane LLC, including two additional Maiden Lane vehicles and a loan program known as TALF or Term Asset-Backed Securities Loan Facility. By far, the main hangover from the Fed's shopping spree is the trillions in U.S. Treasuries and Agency Mortgage-Backed Securities (MBS) that were purchased and remain on its balance sheet. In October 2017, the Fed began the process of reversing QE by allowing a number of its securities to mature without reinvesting those proceeds.

Source: Federal Reserve – H.4.1
Graph 4: As of October 2018, the Fed plans to allow up to $30 billion in Treasuries and $20 billion in MBS to roll off its balance sheet each month. This will leave $413 billion in additional Treasuries and MBS that will need to be purchased and financed by the market in 2019, based on analysis and data from Bloomberg Intelligence. The extra supply comes at a time when Treasury issuance is already projected to grow materially in order to help finance fiscal stimulus. The markets will need to absorb this added debt, which may push interest rates higher.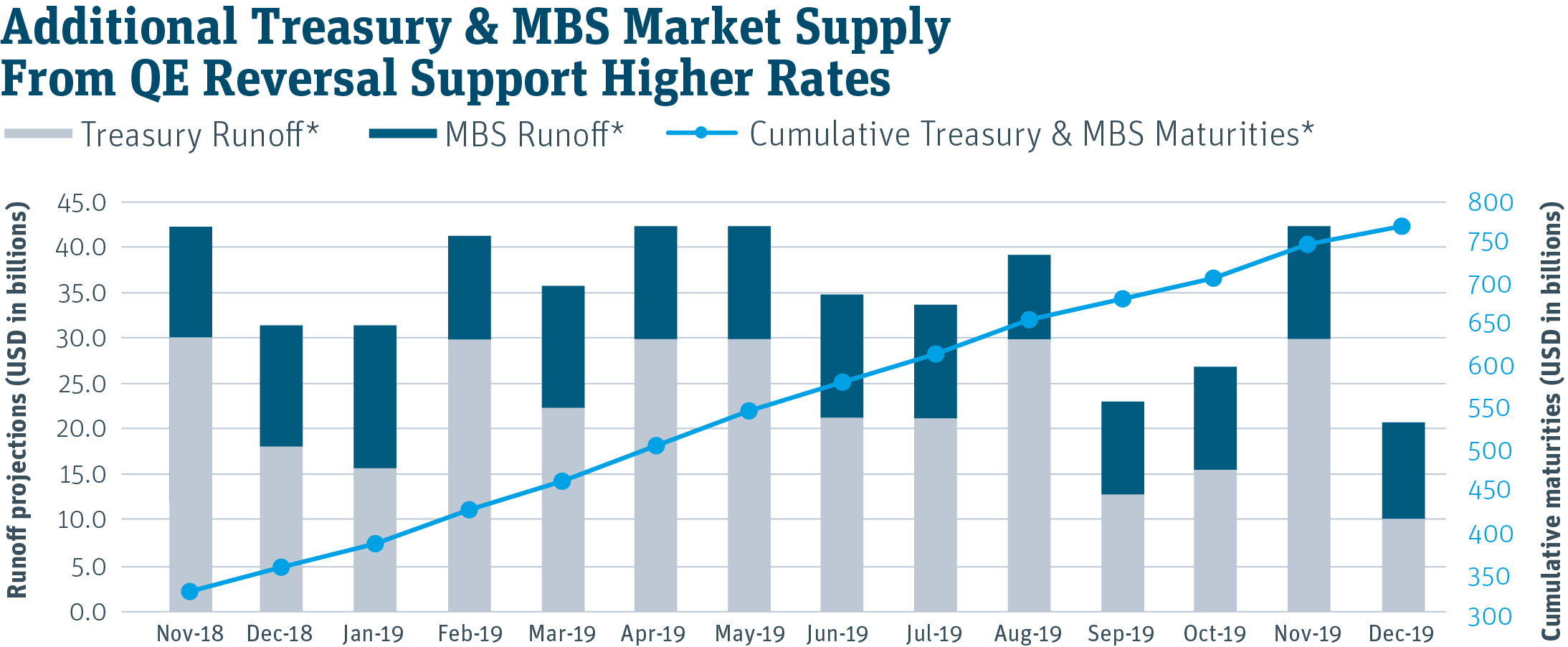 Source: Federal Reserve, Bloomberg Intelligence *Projections based on maximum $30 billion and $20 billion monthly maturity allowance for Treasury and MBS holdings, respectively. Cumulative maturities starting from October 2017.
Graph 5: The unwinding of QE, along with hikes in the federal funds rate, has already resulted in tighter monetary conditions and higher interest rates, particularly for short-duration instruments. Interest rates could stiffen further if the Bank of England and the European Central Bank follow in the Fed's path and begin to undo their own QE programs.

Source: Federal Reserve – H.3, Bloomberg, ICE Bank of America Merrill Lynch.
Graph 6: Tighter monetary conditions are also reflected in corporate balance sheets, which have experienced a fall in cash levels this year. While some money has been invested into higher-yielding securities, such as commercial paper and other debt instruments, substantial funds also have been allocated to share repurchases and debt reduction.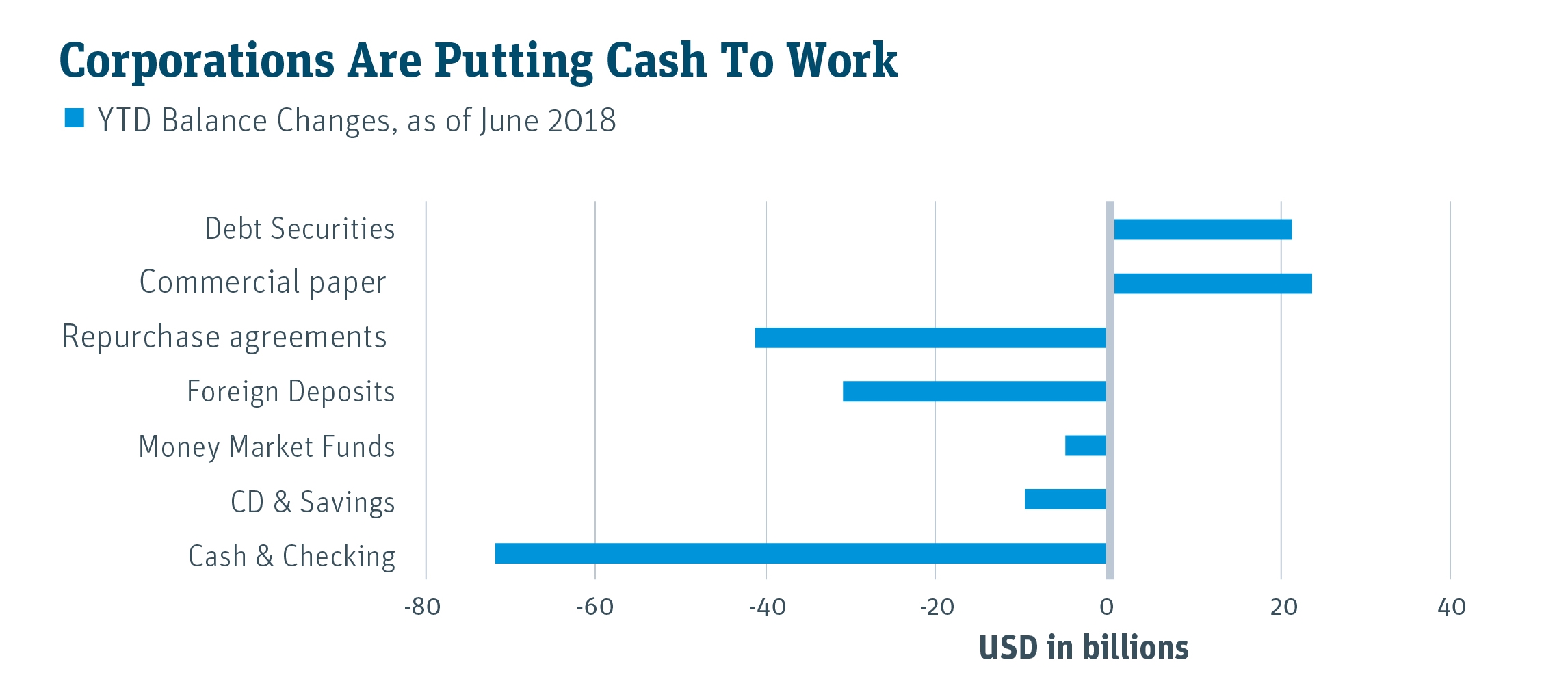 Source: Federal Reserve – Z.1, L.103 Nonfinancial Corporate Business
However, corporate treasuries and other short-duration investors will stand to earn better returns on their cash, thanks to a higher interest rate environment produced by expected future Fed rate hikes and the unwinding of QE.
Economic Vista: Data gets a hall pass
By Eric Souza, Senior Portfolio Manager
When we study the most recent economic data, we can't help but notice a few soft spots. But, given the bigger picture and the obvious impact of Hurricane Florence, let's give any disappointing data a hall pass this month. And even though we have seen a sharp rise in market volatility of late, we don't believe the economic data has been the primary catalyst.
First up was the employment report with the headline nonfarm payrolls number coming in below expectations at 134,000, which was the lowest reading of the year. This was largely expected due to the aforementioned hurricane, which also affected weekly initial jobless claims. However, it's important to remember that we have enjoyed a record 96 straight months of employment gains, and nonfarm employment was revised higher during the prior two months by 87,000. These monthly employment gains are key, considering the unemployment rate fell to 3.7 percent, which is the lowest it has been since 1969. The widely followed average monthly hourly earnings increased 0.3 percent, which was in line with expectations. Even though the year-over-year average hourly earnings fell nominally to 2.8 percent, earnings have been holding steady since May.
Hurricane Florence also affected retail sales. Although the headline reading came in below expectations, the restaurants and eating establishments' subcomponent plunged 1.8 percent, while auto sales jumped 0.8 percent due to greater replacement demand. The Retail Sales Control Group (which strips out various subgroups and is a direct input into GDP) came in higher than expected and increased 0.5 percent.
It's no surprise that the housing sector also saw some effects of Hurricane Florence, but there were also disappointing readings that were not weather related. This could reflect the fact that traditional fixed-rate mortgages are now over 5 percent for the first time since 2011. Higher rates and the rising median price of existing homes, which is up over 4 percent year-over-year, is reducing affordability for many potential buyers. Housing starts fell over 5 percent, which was in line with expectations, although housing starts in the South fell 13.7 percent due to the hurricane. At the same time, the Midwest had no negative weather influence and still reported a 14 percent decline in starts. This illustrates some softness in the housing market. Existing home sales fell 3.4 percent to 5.15 million, which is the lowest rate we have had since 2015. Sales in the Carolinas fell 5.4 percent as anticipated; however, sales in the Midwest and Northeast also declined 3.6 and 2.9 percent, respectively.
For those anticipating higher inflation, the latest Consumer Price Index (CPI) release was disappointing. Core year-over-year inflation remained unchanged at 2.2 percent, while headline CPI fell from 2.7 percent to 2.3 percent. Energy has been a key culprit, as it has increased 4.8 percent on a year-over-year basis, which is the highest of any major categories. The Federal Reserve's preferred inflation gauge, Core Personal Consumption Expenditures (PCE), has stabilized in recent months at approximately 2 percent, which is exactly at the Fed's target.
In terms of economic growth, the first estimate of third quarter GDP showed that the U.S. economy grew at a rate of 3.5 percent annually, which was above expectations of 3.3 percent. This is the second consecutive quarter of robust growth and reflects strong employment and continued vigorous consumer spending, which also came in much higher than expectations at 4 percent. That is the highest personal consumption since 2014. It also illustrates why we believe that economic data was an unlikely culprit for the recent elevated volatility.
Credit Vista: Flooded with cash
By Melina Hadiwono, CFA, Head of Credit Research
As we approach the one-year anniversary of the U.S. Tax Cuts and Jobs Act (TCJA), it's clear that many multinational companies — and their balance sheets — have benefitted handsomely. The newfound ability to access offshore cash has allowed them the flexibility to return it to shareholders or reinvest strategically. Either way, it seems like many of these companies are awash in capital.
To review, the tax overhaul provides these firms with an opportunity to pay a one-time liability on offshore cash payable over eight years, regardless if the offshore cash is repatriated or not. Hence, this eliminates the incentive to keep the cash abroad. The one-time tax rate is 15.5 percent on liquid assets and 8.0 percent on illiquid assets.
Based on a recent study by the Federal Reserve*, U.S. firms have accumulated approximately $1 trillion in offshore cash, which is mostly invested in dollar-denominated fixed-income securities. The top 15 firms, primarily technology and healthcare companies, accounted for roughly 80 percent of the total offshore cash holdings. U.S. firms repatriated approximately $300 billion in the first quarter of 2018 and $170 billion in the second quarter of 2018. This represents just under half of the combined total offshore cash holdings, based on estimates from the Bureau of Economic Analysis (BEA) Balance of Payments data.
The spike in share buybacks was notable with the ratio of share buybacks to assets more than doubling for the top 15 cash holders. In contrast, this same ratio remained stable for other nonfinancial S&P 500 firms, as of the first quarter of 2018. From a capital expenditure perspective, the Fed's analysis does not suggest any material increase as a result of the new tax legislation. Any potential boost to capital expenditures due to this cash repatriation will likely take time to materialize, as firms weigh their business strategies, capital allocation policies and the economic outlook.
Despite higher share buybacks from these cash-rich multinational firms, the overall credit impact has been largely unchanged, and net leverage metrics continue to remain healthy. In addition, these firms are expected to continue to modestly de-lever their balance sheets by retiring upcoming debt and slowing the pace of new debt issuance. Credit ratings or outlooks for many of these firms have not changed, since shareholder returns remain within existing credit parameters and rating agency expectations.
With tax-efficient access to offshore cash, TCJA essentially provided the framework for these U.S. firms to use internal cash sources to support capital returns, as opposed to increasing debt. Looking forward, the credit implication of additional cash repatriation will depend largely on the change in financial policy over time as these U.S. multinational firms look to right-size their balance sheets.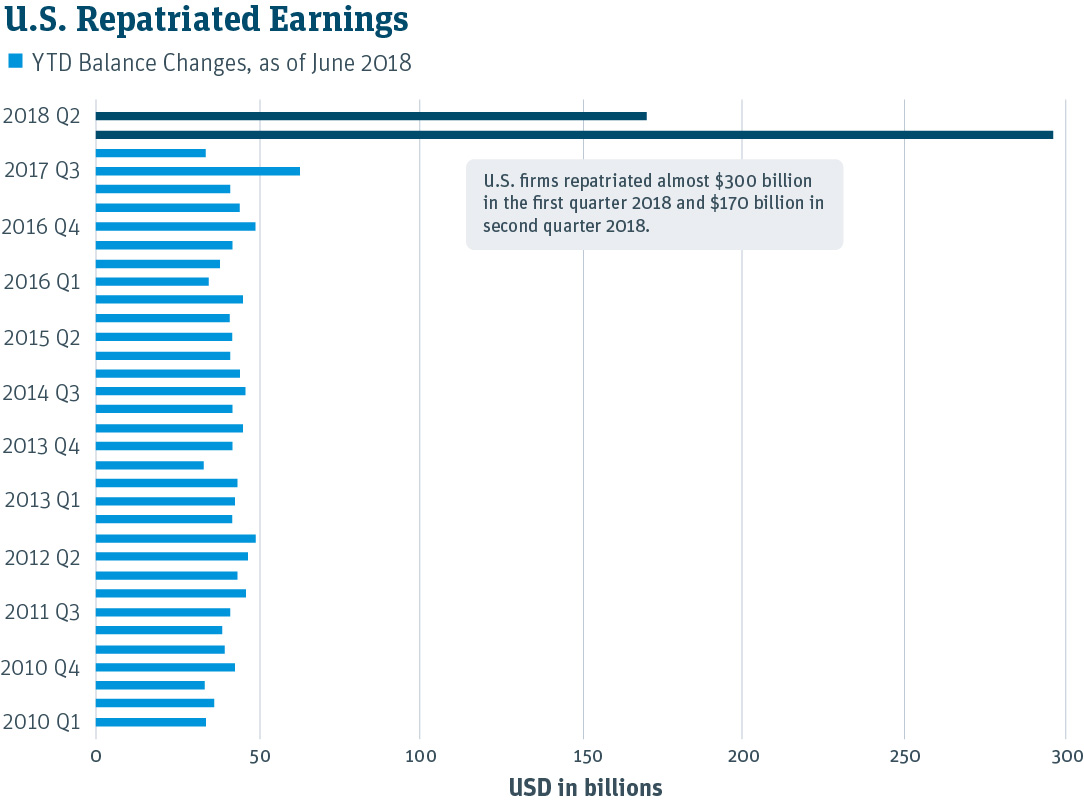 Source: BEA Balance of Payments Data.
*Source: Michael Smolyansky, Gustavo Suarez and Alexandra Tabova (2018). "U.S. Corporations' Repatriation of Offshore Profits," FEDS Notes. Washington: Board of Governors of the Federal Reserve System, September 4, 2018.
Trading Vista: Hunting for funding
By Hiroshi Ikemoto, Fixed Income Trader
For much of the summer, we saw Treasury yields slowly rise while the London Interbank Offered Rate (LIBOR), the most widely used benchmark for short-term interest rates, remained unchanged. This caused spreads between commercial paper and Treasury bills to tighten. But in the latter part of October, this dynamic changed as three-month fixed LIBOR increased by 5 basis points (bps) week-over-week. This was the largest backup in yield since the first quarter of 2018 when we saw a whopping 22 bps increase quarter-over-quarter. One of the catalysts for this increase was renewed demand from banks, primarily those from Canada and Japan, seeking funding as they approached quarter-end. By cheapening their commercial paper and CD programs, these banks once again began to attract those investors who were previously focused on short Treasury bills or were otherwise on the sidelines due to low rates.
In the corporate bond market, which had experienced the same tightening in spreads against Treasuries throughout the summer, spreads started widening again. The benchmark used for short maturing bonds, the Euro Dollar Synthetic Forward (EDSF) Curve, increased from 8 bps to 10 bps across the six- to 12-month part of the curve. While the spread to EDSF was relatively unchanged, the all-in yield moved higher versus Treasuries.
So what does all this mean going forward? From all the data that we study, it appears that banks and corporations have already quenched most of their funding needs. Thus, we do not expect to see the same dramatic increase in short-term rates that we saw in the first quarter. Still, we continue to advocate a defensive duration posture while retaining reinvestment flexibility. And we hope to be opportunistic and take advantage of any dislocations in the market as a means to provide attractive income while preserving capital.


Markets

Treasury Rates:
Total Returns:
3-Month
2.33%
ML 3-Month Treasury
0.18%
6-Month
2.49%
ML 6-Month Treasury
0.19%
1-Year
2.66%
ML 12-Month Treasury
0.20%
2-Year
2.87%
S&P 500
-6.84%
3-Year
2.93%
Nasdaq
-9.16%
5-Year
2.98%
7-Year
3.06%
10-Year
3.14%

Source: Bloomberg, Silicon Valley Bank as of 10/31/18
1118-0253DMEXP123119