State of the Wine Industry Report 2019
2019 OUTLOOK
THE US WINE INDUSTRY WILL BE CHALLENGED OVER THE NEXT FIVE YEARS
Rob McMillan, EVP and founder of Silicon Valley Bank's Wine Division, writes one of the wine industry's most authoritative annual reports that assesses current conditions with street-level intelligence, and provides a unique forecast based on micro- and macroeconomic and behavioral trends. In this report, Rob suggests the current business conditions are quite similar to the early 1990s when the boomers made their retail presence obvious, driving record wine sales for 25 years. We should expect the huge millennial generation, all over 21 years of age now and moving into their careers and higher-spending years, to do the same — but we are seeing the opposite. The wine industry's sales growth has been muted for the past several years and is now close to moving into negative territory for the first time since 1993.
Forecasts for 2019:
Millennials aren't yet embracing wine consumption as many had predicted. Damaged financial capacity is a major component, but cannabis legalization and a cumulative negative health message surrounding alcohol have combined to temporarily stall the growth and adoption of wine among young consumers.
Baby boomers, who still lead in total wine purchases, are moving into retirement, adjusting to living on a fixed income and declining in both their numbers and per capita consumption.
The premium wine segment – which we define as above $10 per
bottle – will grow in the range of 4 to 8 percent in 2019, roughly flat from the 2018 sales growth estimate. For the off-premise retail store channel, dollar sales will grow between 0.5 percent and 2.5 percent, while volume sales will grow between negative 0.5 percent and positive 1.5 percent. Both volume and dollar sales growth will end lower than 2018.
The M&A cycle is approaching a natural end and will noticeably slow in 2019 as many of the major buyers continue to digest earlier purchases and execute on new brand strategies.
Bottled imports will take additional market share from US producers.
Grape and bulk prices will noticeably drop in the California market in 2019.
Overall retail pricing should be flat for premium wine as the industry works through sluggish volume growth and a slight surplus of wine.
Oregon will be the bright spot regionally as consumers continue to find consistently good value in the region's offerings.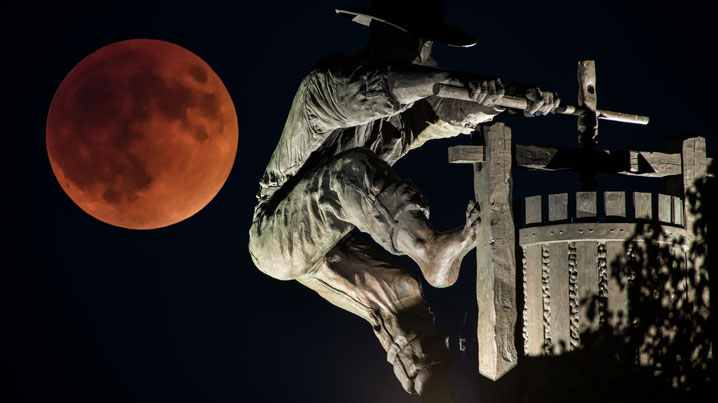 STATE OF THE WINE INDUSTRY REPORT 2019
In this 18th annual State of the Wine Industry Report, Rob McMillan finds that while business once again had record sales, the growth rate is slowing and total volumes are trending into negative territory. He also offers perspectives on how the industry may recover growth rates by changing sales and marketing tactics.
Download report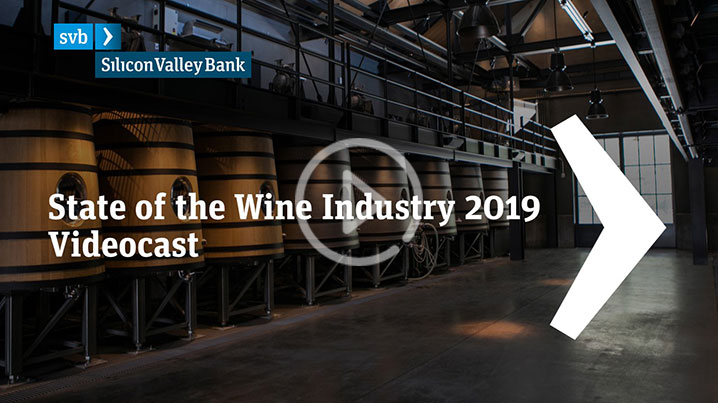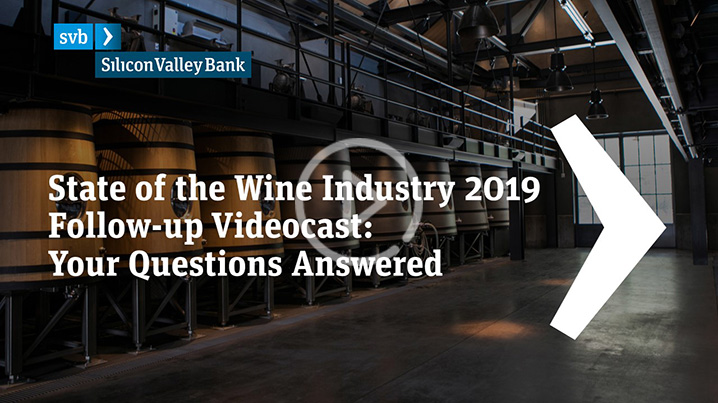 PREMIUM WINERIES' FINANCIAL BENCHMARKS
Premium wineries are still showing modest growth and profitability. That's the good news.
TOTAL OFF-PREMISE SALES IN DOLLARS AND CASES
Total volume of off-premise US wine sales has tipped into negative growth territory for the first time since 1993.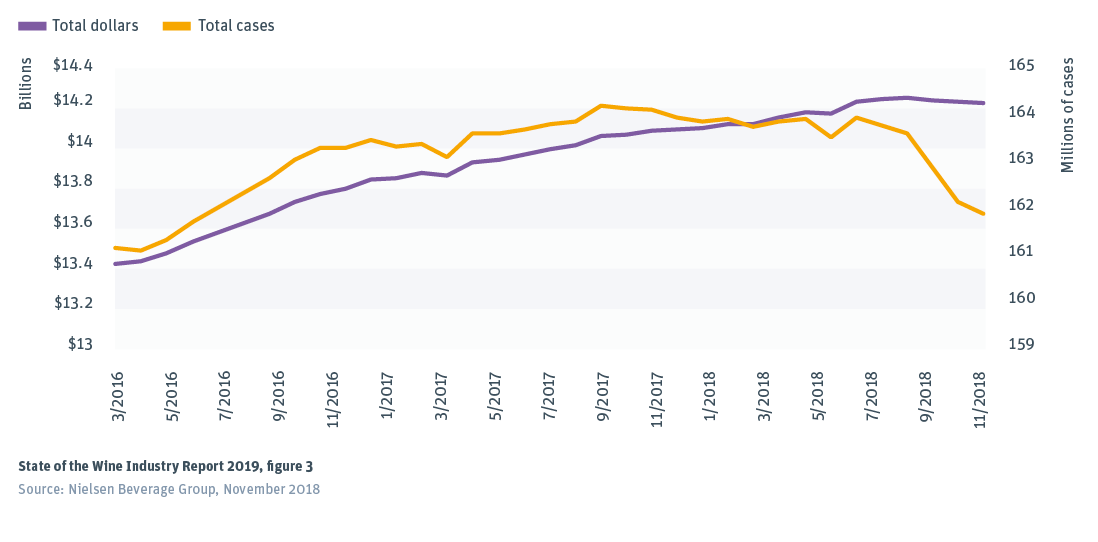 AVERAGE WINE CONSUMPTION BY AGE GROUP
While baby boomers are showing longer-than-expected buying strength and still hold the largest market share of wine consumption, millennials are disappointing expectations by not growing their share of the market as wine consumers.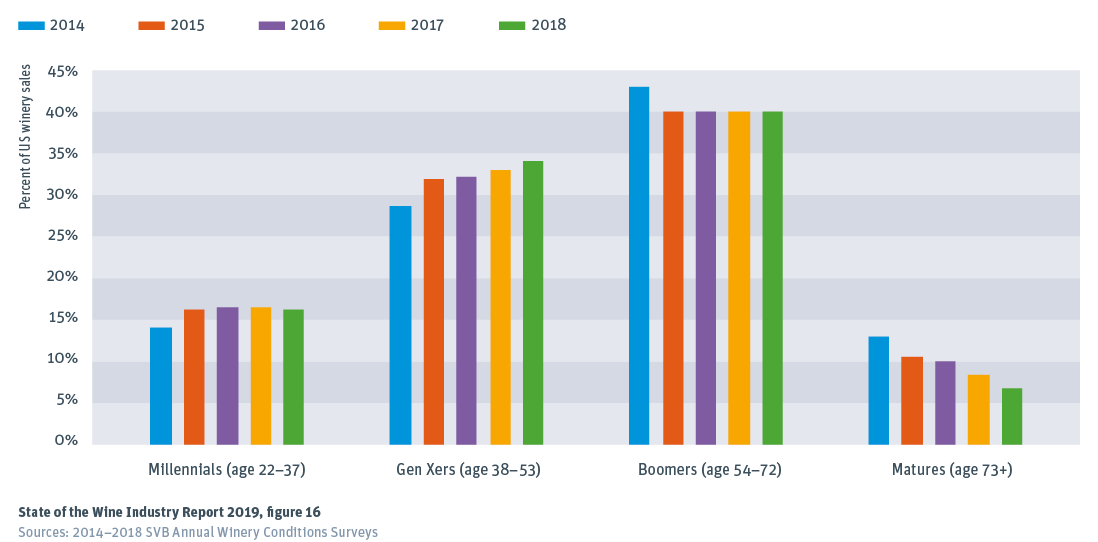 CURRENT CONSUMPTION OF ALCOHOL AND CANNABIS BY COHORT
Millennials tend to prefer craft beer, craft spirits and cannabis – but have the lowest share among the cohorts for wine. With the oldest millennials now 37 years of age, will they adopt wine like prior generations?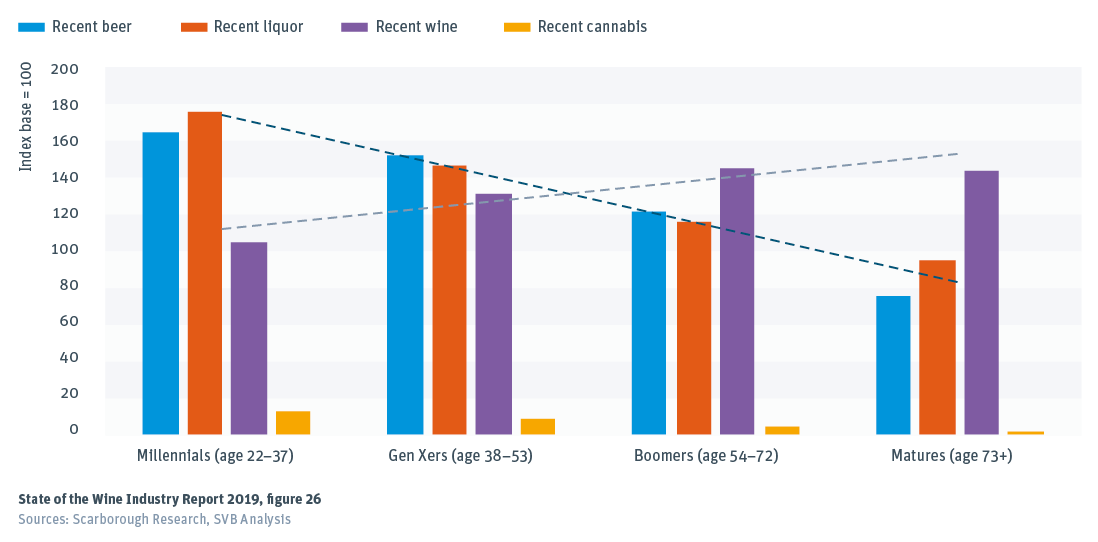 About SVB Wine Division
Silicon Valley Bank's Wine Division
Founded in 1994, SVB's Wine Division offers financial services and strategic advice to premium vineyards and wineries. With one of the largest banking teams in the country dedicated to the wine industry, SVB's Wine Division has offices in Napa and Sonoma counties and primarily serves clients in the fine wine–producing regions along the West Coast of the United States.

Learn more at www.svb.com/winedivision.
Now Let's Get Started
---
See how SVB makes next happen now for entrepreneurs like you.