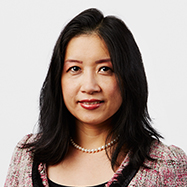 Melina Hadiwono, CFA
Head of Credit Research
SVB Asset Management
Office
Professional Summary
With more than 20 years of experience in credit risk management across various asset classes, Melina Hadiwono, CFA, is the head of credit research for SVB Asset Management (SAM) in San Francisco. In this role, Melina leads her team to review, recommend and monitor any issuer, counterparty and asset class authorized for investment. By establishing credit risk limits, surveillance procedures and policies, Melina and her team set credit parameters and guidelines that determine which investment products are suitable for inclusion in SVB Asset Management's approved investment universe. She loves the dynamic nature of her job and takes pride in knowing that her work supports the investment mandates of SVB clients, allowing them to focus on building their businesses to thrive in the innovation economy.
Before joining SVB in 2007, Melina worked in credit research and risk management, covering investment-grade and high-yield issuers across a broad range of industries both domestically and internationally. As the supervisor for credit risk management at Triton International, she managed all aspects of credit risk assessment. Melina has also worked at Citibank in Jakarta, Indonesia, where she was a relationship manager responsible for underwriting and managing a portfolio of unsecured and secured loans. She earned her bachelor's degree in business administration and finance from Boston University.
Melina lives with her husband and two children in the San Francisco Bay Area. Her volunteer work includes planning educational opportunities for a local Girl Scout troop and assisting school and community activities. She enjoys jogging, yoga, reading and swimming as well as traveling to new places with her family to explore different cultures. She has visited 15 countries, with many more on her must-see list.
Contact Information
Now Let's Get Started
---
See how SVB makes next happen now for entrepreneurs like you.