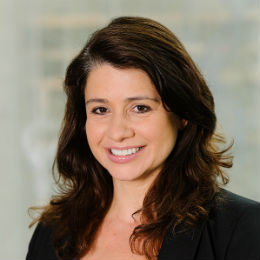 Ethel Sougarides
Senior Client Manager
SVB Asset Management
Office
Professional Summary
Ethel Sougarides is a senior client manager with SVB Asset Management (SAM), based in Boston, where she coordinates and leads client relationship strategy while providing clients with guidance on their investment reporting and high-touch service on their day-to-day investment portfolio needs. With a steadfast goal of providing the highest level of service, Ethel thrives on educating clients at different stages in their life cycles and working with them to create custom strategies that evolve as their needs change.

Throughout Ethel's 18-plus years at SVB, she has found it particularly rewarding to have served as a key player since SAM's inception and in the subsequent growth of SAM. Ethel first joined SVB in 2000 as a sales associate with SVB Securities in Boston. In 2003, when SAM was established, she served as the unit's first portfolio advisor on the East Coast that focused on the Northeast and Southeast markets. In 2006, she left Boston to be part of the nascent SAM team in New York City (NYC). At that time, she was only one of six employees in the office, as the NYC tech ecosystem was still in its infancy. When she returned to Boston a decade later, the number of employees in the NYC office had increased to more than 40, thanks to the high growth of the area's innovation sector companies and SAM's expertise in serving their needs.

Before joining SVB, Ethel served as a sales associate in institutional sales at Brown Brothers Harriman. Earlier in her career, she worked at Thomson Financial Services. She holds a bachelor's degree from Boston College and spends her free time with family and friends. Ethel also enjoys traveling.
Contact Information
Now Let's Get Started
---
See how SVB makes next happen now for entrepreneurs like you.